Dateline: Montréal, June 3, 2016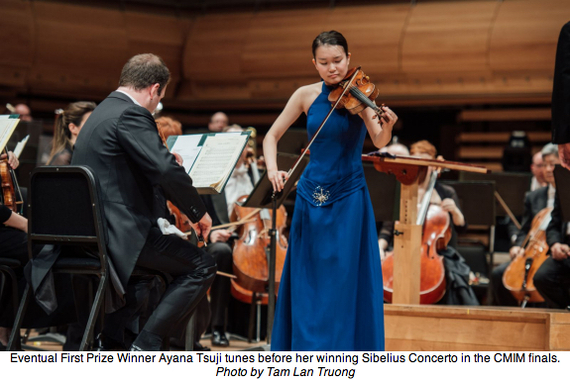 Attended by fleets of courtiers, wizards, philosophers, physicians, trainers and court advisors, more than 200 young violinists applied to the 2016 running of the Montréal International Violin Competition (CMIM).
Of the 24 who were accepted, based strictly on the undoctored recordings of live performances, six made it to the final round where each played a concerto with the Montréal Symphony (OSM) conducted by Giancarlo Guerrero. I made my predictions here.
It turned out that I was right on two scores. But I missed the big winner.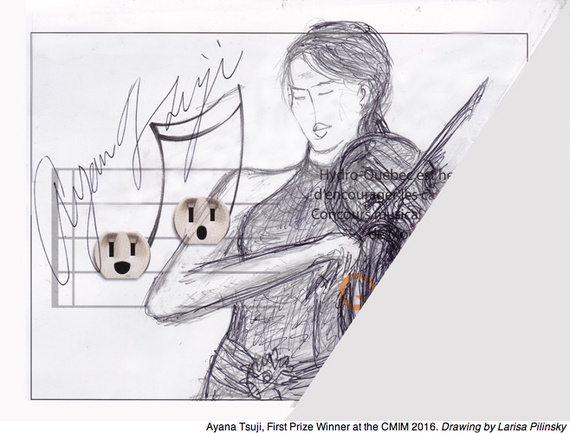 Ayana Tsuji, 18 years old, who has been playing the violin since she was three, pretty much swept the boards:
First Prize of $30,000
The André-Bachand Canadian Music Award $4,000
The Best Semifinal Recital Award $2,500
The Best Performance of a Sonata in a Semifinal Round $2,000
The Bach and Paganini Awards, $1,000 each
Bonsori Kim won the Second Prize of $15,000, and the Radio-Canada People's Choice Award and $5,000. Minami Yoshida won Third and $10,000. The three who fell out of the top three, Petteri Iivonen, Fedor Rudin and Ji Won Song, won $2,000 each.
At 7:30, the winners were made known to the public for the first time, announced by a succession of dignitaries, and cheered on by a nearly full house that was warm with enthusiasm, affection and appreciation - and, of course, love for the music and for the young violinists.
The Gala Concert, with the OSM at full cast, got going full blast with Dvorak's Carnival Overture, after which Yoshida played one movement of Sibelius, Kim played two of Shostakovich #1, and Tsuji played all three of Sibelius. But not before Marc Bouchkov, CMIM 2013 First Prize winner and a great Concours favorite, made a surprise appearance and played John Williams's theme from Schindler's List. That's the way Galas are.
Good news: The 2016 Gala, and all the Competition rounds, are available on demand on CMIM's YouTube channel. The finals and gala concert are also available on demand for free for 3 months on medici.tv, whose multiple camera crews roved stealthily around the OSM in a classical music choreography all their own.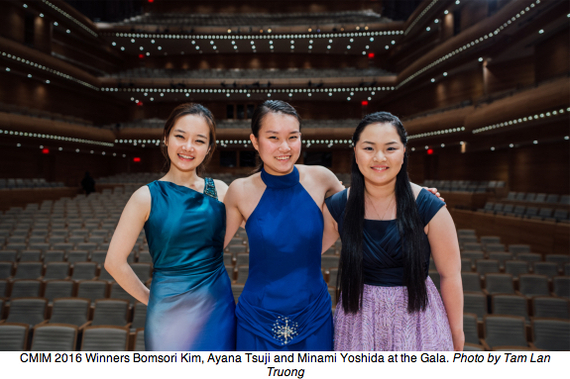 REAL LIFE. REAL NEWS. REAL VOICES.
Help us tell more of the stories that matter from voices that too often remain unheard.