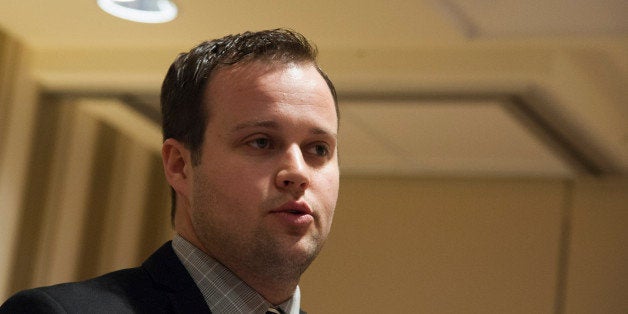 I have always wanted a Porsche. A sleek, sexy, sports car in cherry red with a custom dark champagne leather interior. That's what I want. I cannot afford to buy one, but I have a plan. There is a local dealer that I have been watching and I know where he keeps the keys. Tonight, around two or three a.m., when no one is watching, I am going to sledgehammer my way through the dealership door, grab a key and ... before you know it, I will be home with my brand new baby humming in the garage!
I know what you are thinking: that is stealing. It is a crime. But, no! I have that figured out, too! You see, my plan does not stop there. After I steal -- er, I mean, drive -- drive my car off the lot, I am going to ask Jesus for forgiveness. I will be deeply sorry and will regret my "inexcusable" behavior. I will seek counseling. (I will not actually go to counseling. I am just going to seek it.) After I do all that, it is not a crime. It is a mistake.
I call this my Josh Duggar Plan. It works! Just ask Josh. He is living proof of Christ over Crime.
I am confident that Jesus will let me keep the Porsche. Because I am thankful for his grace and his mercy and his sports cars.
Josh Duggar is a role model. Everyone says so. Mike Huckabee has already pardoned him, and he's not even president yet! (Fingers crossed, though! President Huckabee 2016!!) Mr. Huckabee reminds us: "Good people make mistakes." This is so true.
Josh is good. He is the star of a reality show. That makes him good, and very important. Mr. Huckabee says that no good will come of knocking Josh down: "No purpose whatsoever is served by those who are now trying to discredit Josh or his family by sensationalizing the story." No purpose. Not justice or punishment, or anything like that. No. No purpose.
Josh's mom is real proud of him. I admire her. Michelle Duggar is a beacon of virtue. It must have been difficult for her to put her family on national television knowing of the molestation mistakes of her son. Think of the pain she must have been inwardly enduring when she was publicly saying that transgender people were "child predators." In a robocall recorded when she campaigned against an anti-discrimination bill in her home state of Arkansas, she said that we should never "endanger ... daughters or allow them to be traumatized by a man joining them in their private space. We should never place the preference of an adult over the safety and innocence of a child." Wow! Can you imagine how much of a struggle it must have been for her to say those things? She deserves our respect, certainly.
Michelle Duggar's strength is inspiring. It gives me the strength to consider getting a smokey gold metallic Harley Davidson to accompany my Porsche.
Do not be shocked by my plan to get myself a brand new car or motorcycle. It is not like I am going to get gay-married or have gender reassignment surgery, or anything crazy or vile like that. People may tell you that being gay or transgender is not a crime, but those people are trying to change the definition of 'crime,' just like they are trying to re-define the meaning of 'marriage.' Traditional crime is anything homosexual or transgender, as is explicitly expressed in the Lord's Ten Commandments.
REAL LIFE. REAL NEWS. REAL VOICES.
Help us tell more of the stories that matter from voices that too often remain unheard.