Michigan is not exactly wanting in the beach department. There are 3,000 miles of Great Lakes shoreline... and that's not even counting the Pretty Fantastic Lakes shorelines inland. Do you like your sand in dune or bar form? Petoskey or skipping stones? Hell, even if you want some gross, leech-infested swimming hole, we've got them by the dozen.
Beach towns also come in all shapes and sizes. And, like the beaches they occupy, not all are created equal. These places combine the essential elements of great food, great booze, and water, and are the best beach towns in the state. Just in time for your last summer hurrah.
19. Copper Harbor
We have no lack of love for this northernmost tip of the continental United States, but the beaches aren't really places for summertime frolicking. Lake Superior's name is no mistake -- its shores really aren't that welcoming. This part of the UP is better for hiking than for beaching, but if you find yourself out this way, dinner with a view overlooking the lake at Harbor Haus is an absolute must, followed by beers at Brickside Brewery.

18. St. Ignace
The best thing about St. Ignace is the view of the Mackinac Bridge from Kiwanis Beach. Also the proximity to Clyde's Drive-In, home of one of Michigan's best burgers. It's not really all that much by beach life standards, but there's a pretty cool fireworks show over Moran Bay on Lake Huron every Saturday through most of the summer, and you can kayak from here to Mackinac Island. (You know, if you want to save the price of the ferry!)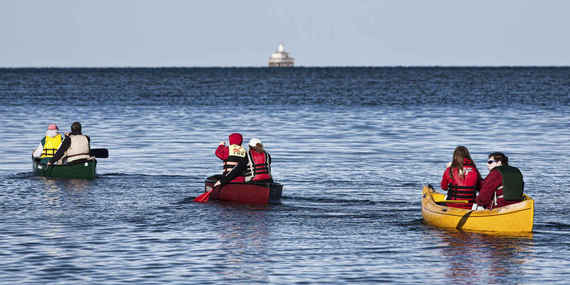 Credit: Flickr/George Thomas
17. Cheboygan
Located on the shores of Lake Huron, Cheboygan State Park has seven miles of lake frontage with a mix of habitats from marshes to dunes and beaches to wetlands. Cheboygan also has Burt Lake State Park with 2,000ft of sandy shoreline. There's definitely plenty of beachfront in Cheboygan, but there's also a lot of grassy and rocky shores -- not always ideal for beach-goers. Dining and nightlife is also lackluster, but a beer on the balcony patio at the Cheboygan Brewing Company, where the focus is all on classic German styles, is an instant cure for the post-beach doldrums.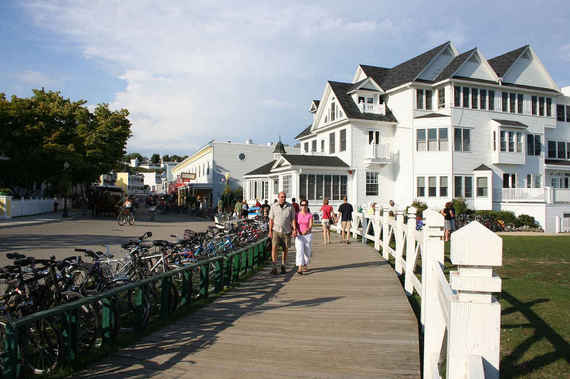 Credit:Flickr/Adrian Lim
16. Mackinaw City and Mackinac Island
You love Mackinaw. And we love Mackinaw! There is no denying that Mackinac Island is painfully picturesque, but as for the actual beaches themselves... not so much. The beaches on the island are small and rocky and not really the kinds of places where one does beachy things. As for Mackinaw City, it essentially serves as a holding pen for the Island and we all know you're not there for those beaches.
Plus, while a substantial number of shops and small restaurants have been crammed into the city right by the ferry docks, none of them are particularly interesting. (Except for ye olde sword store Enchanted Knights (because SWORDS) and also the fancy new Starbucks, because sometimes Starbucks is a beacon of hope when you're in semi-remote northern Michigan and need a place to grab a coffee/pee/use Wi-Fi.) Even so, much love to the Pink Pony.

15. Petoskey
Oh, Petoskey. We love you for everything you are, and also because you're not Harbor Springs. We love Sunset Park, on top of the bluffs overlooking Little Traverse Bay with the stair tower to Bayfront Park below. We love Bayfront Park, with the central promenade connecting the park to the downtown Gaslight District. We love the clock tower and the gazebo, and we especially love the Bayfront Park waterfall. A real waterfall! Take lots of selfies in front of it, then go have dinner and raid the wine cellar at Chandler's, a northern Michigan favorite. What we don't really love are the beaches themselves but hey, did we mention the waterfall?!
14. Ludington
Ludington State Park has a beautiful stretch of sand that's seven miles long, with some of it accessible from outside of the park, if you're being cheap. Within the park is the lovely Hamlin Lake Beach area with warm, shallow waters, and just to the north is the 3,450-acre Nordhouse Dunes Wilderness Area. There's plenty of wilderness and sand to explore, and Lake Michigan's beaches are the best in the state, but... that's about all there is to do in Ludington, aside from the standard boating and golfing. There are also lighthouses to look at if you're retired, because for some reason retired people really like lighthouses. Otherwise, Muskegon isn't too far.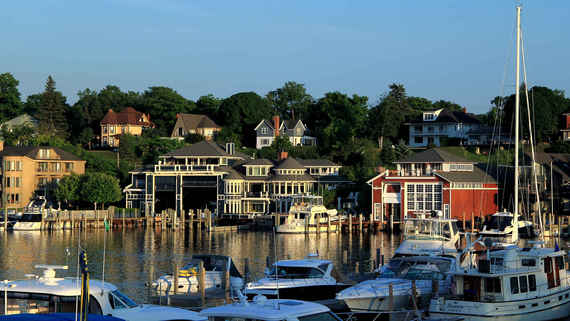 Credit: Flickr/John Menard
13. Charlevoix
It's not a "beach town" the way you might think of a "beach town," meaning a cute Downtown with lots of shopping, and restaurants, and pastel-colored beach shacks, and guys walking around in board shorts and women wearing bikinis as tops, but there's plenty here to keep you occupied once you've finished the beach portion of your day.
Walk the Charlevoix South Pier to the lighthouse (of course) at the end. Bike down the 26-mile Little Traverse Wheelway. Hunt for Petoskey stones at Fisherman's Island State Park. Check out the "Mushroom Houses" of Charlevoix, which look like hobbit huts. Take a twilight tour followed by a farm-to-table dinner at Castle Farms, a legit French Renaissance-style castle built in 1918. Sip beers at the brand-new Lake Charlevoix Brewing Company (with the most Michigan-iest tap handles of all time -- shaped like lighthouses!). Oh, and there's plenty of beaches, of course.

12. Suttons Bay
The Leelanau Peninsula is just simply a place you want to be all day, every day, all summer long, what with all of the vineyards and wineries and ciders and beer and the really and truly farm-to-table restaurants. It manages to be both rustic and sophisticated all at the same time, and nowhere is that balance more apparent than in the epicenter of Leelanau, Suttons Bay. There is a public beach at Marina Park, and it's small, but there's also fantastic dining at places like Martha's Leelanau Table and 9 Bean Rows; all of the cute everything-you-would-expect-them-to-be boutiques through Downtown Suttons Bay; and the entire Black Star Farms campus with the winery and tasting room, Hearth & Vine restaurant, Leelanau Cheese Co., and a pretty terrific B&B at the Inn at Black Star Farms. The beach, however, is secondary to all of this.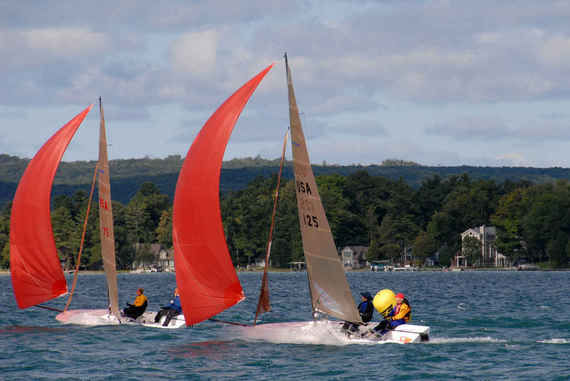 Credit: Flickr/Jim Sorbie
11. Empire/Glen Arbor
So: the Sleeping Bear Dunes, maybe you've heard of them? Back in 2011, Good Morning America named it the most beautiful place in America. Hell, we even named Empire one of the best unspoiled American beach towns you can actually afford. We combined Empire and Glen Arbor here since they really function as two sides of the same coin with the national lakeshore sandwiched between them. Individually there's not a whole lot going on at either one outside of the dunes. Together there's still not a whole lot going on, but after taking a million selfies on the Pierce Stocking Scenic Drive and the 260ft Dune Climb there's probably not a whole lot else you're going to want to do anyway. There IS the iconic Art's Tavern and Grocer's Daughter Chocolate in Glen Arbor, and the Cherry Hut to the south of Empire in Beulah for cherry pie (which you must), then again sometimes you want to go to the beach and just be. These are the perfect towns for that.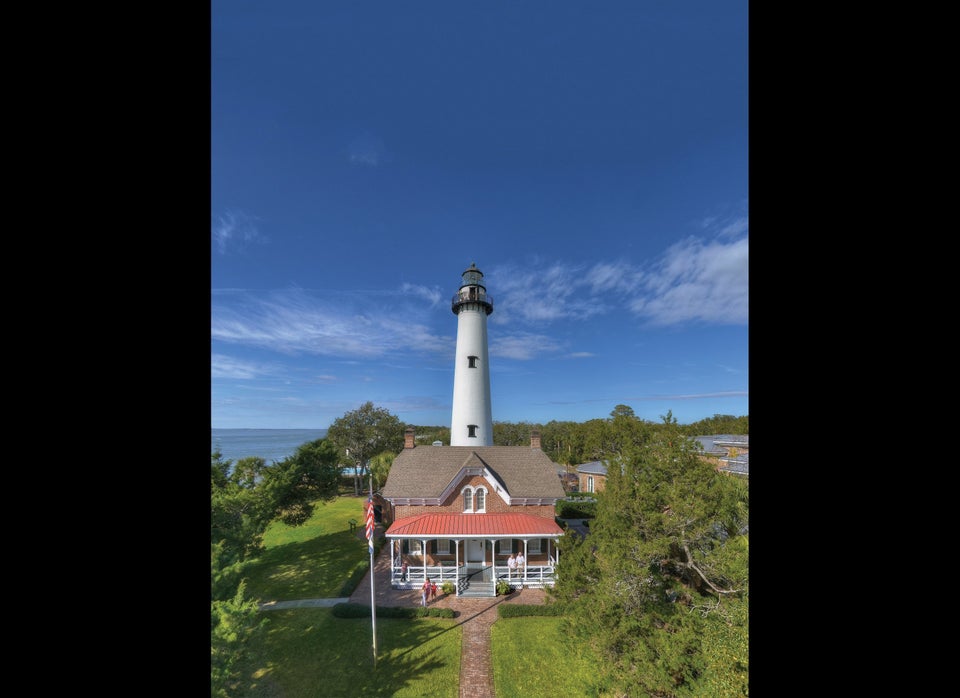 America's Favorite Beach Towns (PHOTOS)
Related