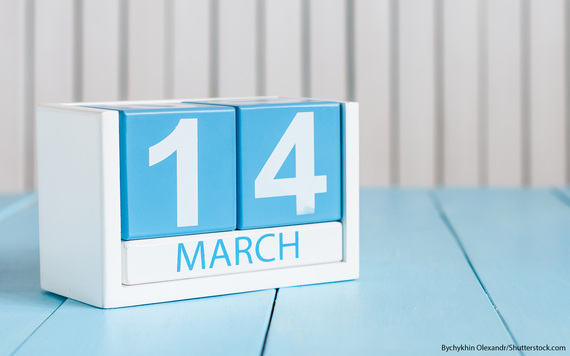 National Pi Day falls on March 14 and math whizzes across the globe will join together to honor the mathematical constant pi. Pi is the ratio of the circumference of a circle to its diameter. This irrational number begins with 3.14 ― hence the March 14 celebration ― and is estimated to continue for 10 trillion digits. While the concept of pi has been alive for nearly 4,000 years, National Pi Day wasn't established until 1988 by Larry Shaw, a physicist at San Francisco's Exploratorium science museum.
Pi Day Celebrations
National Pi Day might be a little geeky, but math geniuses make it quite fun. Pi Day celebrations often center around the baking, eating and throwing of pies, with some revelers even participating in pi-recitation competitions. In 2015, those commemorating the occasion got to make a little Pi Day history by watching the clock strike 9:26:53 a.m. ― equating to 3.141592653, the first 10 digits of pi ― a phenomenon that happens just once every one hundred years.
Government recognition of Pi Day has even helped bring it to the classroom. On March 12, 2009, Congress passed a measure to support National Pi Day as a recognition of the significance of National Science Foundation math and science education programs. Schools are encouraged to celebrate the day with activities that help students learn about Pi and make math fun.
19 National Pi Day Deals
Use these Pi Day coupons and freebies to celebrate math's biggest day of the year, while saving money at the restaurants you love. Making your own National Pie Day foods is great, but if you'd rather let someone else to the work, here are plenty of Pi Day deals ― including Pi Day pizza deals ― with the help of CouponSherpa, PromoCodeWatch, RetailMeNot, SlickDeals and the retailers themselves.
Blaze Pizza: All pizzas are just $3.14 in restaurants nationwide on March 14.
Casey's General Store: Get a large three-topping pizza for $12 through March 31 with this printable coupon.
Chuck E Cheese: Take $2 off a large pizza through March 26 with this printable coupon.
Domino's: Use coupon code 9174 to get a large three-topping pizza for $7.99 Monday through Thursday when you order online and pick up in-store.
Fazoli's: Order a pizza for carryout or at the drive-thru on Mondays and pay just $6.99 ― good thing Pi Day falls on Monday this year.
Godfather's Pizza: Save $3 on any regular-priced large pizza through Dec. 31 with this printable coupon.
Grand Traverse Pie Company: Get a free slice of ABC Michigan Pie with any purchase on March 14.
Kitchenworks: Use code PIDAY314 to save 15 percent off all pie-related products.
Papa Gino's Pizzeria: Use coupon code 5544 or this printable coupon to get a kids meal for $1 with the purchase of any dine-in or carry-out pizza Sunday through Wednesday.
Papa John's: Take 25 percent off your entire order with promo code 25OFF through Dec. 31, 2017.
Penzeys Spices: Get two free 1/4 cup jars of pie spice when you spend $5 through March 14 using coupon code 10737C or this printable coupon.
Perkin's: Enjoy a free slice of pie between 11 a.m. and 10 p.m. on Mondays with this printable coupon with the purchase of an entree.
Village Inn: Get a free slice of pie with the purchase of an adult entree through March 29 using this printable coupon.
Marie Callender's: From 

March 6 to April 3

, receive $0.55 off one large pie with this coupon.
The Economist: Get 20 percent off Premium and Ultimate Economist GMAT tutor plans from now until March 14.
ThinkGeek.com: With any order $25 or more, use promo code YIPPEEPIYAY to receive a free Pi Day T-shirt until March 31. Must add this Pi shirt to cart first.
Microsoft: Take 31.4 percent off select Dell PCs for a limited time.
Whole Foods: Save $3.14 on a large pie from the bakery or take $2 off any large "take and bake" pizza. Deal excludes frozen pizzas and is for a limited time.
Additionally, The Exploratorium ―The San Francisco science museum where National Pi Day was established ― is offering free admission and a host of activities to commemorate the occasion. And they wrap up all festivities with ― you guessed it ― a piece of pie for each guest.
Pizza Hut's National Pi Day Contest Could Earn You Free Pizza
You'll have to work a little bit for this deal; but free pizza for 3.14 years seems worth it. On March 10, Pizza Hut announced their partnership with math genius John H. Conway to have a contest on Pi Day. The game is simple: Conway will write three complex math problems on Pizza Hut's blog. You must comment your answer ― each comment is time-stamped ― and the first person to get each right has the chance to win free pizza for 3.14 years. That's a lot of pie. The contest begins on March 14 at 8 a.m. EST and the prize will be awarded in Pizza Hut gift cards ― totaling almost $1600.
More from GOBankingRates:
19 Deals and Freebies for the First Day of Spring 2016
11 of the Richest Athletes of All Time
10 Best and Worst Spring Break Destinations in the U.S.
21 Habits of Highly Successful Billionaires Like Warren Buffett and Mark Cuban
Calling all HuffPost superfans!
Sign up for membership to become a founding member and help shape HuffPost's next chapter