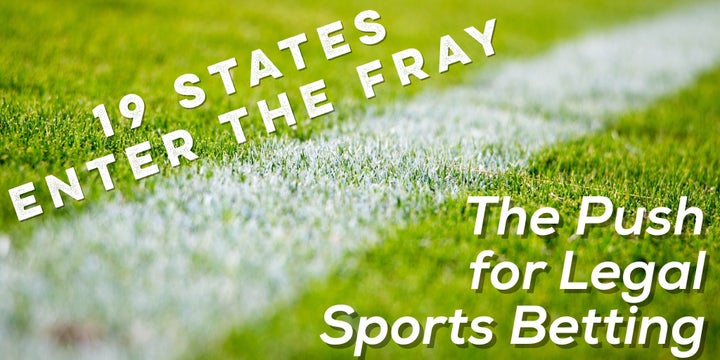 The introduction of the Professional and Amateur Sports Protection Act ("PASPA") in 1992 outlawed sports betting in the United States, however, the movement against PASPA has started to gain momentum and the collective appetite for the legalization of sports betting appears to have been whetted. Numerous initiatives are now taking aim at this federal legislation and, as American Gaming Association president and CEO Geoff Freeman states, the legalization of sports betting in North America "is closer than any point in the last 25 years."
This week, nineteen states joined West Virginia in supporting New Jersey's challenge to the federal sports betting ban with the filing of an amicus brief in the United States Supreme Court. These include states both in favour of and opposed to sports betting. The brief argues that the federal ban on sports betting is unconstitutional by "preventing states… from repealing or amending laws that their citizens no longer support". In addition, the brief outlines how PASPA "had the perverse effect of pushing an enormous market underground", with industry and law enforcement officials estimating that more than $150 billion is placed annually with illegal bookmakers.
According to a Greenberg Quinlan Rosner study published in May, the court of public opinion also appears to be swinging in favour of legalization. The study found that 6 out of 10 Americans are in favour of the legalization of sports betting. The legal sports betting market outside of the US, predominantly run out of Europe, is dominated by a few large entities such as Bet365 and Ladbrokes. These entities stand poised to profit immensely off of any looming changes to US legislation surrounding sports betting. However, an upstart blockchain-based sports betting platform, FansUnite, hopes that bettors will choose them for their lower fees, increased transparency and security of information.
Duncan McIntyre, a Canadian lawyer, co-founder and COO of FansUnite, thinks that the current global slate of sports betting options is stacked against the individual user. He stated that due to a lack of real alternatives "bettors [have to] tolerate high fees, the possibility of reneged or voided bets, and entrust their financial information to centralized third parties that are targets for immoral individuals."
FansUnite aims to be the sports betting platform that addresses these issues for bettors. McIntyre states that a large part of their value proposition stems from their team's want to create more equity for bettors and change the current state of affairs. He goes on to explain, "large sportsbooks have little incentive to improve conditions for sports bettors. Why provide more equitable conditions when you have billions in revenue a year." FansUnite claims that their platform will be an industry leader by being the first ever to offer a juice of only 1% on all bets. This is in stark contrast to traditional sportsbooks that generally charge anywhere up to 5%.
There is cause to believe his sincerity when he laments about the unfair state of sports betting currently. The FansUnite team does have a track record for wanting to improve conditions for sports bettors, having operated a virtual sportsbook for several years where members track their results and collaborate to try and beat the "house". This is the very house that they are now trying to disrupt again with their new platform.
In addition, by utilizing blockchain technology to immutably store betting information on the Ethereum blockchain, FansUnite believes they have a solution to the reneging and voiding of bets observed by many bettors in poorly regulated markets. Data stored on the blockchain is simultaneously both more secure to tampering and readily transparent for bettors, who can verify their bets are executed exactly as entered by information readily viewable on the blockchain.
If the FansUnite platform succeeds in solving these common issues for bettors globally, they will find themselves perfectly situated to capitalize on one of the world's largest untapped betting market.
Popular in the Community