Getting a positive ROI from a trade show booth is tough.
Metro Exhibits, a full service trade show booth manufacturer in the US, found that those who incorporate strategies like the ones you are about to read were the most successful at trade shows.
The benefits of exhibiting at a trade show can surpass any marketing or growth technique. Trillions of business deals are done at trade shows every year. The biggest and best trade show booths definitely have the edge, but not all are successful.
Some businesses seem to have the secret recipe for networking at trade shows.
It's no secret, it's simply this:
Trade show success is measured by how much effort you want to put into it.
What specific strategies are behind successful trade show booths? We searched around for the most experienced industry professionals and put together a list of our top trade show tips and strategies.

#1 First Impressions are Everything- No, Really.
Studies show that your first impression has a high correlation with the actual long-term status of your relationship. There's not much time for you spare on your initial presentation either.
Our first opinion of someone forms in only one tenth of a second.
Not surprisingly, we see similar results when someone's first impression is of a brand. It takes only one fifth of a second to form an opinion of a website and 94% of that opinion is design related.
See where I'm going with this?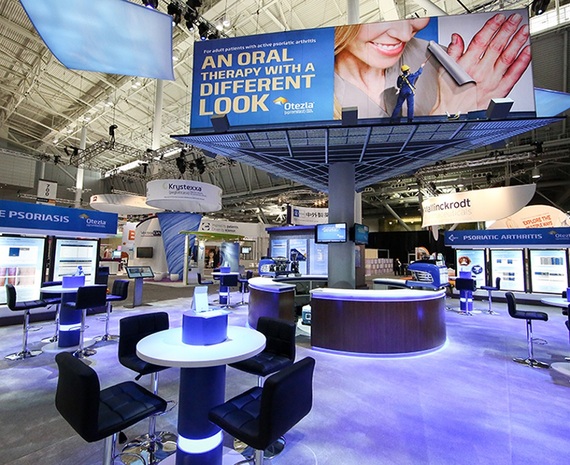 Celgene attends a lot of shows and are always a big hit. Why? Because they understand how brand imagery affects consumer opinion.
Not all companies have a big budget, but one thing that should never be left to chance is your trade show exhibit's design. Make your exhibit stand out.

#2 Monkey See, Monkey Do
You're a tourist looking for the best hot dog in Times Square and you see one stand has a longer line than the others. Which one do you going to?
Social proof generates trust.
Seeing other people engaged with a brand makes them want to see what the buzz is all about. Get other employees into the show and have them surround your booth dressed as attendees.
Have people interact with your exhibit and staff, but make sure there are always employees available to engage with onlookers.

#3 Extend Your Reach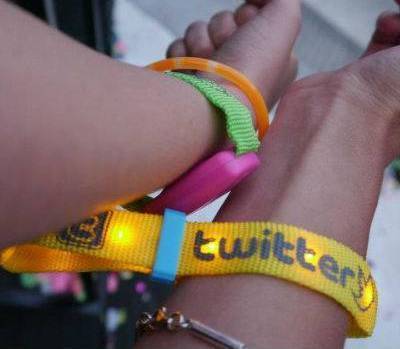 This plays off of the Monkey See, Monkey Do tip. Promotional giveaways that are easily visible are a way to extend your booth's reach.
Hand out big stickers, wearables, light up trinkets, etc and turn it into a game. Those who wear your promo items have a chance to win something big at the end of the show.
These are great because the more people you get to wear them, the more others will want one. It's also a great conversation starter for attendees- and your brand and booth are inserted into that conversation.

#4 Pre-Show Booth Meetings
Utilize your trade show display by marketing yourself pre-show. This is where most of the magic happens...
A lot of companies reach out to attendees 4 - 6 weeks before the show. Set up meetings with them at your booth before the show starts.
Make it about networking, not selling. You want to hear about what they do more than what you do.
Collecting email addresses and phone numbers of past attendees comes in handy for this type of trade show preparation.
#5 Tricks of the Trade
Most trade shows have exhibitors with the same target audience as you. Why not trade leads and contact information?
This is one of the best trade show booth tips in terms of ROI. You'll instantly double your sales opportunities.
I don't suggest trading contacts with direct competition, as many competitors battling for the same business can turn people off to the product or service. Rather, partner with brands selling different products and services that happen to have the same target market.
#6 Let them Interact
If you can make your product or service interactive, people will stay and a crowd will form.
Not all brands are easy to display. Find a way to allow your booth traffic to interact with your products or services. Not only will you generate interest, but they will get a better understanding of your value proposition.
Touch screens are a great way to display any type business offering as long as it's interactive.
#7 Create an Experience
If you can't display your business offering in an interactive way, consider creating an experience.
Take Charity Water for instance. Charity Water creates safe and clean water sources for remote villages in developing nations that don't have a sustainable water supply.
They invite their booth visitors to walk two 40lb jugs of water across a 50 yd platform. They give visitors a small taste of the experience villagers in developing nations go through every day to fetch water from rivers miles away from their home.
For a short time people understand how hard it is to walk a couple yds, let alone a couple of miles carrying 80lbs. Charity Water creates an experience that helps their visitors connect with their brand.

#8 May the Best Man Win
Have your best sales people on the floor and make it a fun competition.
Make sure all trade show staff is well trained before the conference. Have them all are aware of the company's strategy going in and how to utilize the resources provided.
In the end, your people are a big representation of your brand. Give the winner something nice in return.
#9 Get Your Best Clients to the Show
It's a lot easier to get someone who has bought before to buy again than it is to get someone to buy for the first time. If your best clients are not already going to the show, buy them a ticket.
What better way to wow one of your clients by getting them into one of the hottest industry events of the year. The best part is it will most likely have an automatic return on investment.

#10 Measure ROI
The only way to know if something works is to test it. The only way to know if the test worked is to measure it.
Know going into the show how you are going to measure success. Find a way to measure the marketing techniques and their effectiveness. Rule out biases and outliers that can skew data.
After all, if you don't measure your return on investment you won't know what works. If you don't know that, you're risking failure at the next event you attend.
#11 Stop Selling- Start Gelling
What's the best way to generate interest? Show interest in others first.
Don't have your staff sell your product unless they are interested in it. The way you gain interest is by being interested in others first.
Ask questions about their company and where they came from first. Almost every time they will follow up by asking you the same. It's much more natural than introducing your brand after you've introduced yourself.
#12 Be Hospitable
Give people a warm welcome with things everyone can agree on. Having coffee/ tea, an abundance of comfortable seating, and fresh baked cookies always works.
Treat your exhibit as if it's your home. One of the first things people notice when they walk into your home is the aroma. Give off a scent like home baked cookies and people can't help but feel welcome.
Give your guests a little bit of generosity and they might just give some back.
#13 Start Early
Phil Zamloot, President of Metro Exhibits finds that those who start the process of preparing for a trade show early have the most success.

"Things like reserving space, designing your trade show booth, building your booth, details about how it will be shipped and installed, etc. When it all adds up, it can take a lot of time. Those who get it done early tend to have a better experience at the show."
You don't want to get bogged down by all the small details right before the show when you should be preparing mentally. Get the small stuff done early so you can focus on making the most of the experience.

#14 Learn Before you Lead
Because of the large investment that's needed to attend trade shows, novice exhibitors tend to focus 100% of their time on themselves. Before you can become a trade show leader, you need to learn from those who are.
The best of the best are all around you. Take some time to explore other trade show booths and learn how they are marketing their products and services.
No matter how prepared you are, the exhibitors with the most experience can always teach you something new.
#15 Follow up Fast
Follow up with leads soon after the show. The longer you wait the longer they have to forget who you are and what you said.
People have many interactions at trade shows. As much as you want to believe yours were different, it's tough to remember everyone's name and product after the show.
Don't be afraid of reaching out too quickly. Typically wait one day after the show to follow up with potential prospects. Waiting too long will dilute the connection.

Conclusion
Unique ideas get the most buzz but only if the strategy harmonizes with the brand and the industry.
Don't go big and extravagant if it doesn't have a purpose. The biggest success stories come from the companies with the most thought out marketing campaign at the show.
Give it your all. Take plenty of time to prepare. Trade shows are a big investment. Make it worth it.
What strategies do you use at events to maximize your ROI?
Related
Popular in the Community