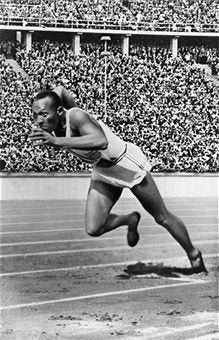 On July 11, 1935, in a ramshackle, hastily constructed stadium in Randall's Island, New York City, two of the fastest men on earth were about to compete for a place in the following year's Berlin Olympics. The omens were not good that day. First, the stadium's loudspeaker system broke down; then a flash thunderstorm spooked both the crowd and the competitors. But for the favorite, a sprinter and long jumper named Eulace Peacock, these were small problems. As the New York Times reported at the time, Peacock's right thigh was 'taped up like a baseball bat' -- he had torn a hamstring several weeks earlier, and it was still plaguing him. A hamstring is to a sprinter what an accelerator is to a car. Without it, nothing moves. But track officials, eager for him to make it the games, had presented Peacock with two previous opportunities at different competitions. On both occasions he was hampered by his injury. This was his last chance.
So fate seemed against him when he finally emerged onto the track. He went through the kinetics of competition, but his hamstring -- the major muscle that runs along the back of thigh -- failed again. He finished tenth in the long jump, and withdrew entirely from the sprints, relinquishing the field to his friendly rival -- a man called Jesse Owens. In that moment, a lifetime of training, conditioning, sweat and sacrifice all evaporated. Owens would go on to win Gold and make history, while Peacock instantly became one of history's great sporting "might have beens."
Modern Olympic sprinting, as epitomized by Usain Bolt, is a very different proposition from what it was in the early 20th century. In those days it was raw talent rather then technique that made winners, whereas today natural ability is augmented with science, biology, nutrition, psychology and vastly improved equipment, all designed to shave every possible microsecond off a sprinters time. While this has lead to the excitement of more world records being broken, it has simultaneously killed the individualism that once characterized some of the sports early craftsmen. The 1932 double Olympic champion, African American Eddie Tolan, was a case in point. Nicknamed the "Midnight Express," he was five-foot-seven, with center-parted Afro hair and circular spectacles that he wore strapped to his head while running. He also liked to chew gum while he sprinted, in sync with each step, which he claimed relieved stress and improved his acceleration.
In early 20th century America, the backdrop against which African American sprinters competed was that of a divided country. The "Jim Crow" laws enacted between 1876 and 1965 mandated the segregation of African Americans from the white population across public institutions, services and employment, predominantly in the Southern states, but across the North also. Black sportspeople were banned from competing in the major leagues, and all blacks were prohibited from entering restaurants, bars, clubs, hotels and other facilities.
It was within this highly charged atmosphere that Eulace Peacock was born on August 27, 1914 in Dothan, Alabama. His background, upbringing and sporting trajectory were very similar to that of his rival Jesse Owens, who was also born in Alabama, only a year earlier than Peacock. Both sets of parents were sharecroppers who migrated north around the same time, as part of the Great Migration, when 1.5 million African Americans left the segregated South in search of a better life. The Peacocks settled in Union, New Jersey. Eulace attended the local high school, where he excelled as an athlete. He was a gifted long jumper, footballer and pentathlete, for which he became six times National Champion. At the age of 19, he set a New Jersey long jump record of 7.42 meters, which would stand for the next 40 years.
Meanwhile, over at the National Interscholastic Championships held at Stagg Field, Chicago, Jesse Owens, competing for East Tech High School, went one better, setting new world records in the sprints and the long jump. Despite the fact that he and Peacock had yet to meet, their rivalry had already begun.
The two athletes had very contrasting sprinting styles. Owens was a "floater" -- fleet-footed, with a very upright, almost regal posture and an elegant smoothness across the surface, as if he was running on feathers. Peacock meanwhile, was what U.S. track team coach Dean Cromwell called a "driver." He ran as if he was being propelled from behind by a hot blast. His technique relied on strength, power and the channeling of energy through the piston-like kinetics of his arms and shoulders. His style was the more modern of the two runners. He was more muscular than Owens, especially in the legs, more like sprinters are built today -- like an early prototype of Usain Bolt. But although Peacock was the more physical sprinter, Owens was the better stylist -- arguably the best the sport has ever seen -- and modern sprinting has lost something now that it is all about hard charging muscle. These days, everyone runs the same. They are fast, but kinetically less beautiful.
In competition, Peacock drew first blood on August 6 at a track meet in Oslo, Norway. Aged nineteen he equaled the 100-meter world record of 10.3 seconds. This was faster than Owens had ever run the distance. For a time at least, Peacock was hailed "the world's fastest human." But the focus didn't stay on him for long, because on May 25, 1935 Owens hit world-beating form once again at the Big Ten Championships at Ann Arbor, Michigan. He broke three world records (for the 220-yard dash, the 220-yard hurdles and the long jump) and equaled another (the 100-yard dash), all in the space of an incredible forty-five minutes. Peacock's hopes of being number one had taken a major blow. Owens was not just good, he was world class, and his collective performances were consistently outstanding. With Owens confidence sky high he went on to beat his rival in their next three track meetings that year. To all concerned, Owens was unbeatable.
But then the unthinkable happened. On July 4, 1935 at the University of Nebraska's Memorial Stadium in Lincoln, Peacock suddenly found his form again, beating the world record holder in both the long jump and the 100-meters, in a sensational time of 10.2 seconds. It equaled the world record, but was disallowed due to wind assistance. His double victory had gone radically against the form book. Arthur Daley, reporting in the New York Times, called it, "one of the greatest double upsets in the history of track." Peacock then pressed home his advantage, beating Owens in their next three sprint encounters.
By now the pair had become good friends as well as adversaries. Unlike history's notoriously acrimonious sporting rivalries -- such as those between Alain Prost and Ayrton Senna in Formula One, or Muhammad Ali and Joe Frazier in boxing -- the competitiveness between Owens and Peacock was fierce but friendly, and was characterized by a deep mutual respect. "They were so friendly that I don't think they cared who won," said fellow long jumper Herb Douglas.
Their mutual respect was well illustrated on March 28, 1936 at a race meet in Cleveland Ohio, when they lined up against each other in the 50-yard dash. As the race began, Peacock stumbled out of his starting blocks, and Owens cruised to victory. But when Owens realized what had befallen his friend, he insisted -- encouraged by the crowd -- that they re-run the race. This time Peacock won, but he refused to accept the gold medal.
After Owens series of defeats by Peacock, his prospects in the eyes of the experts began to slip. Former Olympic sprint champion Charles Paddock, Owens' childhood idol, came out unequivocally in favor of his rival. "I can only see Peacock as a certain performer at the games in Berlin," he told the LA Times. "I can't help feeling that Owens is pretty much burned out." Paddock's comments stung Owens to the core as they reverberated around the country. With his own confidence beginning to wane, he also started to believe all the talk about Peacock's superiority. "It's going to take a special man to beat Eulace Peacock," he told Harlem's Amsterdam News. "You see, I've already reached my peak. Peacock is just now reaching his. He's a real athlete. I don't know whether I can defeat him again."
Peacock first pulled his right hamstring while competing in Milan, Italy with the United States track team in August 1935. The Olympic trials were months away, and so there was plenty of time for it to heal. But then disaster struck on April 24, 1936 during a college championship event, the Penn Relays, in Philadelphia. As Peacock ran the anchor leg of the 400 x 100-meters relay, he tore his hamstring again. He later attempted to run on three more occasions, but each time he broke down. His Olympic dream was finally over. His elimination left the field clear for Owens to qualify. He booked his place in Berlin, winning both sprints and the long jump.
Peacock's disappointment at missing the games was brief. There was no bitterness, no alcoholism, no drugs and no John Coltrane or Billie Holiday-style spiral of depression-fueled self-destruction. "What can you do?" he recalled. "I couldn't shed any tears, it happened and that was it ... Sure I was disappointed, but you can't spend your life thinking about what might have been."
What did happen is the stuff of legend. Jesse Owens stormed home with four gold medals, winning both sprints, the long jump and the 4 x 100-meters relay. His success, and those of the other eighteen black finalists, opened the way for sports to became -- like rap music to a later generation -- a means by which blacks could escape poverty and discrimination. At the same time the Berlin finalists shattered the pseudo-science of Hitler's ideal of Aryan racial supremacy.
Ever since the games sportswriters have argued over the Peacock "What if?" What events would he have won if he had gone? Overall, in the build up to the Olympics, Peacock maintained the better stats, beating his rival in five out of their twelve sprint contests, while Owens beat him four times. (On three occasions they were both beaten by other sprinters). Crucially, Peacock's overall times were faster than Owens. So, with all this in Peacock's favor, how many of Owens four gold's would he have claimed? This question is unanswerable, because although Peacock was undoubtedly the man in form, one thing we know for sure from the history of sport, is that anything can happen on the day, and that the in form candidate often doesn't win.
After Berlin both athletes lead very different lives. Jesse Owens, as champion, was suddenly the most famous man in the world. However, he suffered numerous pressures and humiliations in his attempts to cash in on his success -- amongst them having to race against horses, greyhounds and trains. "But what was I supposed to do," he lamented. "I had four gold medals -- but you can't eat gold medals." It wasn't until he began doing speaking engagements and commercial endorsements that he became financially secure.
By contrast, Peacock embarked on a variety of vocations and business ventures, including stints working for the New York City Board of Education and the Internal Revenue Service. In 1942 he served in the U.S. Coast Guard as Chief Petty Officer. In later years he opened a liquor store and a car rental business. He stayed connected with athletics by officiating as a judge at various championship events and Olympic qualifying trials.
His final years were marred by Alzheimer's disease. He died in New York on December 13, 1996. He was 82. Athletics history has recorded him as a kind of "character actor" to Jesse Owens' star turn -- a kind of track and field version of Willem Defoe, or Philip Seymour Hoffman; and just as these thespians are remembered for some of the scene-stealing bit parts they've played, so Peacock has been similarly enshrined. His achievements have been honored by a number of athletics bodies, including the National Track and Field Hall of Fame. "Out of everything, this made him the happiest," said his daughter, Linda Freundlich.
The story of Eulace Peacock's dramatic exit from the greatest athletics competition on earth is enough to strike fear into any would-be 2012 Olympian who trains hard and diligently in the hope that they will qualify for July. But there are other lessons here. For Peacock's tale isn't just about how talent and training can be trumped by sheer bad luck. It is also a story of true sportsmanship and friendship. For what shape did Peacock's post-running life take? He went into business with the very man who became the legend that he could have been. Admittedly, The Owens and Peacock Company -- a wholesale meat-packing operation founded by the two men in the 1960s -- might not have been what Peacock had in mind when he battled Owens for track glory back in their heyday, but it was testimony to the camaraderie of the two men that they found a way to continue their double billing.
REAL LIFE. REAL NEWS. REAL VOICES.
Help us tell more of the stories that matter from voices that too often remain unheard.