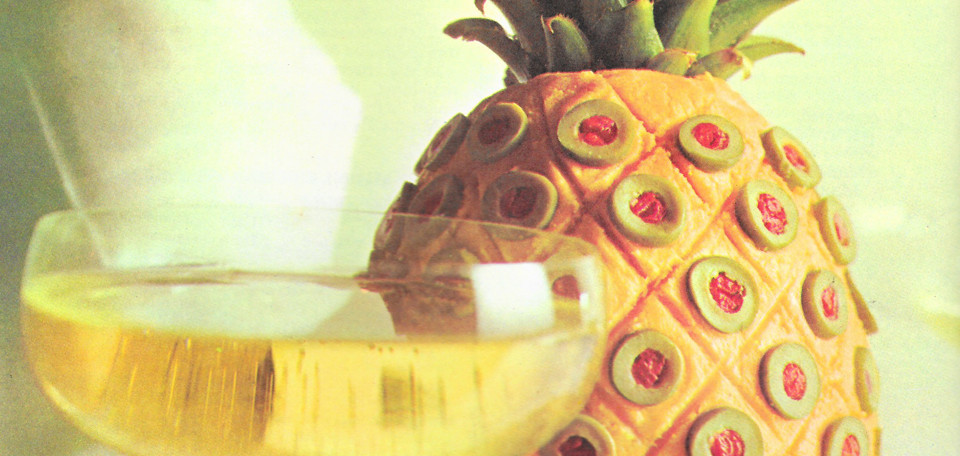 No matter which decade you were born into (and later partied in), there's a pretty good chance that you're familiar with the cocktail parties of the 1960s. This is largely thanks to Mad Men -- the award-winning TV show with an unusually high number of drinks poured -- but also because in their essence, these shindigs are a genius kind of gathering. They get right to the heart of what any great party is all about: the booze.
In the '60s, these parties almost always guaranteed lots of hard liquor, tons of smoking and a decent amount of questionable finger foods -- the kind we love to hate now that we're in the heart of the locavore movement, but still secretly adore because there's something highly addictive about Vienna Sausage. They were predictable and great.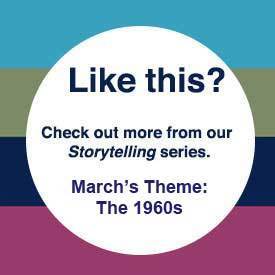 There's a reason for the reliable standard: clearly established guidelines were in place and printed in various books for the host. We tracked down a few of those classic cookbooks from that era: McCalls Cocktail-Time Cookbook from 1965, Good Housekeeping's Perfect Parties from 1967, and The Calvert Party Encyclopedia, published by the liquor company itself in 1960. Each book has a unique target audience, yet the universal message is clear: be prepared and have fun. It's wisdom that could (and maybe should) be applied to everything you do in life.
Looking at these tomes with a critical eye illuminates the era's priorities: First and foremost, convenience. Make things easy, make them fast and make them fun. Throw together a soiree by using quick and speedy techniques, but don't forget to keep things exciting. Pick a theme like Gay Nineties (the 1890s, that is) and have fans for the ladies, derby hats for the men and Victorian decor. Or decorate with a unique table centerpiece (like terra cotta pots or sea shells). And never forget that finger food is everything. The recommended amount includes four cold options and two hot ones. The hors d'oeuvres should be easy to prepare and require no effort from the host during the event, naturally. Are you getting the gist?
There's more -- some of these rules are explicit and some simply implied, but here are the 10 commandments for throwing a proper cocktail party, as dictated by the 1960s. According to the Calvert Party Encyclopedia, if you follow these suggestions, "You'll discover all the friendly ingredients for successful parties -- parties with the power to please."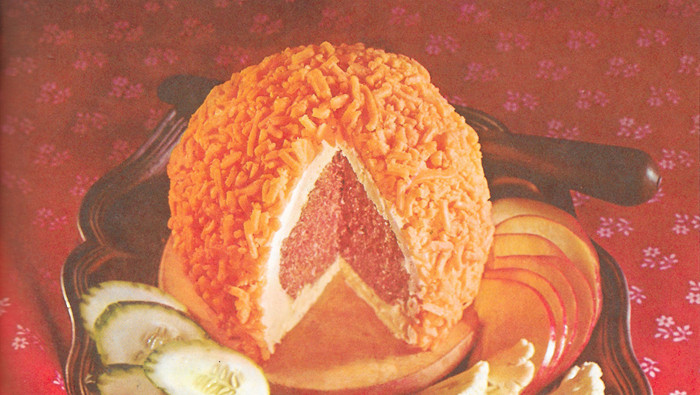 Photo credit: Good Housekeeping's Perfect Parties
1. Always offer a cheese ball. Or even two. If you don't have a cheese ball you are doing it so wrong. Vegans, this applies to you too. It doesn't matter what you do to your cheese ball -- you can shape it into a pineapple as demonstrated in the picture at the top of this article (yes, that is cheese, NOT a pineapple, photographed with that glass). You can make it gourmet and roll it in almonds. (Good Housekeeping's words, not ours.) Make it red and roll it in coarsely snipped dried beef. (Seriously.) Or make it green by rolling it in parsley. Just have a cheese ball, for the love of god.
2. Blend your guests as you blend your cocktails -- smoothly. One of the most important rules is to carefully select your guest list. Today's practice of putting an invite on Facebook and seeing what happens would not fly. Invite guests based upon how well they will get along with other friends and family. The Calvert Party Encyclopedia reminds us that the goal is to "blend a group which will enjoy each other's company and make for a pleasurable evening."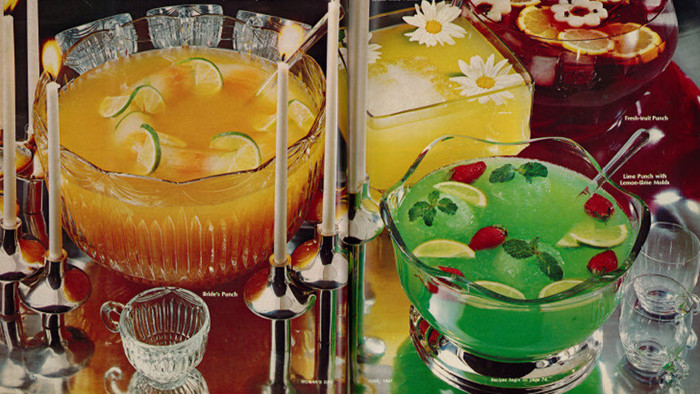 Photo credit: McCall's Cocktail-Time Cookbook
3. Serve cocktails. Lots of them. You didn't think we were going to forget about those, did you? When it comes to drinks, anything and everything is acceptable. Punch is offered as a fast, easy option. Making a bar where guests can serve themselves is another common idea. Just be sure to offer "old favorites and taste-tempting new ones" that will be sure to create an "atmosphere of good cheer," says Calvert. The bar is your road map -- explore.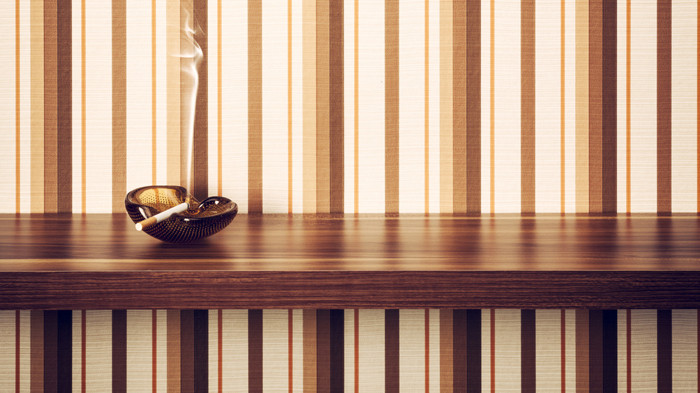 Photo credit: Thomas Vogel/Ghetty Images
4. Have lots of ashtrays, and leave them everywhere. That is a direct quote from McCall's Cocktail-Time Cookbook and is a true sign of just how much can change in half a century. This is one rule we don't need today.
5. Always be ready with a good toast. This custom is sadly starting to fade with time. Don't worry if you don't know any, The Calvert Party Encyclopedia has some for reference. You can choose from snarky ones, such as, "Here's to a friend. He knows you well.. and likes you just the same!" Or sweet messages like, " Love to one, friendship to many, and goodwill to all!" Or just tell it straight: "I wish you all the joy you can wish!" Bonus points if you learn how to say cheers in multiple languages. Skal! Yasas! Salud!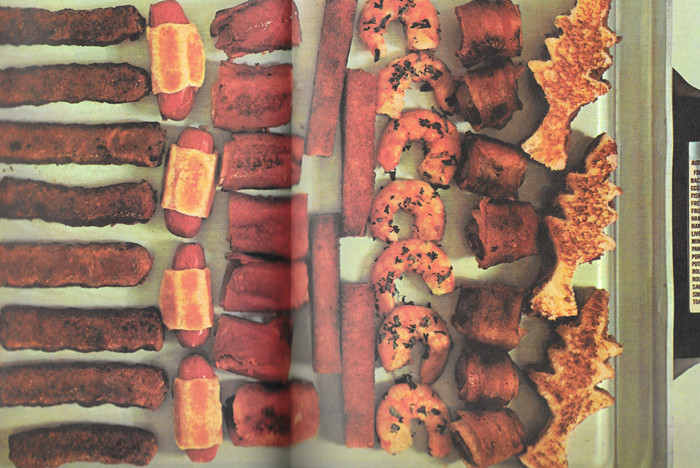 Photo credit: McCall's Cocktail-Time Cookbook
6. Serve lots of meat and wrap everything in bacon. Just take a look at that meat plate. That's all served at one gathering and it's nothing in comparison to how many foods you'll see covered in bacon (which was endearingly referred to as "wrapping in a blanket"). Olives? Yes, those should definitely be bundled in blankets. Chicken livers? Of course, those too. American cheese? Naturally. Pickled watermelon? You bet. Shrimp? You needn't even ask. It's excessive, but it's also one idea we hope will live on until the end of time.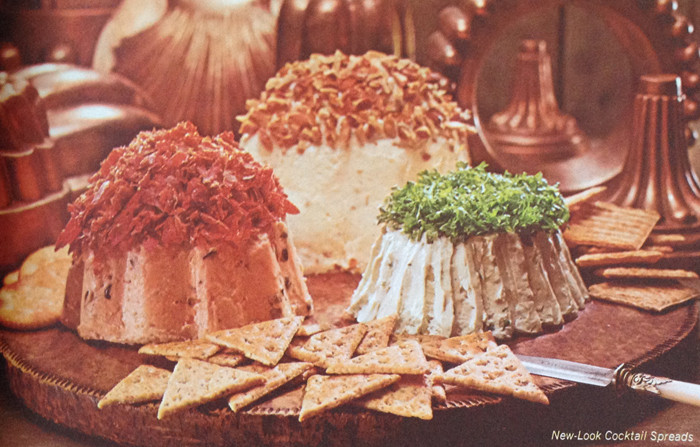 Photo credit: Good Housekeeping's Perfect Parties
7. Never underestimate the power of cream cheese. Maybe the most valuable rule, having cream cheese might be more important than the drinks. Use the spread to make winning recipes such as the Cheese-Paté Pineapple pictured in the photo at the top of this article, as well as all sorts of cheese balls (of course), chicken spreads and even dips for melon balls.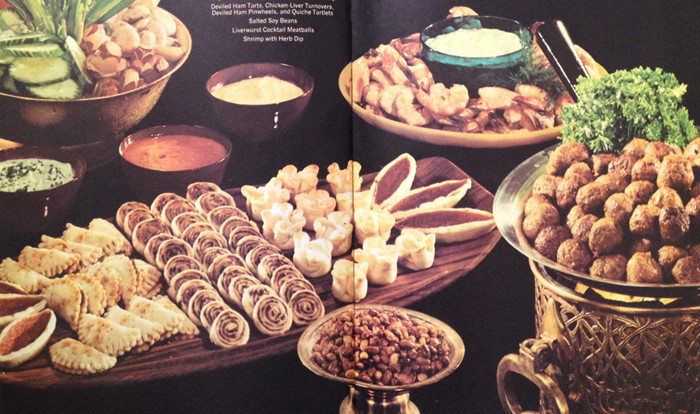 Photo credit: McCall's Cocktail-Time Cookbook
8. It's all about presentation, presentation, presentation. Location matters for real estate, but cocktail parties only care about presentation. Eye appeal is everything, Good Housekeeping tells us. No need to commission an ice sculpture -- the requirements are much simpler than that. Colored napkins rolled into a bouquet could do the trick. Or simply placing "conversation-sparking picks of different shapes, sizes and materials for spearing foods in antique vases, enamel pots or other unusual containers," recommends Good Housekeeping. "Topiary trees made from edibles such as cherry tomatoes, green or ripe olives, or marinated shrimp" could make decorative additions too, says McCall's.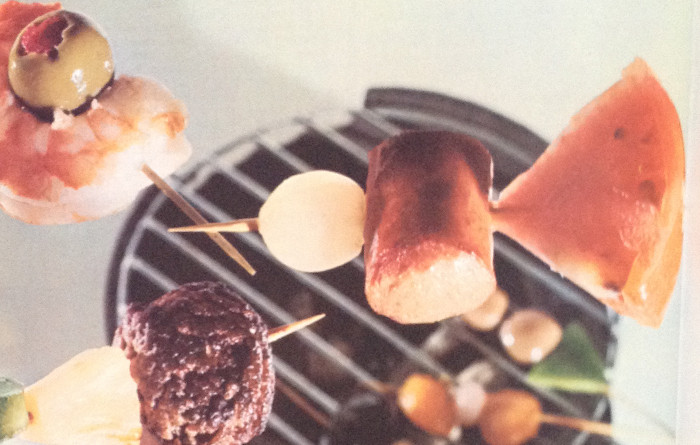 Photo credit: Classic_Film/Flickr
9. When in doubt, turn to Vienna Sausage. These tiny wieners hosts wouldn't dare offer today were highly popular at the time. You can serve them with mustard for the simplest recipe. Split them in half, top with cheese and wrap them with bacon to make Cheese Franks. Or you can batter and fry them to create Vienna-Sausage Fritters. Yes, this is real life.
10. RELAX. The whole point of throwing this affair is so that you, the host, can circulate the room, enjoy your friends and relax. All the food should be prepped before the guests arrive and the libations ready for folks to serve themselves. Now go throw yourself a party, fix yourself a drink and enjoy it.
Before You Go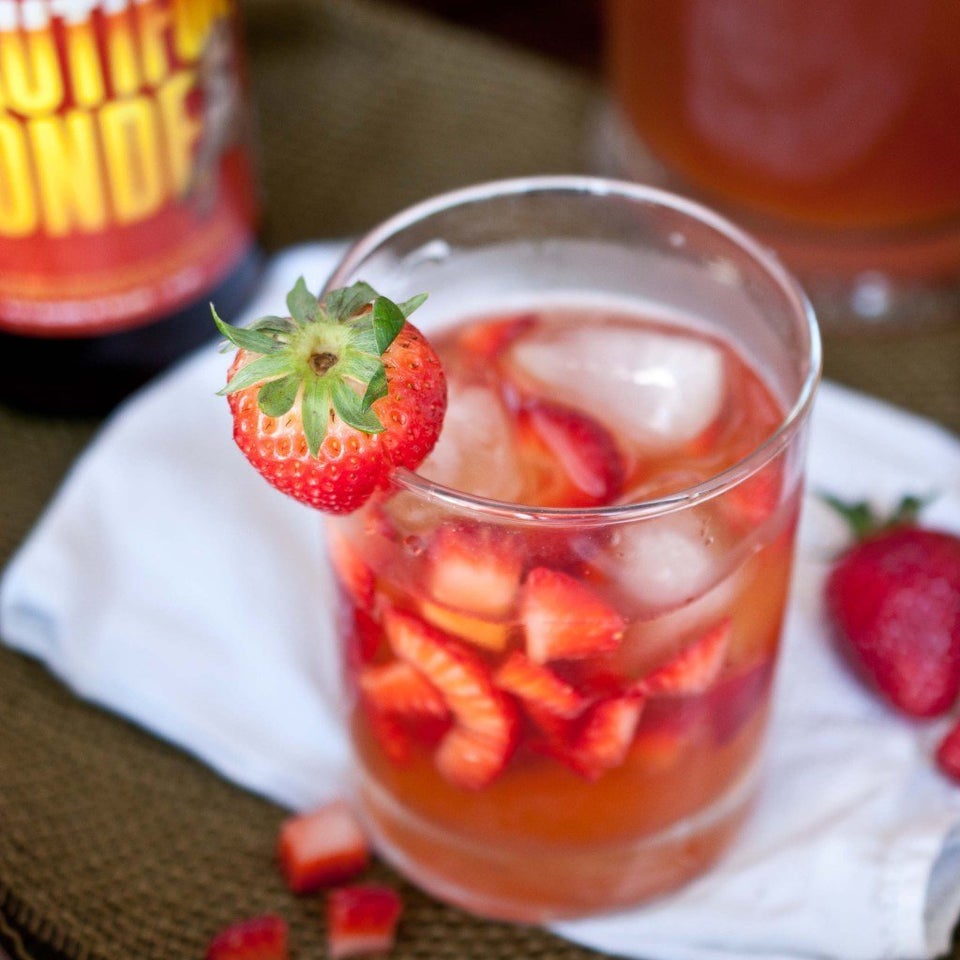 Beer Cocktails