Guitarist and songwriter Wayne Kramer will be playing once again -- unofficially -- as part of a Democratic National Convention.
The first time occurred in 1968 when Kramer belonged to the legendary Detroit proto-punk krewe the MC5 (which released the records Kick Out The Jams, Back in the USA, and High Time). Back then, the group served as the musical extension of poet John Sinclair's radical White Panther Party. Kramer recalls the violence that descended on Lincoln Park in Chicago on that August day, choppers hovering overhead as the MC5 finished their protest set against the Vietnam War at the Festival of Life.
This August 27, Kramer will join Jello Biafra (ex-Dead Kennedys), Rage Against The Machine and other radically identified performers in Denver at the Tent State Music Festival to End the War at the Denver Coliseum.
Sometime between the convention years of 1968 and 2008, Kramer watched the MC5 disintegrate and spiraled into addiction. He wound up in prison, reentered the underground music scene revered as one of the godfathers of punk rock, released a series of searing and thoughtful solo records (The Hard Stuff, Dangerous Madness, Adult World), became a respected -- and sober -- part of the LA music scene, and has even reformed the MC5 with the band's remaining living members. Kramer, 60, also works on addiction and recovery issues and is an activist for health care for musicians.
Kramer recently completed a jazz score, Lexington, for an upcoming film, The Narcotic Farm, about the defunct Kentucky prison that housed noted jazz musicians and other addicts. He's outspoken in his opposition to the federal War on Drugs, which wages its fight through incarceration instead of treatment. Kramer says, "It doesn't get talked about, but this is a crime against humanity. If I had my way, there are certain leaders who would be in The Hague for crimes against the American people."
What's changed for Kramer in the forty years since the Chicago debacle of '68? Why protest in Denver today?
I called up Citizen Wayne (to borrow the title of one of his recordings) to find out where his head's at these days.
Why are you participating in the Tent State Music Festival to End the War?
Wayne Kramer: It's a tradition. Every forty years I protest the Democrats. No seriously: there's some historical significance for me, having taken an activist stance as a musician in 1968 to protest an illegal war; and then, today, to find myself in the same situation with another illegal war, and be part of a generation that says "This has to stop now." My sense of participating in Democracy requires it.
Do you support Barack Obama or are you skeptical of him?
I support Barack Obama. But Barack Obama cannot save us. We have to save us. Any change that's going to happen to move us forward on social justice issues always starts from the ground up. You know, it will be helpful to not have to battle as hard as we have with the Bush administration. I think Barack Obama shares a great many of my ideas about change, but he's not going to be our savior. It's really a matter of people themselves taking action in their own neighborhoods, at the own jobs, in the own homes, with their own friends, their own co-workers, to move us into the future, a more just world.
What do you think the role of the musician is in the cultural dialogue?
I think there are two. One is as a messenger and as an observer. A musician can write a song. And you can tell a story in that song. And if you identify with that story and the sentiment of that story and I identify with it, then we've met together. And that creates a sense of community: that we all met together in Bob Dylan lyrics, that we all shared an idea. The other is the role of activist; then, not only can I report on the action, I can take action myself.
What are your recollections of playing during the 1968 Democratic National Convention in Chicago?
There was no stage, there was no flatbed truck, there was no sound system, there were no porta-toilets, there was no electricity. We had to run an electrical cord from the hot dog stand to power our gear. We played on the ground in the middle of Lincoln Park in Chicago with the crowd all around us sitting on the ground, in the back standing. I'm going to guess there were maybe 3,000 young people there. And it was very tense. The Chicago police had been very aggressive and very intimidating all day, and even though it was a rock concert and we were the only band to play, it didn't feel like a rock concert. There was a dark cloud over the day because we knew the likelihood of people being hurt was great.
Did you witness some of the violence?
Yeah, as soon as we finished playing, the police started attacking the crowd: these waves of blue-helmeted club-swinging Chicago police officers.
Listen, some of those young people in the crowd weren't unprepared for that, and many people were completely happy to give back as good as they got. Of course, [attacking the police] was a losing cause.
That must have been a heavy scene, made even heavier by the hash brownies the band had been eating.
Yeah, we were pretty stoned. But, you know when the police start beating people -- that can ruin your buzz.
What's a good working definition of the MC5's famous injunction "Kick out the jams."
If you're going to accomplish something, it requires full measures. You have to make a total commitment to the effort involved. Half-an-effort doesn't get you half-a-result; half-an-effort gets you nothing. To accomplish something, you have to be in it with both feet. You have to come early, and you have to stay late. The song doesn't say, "Slide out the jams." It doesn't say, "Stroll out the jams." It says, "Kick out the jams!" It means give it 100%.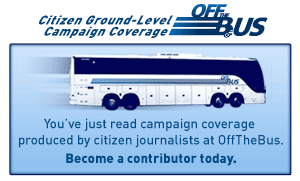 Calling all HuffPost superfans!
Sign up for membership to become a founding member and help shape HuffPost's next chapter