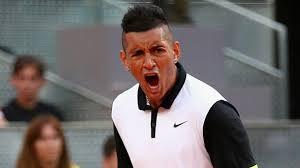 New 20-year-old Aussie tennis sensation Nick Kyrgios has come perilously close to being defaulted for language and/or racquet and ball abuse at the US Open, the Australian Open, where John McEnroe was famously defaulted in 1990, and the Estoril Open in Portugal. He defeated Rafael Nadal last year at Wimbledon, and now one of his childhood idols, Roger Federer, at the Madrid Open on May 6th. During a changeover, Roger was heard on camera saying, "We need a clown for this circus."
A different side of Nick is that on losing his grandmother Julianah days after his win over Nadal, he had "74" tattooed on one finger, the age she passed away. At the Australian Open in January, he fell to one knee after each of his wins and kissed that finger. He participated in the Relay for Life cancer event in his hometown Canberra in March even while recovering from an ankle injury. And now he's the first ATP World Tour player to take the #VolleyingChallenge.
Naomi Watts, Jessica Chastain, and Anthony LaPaglia helped on Twitter with the lead-in to it. The Australian Open and the French Open have supported the challenge, sharing Nick's volleying video, and Tennis on Facebook posted it to its 11 million followers. In the video, which now has 197,000 views, Nick uses the catchphrase for the challenge, "go to the wall against cancer," asks fans to "sign Briggs's petition," and nominates Andy Murray, Serena Williams, and fellow-upcoming Aussie Thanasi Kokkinakis, who also has an earring but not Nick's crazy haircut.
The aim of the challenge is to get a million signatures on the Petition for Briggs for Cancer Immunotherapy for All. This is the #VolleyingChallenge post on Facebook. Briggs's tennis story is in the YouTube description of my volleying video there.
I shot the video in New York, on the handball courts in Greenwich Village where we'd hit together every Sunday morning. After Facebook posted it, too, comments ranged from "Fast freakin hands" to "WOW!" to "good heavens! what great hands; control and focus!!! amazing!"
Briggs would have been pleased. I taught her to play and she'd always wanted me to make one. I ended up making it in her memory to send it to the 7 tennis greats on the petition when asking them to sign: Billie Jean King, Chris Evert, Evonne Goolagong-Cawley, the Bryan Bros, Andy Roddick, and Ana Ivanovic. 19 stars have signed too, including Naomi Watts, Bradley Cooper, Emily Blunt, Scarlett Johansson, Rob Lowe, Debra Messing, Penelope Cruz, and Elle Macpherson.
Of course, the #VolleyingChallenge is more about heart than skill, to get the signatures for this new era to begin. Any player at any level can take it, or no level. Meredith Vieira's also on Briggs's petition. She doesn't even play but she's going to take the challenge.
Calling all HuffPost superfans!
Sign up for membership to become a founding member and help shape HuffPost's next chapter