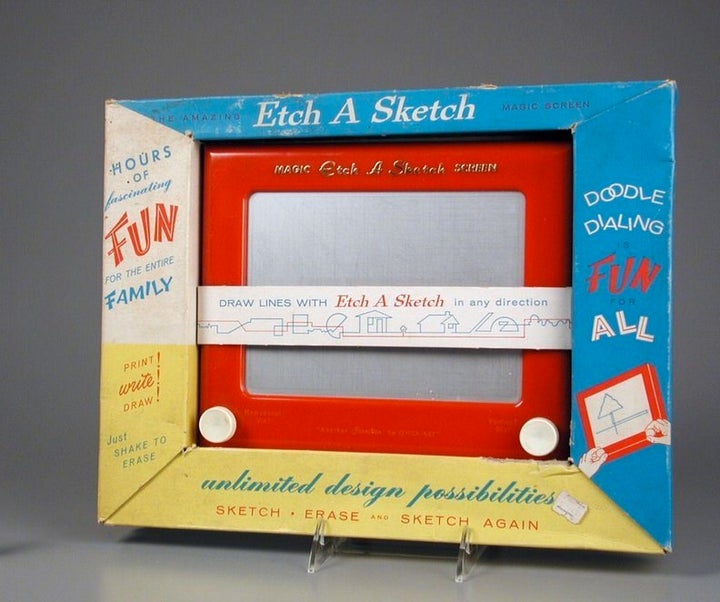 Growing up in the '70s, as soon as the last plate was cleaned and put away from Thanksgiving dinner, it was Christmas time. It's true that I loved all the activities and traditions, but I can't deny that my main focus was on toys. I admit I was spoiled, which is somewhat understandable given my rather unusual circumstances. I have three brothers and one sister, who range from 14 to 27 years older than me, so in a way I was raised as an only child, and by age 4 I was surrounded by adults. As I indicated in my previous post, there is nothing quite like viewing Christmas through the eyes of a child, so I had plenty of people happy to indulge me.
To me, there were only two good uses for the Sunday paper. One was making copies of the color comic strips using Silly Putty, and the other was to see all the toys on sale. The #1 flyer to secure was the one for Bargain Town. This was a chain of red and white-striped stores in Chicago, and it was the Mecca for toys. The South Side store was on Cicero Avenue near Midway Airport. Its TV ads ran all the time, starting in the morning during the "Ray Rayner and Friends" show on WGN. Yes, there were toy aisles in five and dimes, drug stores and grocery stores. There was a toy department in Sears. But when it was your birthday or Christmas, you wanted to go to Bargain Town. Eventually, Bargain Town was bought out and became Toys"R"Us. As this was a traumatic turn of events, the new store displayed a little red and white-striped plaque or something on the outside, just to reassure us kids. We hadn't yet put our faith in the giraffe.
With the Bargain Town ad in one hand and the Sears catalog in the other, I would start to prepare my wish list on the day after Thanksgiving. Early targets were Crayola Crayons, coloring books, Lite Brite, Etch-A-Sketch and Mr. Potato Head. Then came GI Joe -- and it didn't stop with the action figure. They made everything from replacement outfits and guns to full-on jeeps, tanks and submarines. That led to other action figures, my favorite being the cowboy Johnny West and the Indian Geronimo (I would pretend they were the Lone Ranger and Tonto), and others such as Big Jim and Action Jackson. Beyond that, all my friends and I loved Matchbox and Hot Wheels cars, along with the orange colored tracks and loop-de-loop you could set up all over the basement. There were also toy weapons to long for, so you were well armed for the inevitable summer day when every boy in the neighborhood would assemble for one epic game of "guns."
The famous line "He's making a list, he's checking it twice, he's gonna find out who's naughty or nice" from the song "Santa Claus is Coming to Town" was used to great effect by my brother John during this season. Any time I stepped out of line he would point to the nearest window and claim that he just saw Santa Claus peeking in. At first this confused me, as my little mind imagined Santa hard at work in the North Pole, overseeing countless elves in a toy-making frenzy. I boldly put forth my theory, only to have it shot down. I was told he had senior-level elves to be left in charge of toy production; making and verifying the naughty vs. nice list could only be handled by the man himself. That it still the most effective behavior modification tactic I have ever encountered, and it worked for years. I never ate more vegetables or went to bed without putting up a fight like I did during that span.
However, once Christmas morning arrived and the presents were opened, all that "behaving" stuff went out the window. It was time to play with your toys! Who wanted to stop playing and say hello to your aunts and uncles, or go wash your hands for dinner? One year, I received a very cool action figure set consisting of a knight and a horse, complete with a million little pieces of "armor" for each, to simulate protection for jousting. My brother Jim spent hours pulling each piece out of its plastic frame, and bending and shaping the armor around the figures. As soon as he was done, I wanted to see what was underneath, so I pulled it all off. Less than five minutes later, I wanted it all back on. When I asked, the look on Jim's face changed.
Thankfully, my family considers it bad form to maim a sibling on Christmas Day.
PHOTOS: Tom Cramer's Wishlist
PHOTO GALLERY
Tom Cramer's Wish List
Calling all HuffPost superfans!
Sign up for membership to become a founding member and help shape HuffPost's next chapter