Looking back, it was an undeniably fertile creative moment in New York City. Things were coalescing and I was in the thick of it.
Having been gigging around New York City for almost three years, by the spring of 1976, my band, The Planets, were gaining real momentum. Our gigs at CBGB and Max's Kansas City were starting to actually draw. We were headlining weeknights and 'special guest'-ing on weekends.
And while record labels were starting to give us a sniff, there was, it seemed, a problem.
You see, our singer and bassist were black. Tall, slim, stylish, good looking black guys.

Of course, no one in the ultra-liberal music biz came out and said that was an issue. It was more along the lines of "Wow, you guys are great. But, the singer doesn't quite fit, does he." or, "Hmmm... Your band has a very ummmmm interesting look..."
This being at least five years before Prince would release "Dirty Mind", making it kosher for black guys to play rock 'n' roll guitar (oh, the irony!), the A&R guys and gals in New York City were flummoxed. As a born 'n' bred 'color-blind' New York City boy, I only realized later, they did have to take Uhmurka in consideration.
But, then, one unassuming weeknight, Bob Regher, a California-based A&R executive at Warner Brothers Records, happened to be in town and stopped by CBGB just as we went on. Mr. Regher had been hyped mightily by our dear pal and original manager -- and by now Warner Bros. VP of Publicity -- Bob Merlis. Thank you, again and again, Bob.
Mr. Regher came backstage after our set, beaming, and introduced himself.

He'd signed Laurie Anderson, Rickie Lee Jones, and some British band called the Sex Pistols. And... now, he said he wanted to sign us! Within weeks, Bob Regher had put his money where his mouth was and underwrote a demo to the tune of $5,000 (about $20,000+ in 2013 money).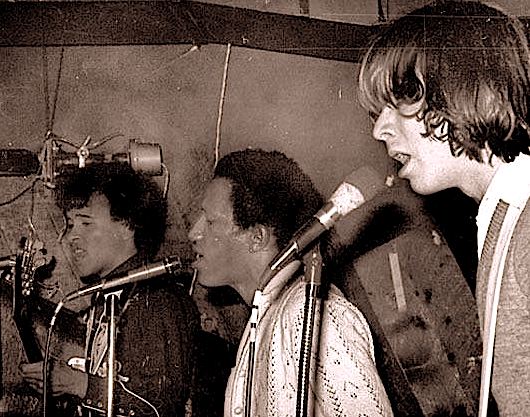 About a month later, The Planets went into the world famous Record Plant recording studio and cut five songs with KISS's engineer, Corky Stasiak. The demo, we were thrilled to learn, went over very well at Warner Bros. headquarters in Burbank, California.
Who did we want to produce our album?, asked A&R VP, Bob Regher.

We were all crazy about Thin Lizzy's new Jailbreak album, featuring the world-wide hit, "The Boys Are Back In Town". We told him we wanted Thin Lizzy's producer, John Alcock, to do our album. Bob R. liked the idea, too.
To our amazement and delight, Warner Bros. Records first flew in John Alcock's manager to see a show at a Brooklyn high school way the hell out in Bay Ridge. We played the most exciting show of my life. These high school kids would halfway riot during every guitar solo. They rushed the stage. Naturally, Manager Bloke loved us and alerted Mr. Alcock of our potential.
Next, Warner Bros. flew the imposing six foot five Mr. Alcock into New York from London. He came to a weeknight show at Max's. We were as nervous as we'd ever been. We managed to give a solid B+/A- performance. When we were back in the dressing room after the set, he strode in, sat down, and announced that he was ready to record us. Just like that! Tally, our singer, burst into tears. Alcock's gruffness melted.
John Alcock went back to London and booked us into The Who's recording studio, Ramport. The Who's studio!
The legal department at Warner started getting our contract together. We were even using The Who's lawyer, Ina Meibach.
Ted Templeman, another major Los Angeles A&R exec at Warner Bros. returned from a month-long vacation. Someone played him our demo. He was instantly incensed. He went to the head of the label, Mo Ostin and demanded that Warner Bros. NOT sign The Planets.
See, it turned out that Ted had just signed and produced a band for the label and he was fearful that his guitar-hero band would not get the full attention of the staff if they had another guitar-hero band to choose from, possibly diluting the push on his band.
Ted's band was called Van Halen.
After an excruciating month of protracted "I'm just not sure" nonsense by subordinates, Mo Ostin sided with Ted over Bob.
As awful and disappointing as this was at the time -- and, at the time, I was almost suicidal -- to be blown out of a record deal by Eddie Van Halen because his producer was actually worried that my band and my guitar playing might lessen the impact of Eddie, Dave, Alex, and Michael, is indeed, in retrospect, a hell of a compliment.
Calling all HuffPost superfans!
Sign up for membership to become a founding member and help shape HuffPost's next chapter