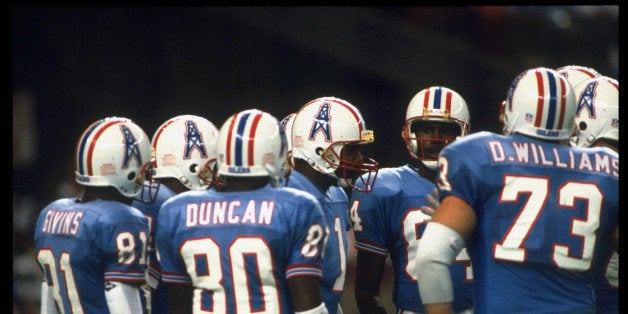 "Listen, those guys that we're talking about were unbelievable teammates. And if you wanted to go to war with someone, you would get those guys first. Because I have never seen tougher guys than those guys," former Oilers linebacker Lamar Lathon told the Houston Chronicle as part of a larger retrospective on the team's tumultuous season. "And everybody in the locker room, the consensus knew or had an idea that things were not exactly right. But guess what? When they strapped the pads on and got on the field, man, we were going to war with these guys because they were unbelievable."
CLICK HERE for the oral history of the Houston Oilers' 1993 Season

Nearly 20 years after the '93 Oilers roller coaster season ended with a heartbreaking come-from-ahead playoff loss to Joe Montana and the Kansas City Chiefs, NBA center Jason Collins became the first active male player in one of the four major North American professional team sports leagues to come out as gay. Collins' announcement in April was followed shortly by Robbie Rogers becoming the first openly gay player in the MLS in May.
Although no active NFL player has come out, there is little doubt that there are gay players in the league. Punter Chris Kluwe, currently a free agent, has been an advocate for same sex marriage and believes it is only a matter of time before an active gay player comes out.
Despite the positive reactions to Collins and Rogers coming out and the increased support for equality from straight players like Kluwe, there are still enough negative, intolerant views expressed to make the NFL's readiness for an openly gay player the subject of ongoing debate. Prior to Super Bowl XLVII, San Francisco 49ers cornerback Chris Culliver sparked controversy by saying an openly gay player would not be welcome on his team.
"I don't do the gay guys man," Culliver told shock jock Artie Lange during a radio interview, via Yahoo! Sports. "I don't do that. No, we don't got no gay people on the team, they gotta get up out of here if they do."
Culliver would later apologize but his quotes served as a reminder that the views of outspoken advocates for equality like Kluwe were not the only ones held in locker rooms. Although he took a far more open-minded view of playing with a gay teammate, Minnesota Vikings running back Adrian Peterson has said that aspects would make him "uncomfortable."
"Simple things, as far as showers and things like that, you know, of course, anyone would be uncomfortable," Peterson told The Oklahoman in June. "But you know, I'm a grown man. There's things that I can deal with. I'm comfortable in my skin."
On the topic of taking showers with teammates known to be gay, former Oilers defensive back Bubba McDowell told the Chronicle it was "no big deal."
Although it was apparently "no big deal" for the 1993 Oilers to play with and have respect for gay teammates, there is one current league executive who reportedly believes the NFL isn't ready to accept a player who publicly came out in 2013.
"The league office backs the idea of an openly gay player, but one high-ranking league official believes the NFL isn't yet ready for one," reported Mike Freeman of Bleacher Report in November, citing several unnamed sources. "League executives think football is three to five years away from accepting such a player, according to an NFL source. The league plans to carefully and deliberately make the atmosphere more tolerant and comfortable in the meantime, setting the stage for when that happens."
Calling all HuffPost superfans!
Sign up for membership to become a founding member and help shape HuffPost's next chapter
BEFORE YOU GO
PHOTO GALLERY
Best 2013 Sports Photos