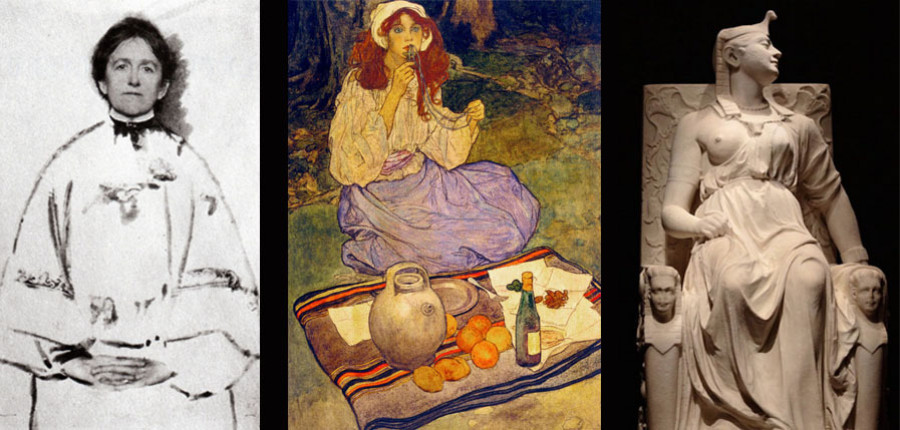 The following artists constitute a very different breed of American heroes than those we're used to hearing about. They fought for feminism decades before the term was coined, proving that it's not just plausible, but necessary, that America's artistic narrative includes the female voice.
The following 12 women used paint, pen, clay, stone and thread to do their very best to ensure liberty and justice for all. And, for that, we're eternally grateful. Behold, 12 woman artists of the 19th century who deserve to be on every college art history syllabus.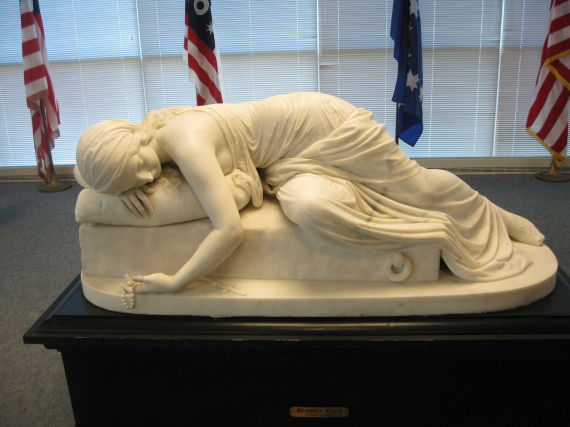 Born: 1830From: Watertown, MassachusettsMedium: SculptureWhy we love her: Hosmer is officially known as the first professional woman sculptor. Additionally, she moved from America to Rome at 22 years old and joined an expatriate community of writers and artists, with a prominent circle of independent women.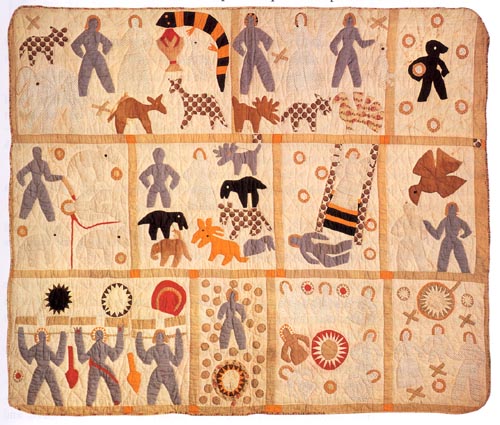 Bible quilt, Mixed Media. 1886
Born: 1837From: Clarke County, GeorgiaMedium: TextilesWhy we love her: Powers was born a slave, and, throughout her lifetime, translated Bible stories, myths and astronomical events into vibrant quilts using appliqué and piecework techniques. She is remembered as one of the most exceptional 19th century Southern quilters in history.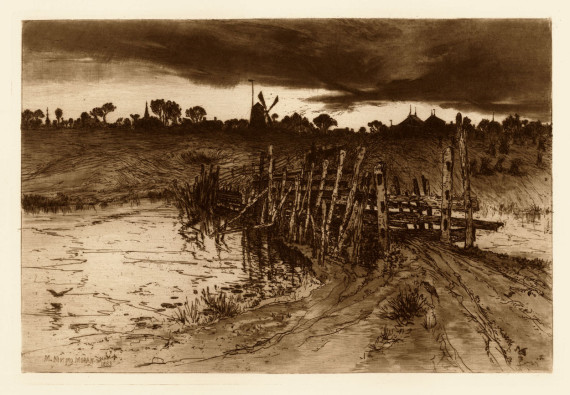 Tween the Gloaming and the Mirk, When the Kye Came Hame, Etching in sepia toned ink, 1883
Born: 1842From: ScotlandMedium: EtchingWhy we love her: Although born in Scotland, Moran emigrated to Philadelphia at five years old. She kept her gender identity hidden, signing her works "M. Nimmo Moran" to prevent discrimination. She eventually became the only woman fellow of the original London's Royal Society of Painter-Etchers.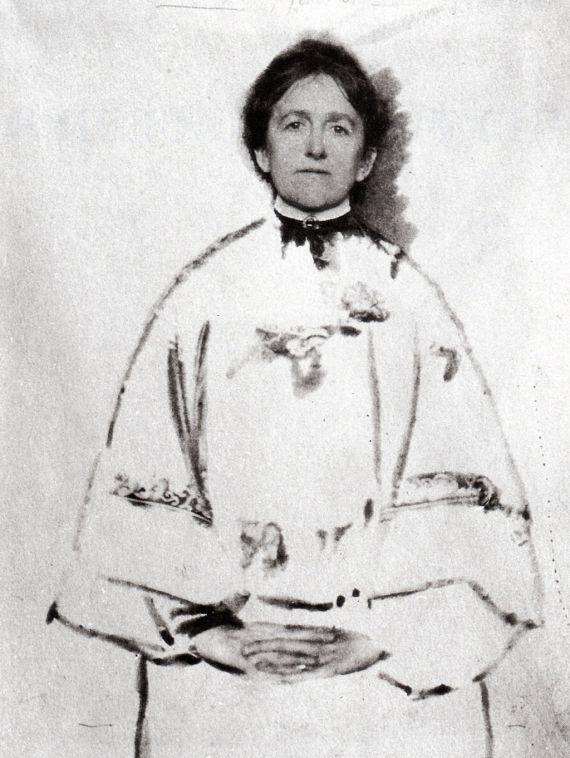 "Portrait of the Photographer," manipulated self-portrait
Born: 1852From: Des Moines, IowaMedium: PhotographyWhy we love her: Käsebier remains one of the most influential photographers of the 20th century, known for her poignant portraits of motherhood and Native Americans. In 1899, one of her prints, titled "The Manger," sold for $100 -- which, surprisingly enough, was the most ever paid for a photograph at that time.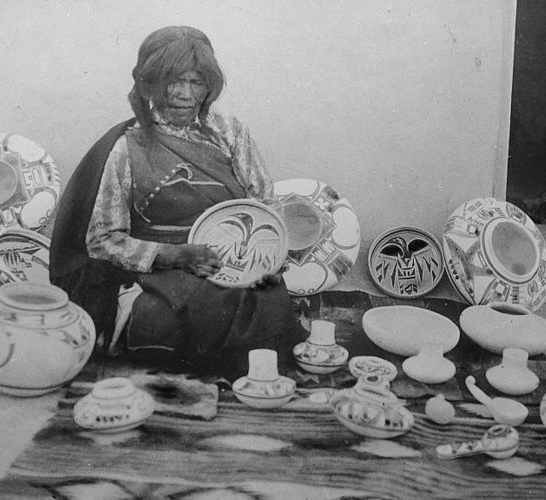 Nampeyo, Hopi pottery maker, seated, with examples of her work, 1900. Henry Peabody.
Born: 1856From: Tewa Village, ArizonaMedium: CeramicsWhy we love her: Nampeyo, more inspired by earlier 15th-17th century Hopi ceramic tradition than the contemporary pottery trends, created a genre all her own. Called Hopi Revival pottery, she coupled protohistoric pottery from ancient villages with her own personal style. "When I first began to paint, I used to go to the ancient village and pick up pieces of pottery and copy the designs," Nampeyo said in the 1920s. "That is how I learned to paint. But now, I just close my eyes and see designs and I paint them."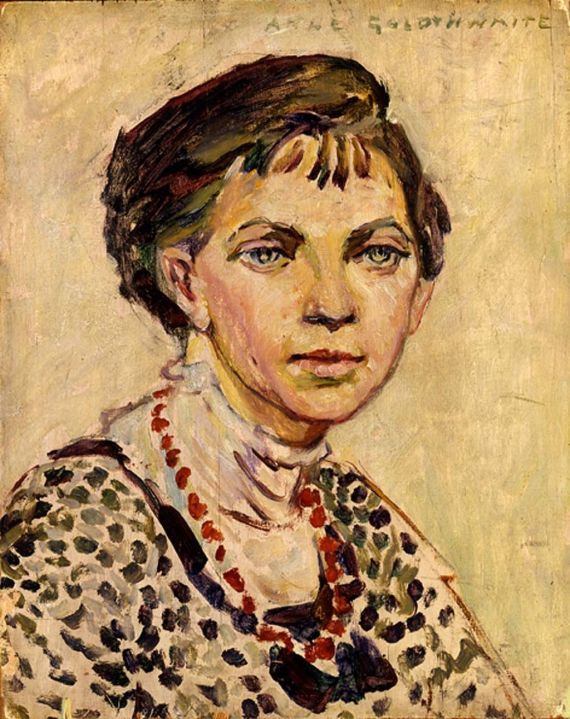 Self-portrait, circa 1906-1913, Smithsonian American Art Museum
Born: 1869From: Montgomery, AlabamaMedium: PaintingWhy we love her: Goldthwaite began running in an artistic circle after meeting Gertrude Stein in Paris. She then became known for her portraits of African Americans and life in the American South. The artist and noted women's rights advocate was also selected to exhibit her work in the first ever Armory Show in 1913.
6. Elizabeth Shippen Green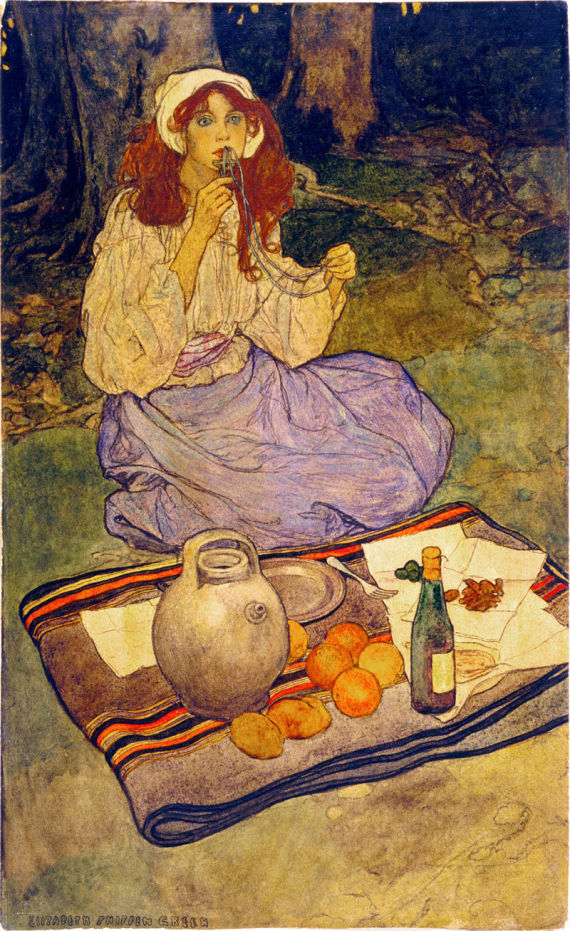 "Miguela, kneeling still, put it to her lip", Harper's magazine, 1906
Born: 1871From: Philadelphia, PennsylvaniaMedium: IllustrationWhy we love her: Green, who created illustrations for children's books and magazines beginning at the ripe age of 18 years old, was also a vocal (and visual) proponent of the "New Woman," an updated model for the educated and modern woman to help overcome the dominant, sexist stereotypes of the time.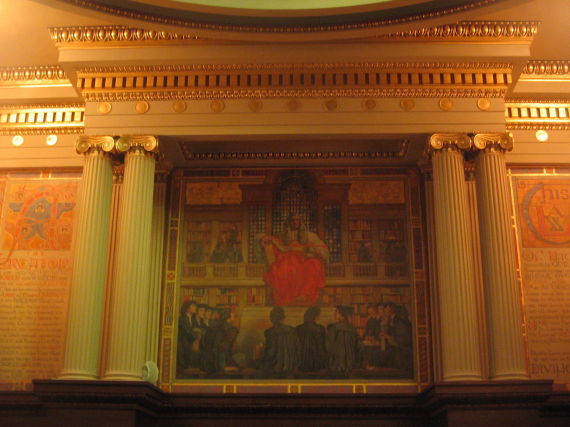 Supreme Court mural, Pennsylvania State Capitol
Born: 1874From: Bergen Heights, New JerseyMedium: Murals, painting, illustrationWhy we love her: Oakley, who worked in everything from illustration to stained glass, had a soft spot for English Pre-Raphaelite aesthetics, which she held on to even after Modernism took over the cultural climate. She was, additionally, the first American woman to receive a public mural commission.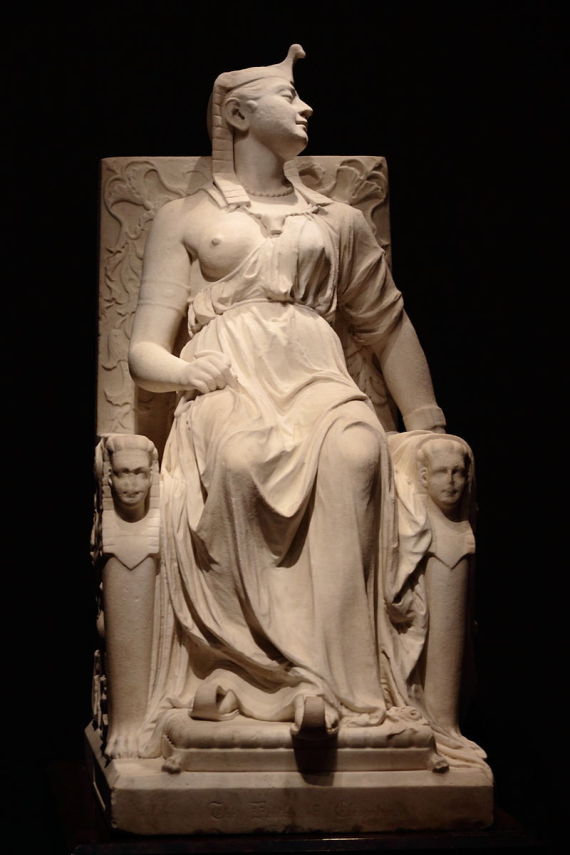 Born: 1844From: Greenbush, New YorkMedium: SculptureWhy we love her: Lewis was revered for her breathtaking sculptures, which used Neoclassical styles to grapple with subjects relating to her African American and Native American heritage. Throughout her lifetime, she was the only African American female artist to achieve notoriety in the American artistic mainstream. Also, her Native American name was Wildfire.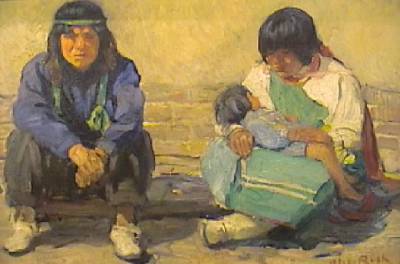 Born: 1873From: Fairmount, IndianaMedium: PaintingWhy we love her: Rush, who was raised a Quaker, created artwork inspired by sources ranging from early Japanese prints to Hopi pottery to El Greco paintings. She was one of 850 artists recruited by the Department of Treasury to boost morale during the Depression, and is most celebrated for her contributions to Native American art education, sparked by her time teaching at the Institute of American Indian Arts.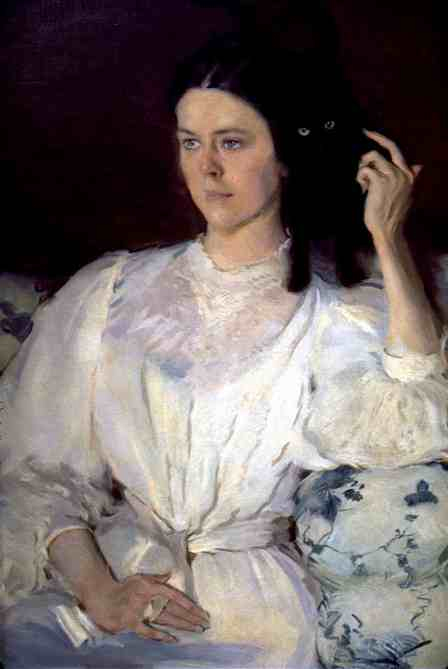 Sita and Sarita (Jeune Fille au Chat). Portrait of Sarah Allibone Leavitt, 1893–1894. Collection of the Musée d'Orsay, Paris
Born: 1855From: Philadelphia, PennsylvaniaMedium: PaintingWhy we love her: Beaux was known for her portraits of America's ruling class. The artist, who considered romantic relationships a distraction, is often remembered for "Sita and Sarita," the mysterious image above. When it was exhibited in 1893, one critic commented on "the witch-like weirdness of the black kitten."
11. Evelyn Beatrice Longman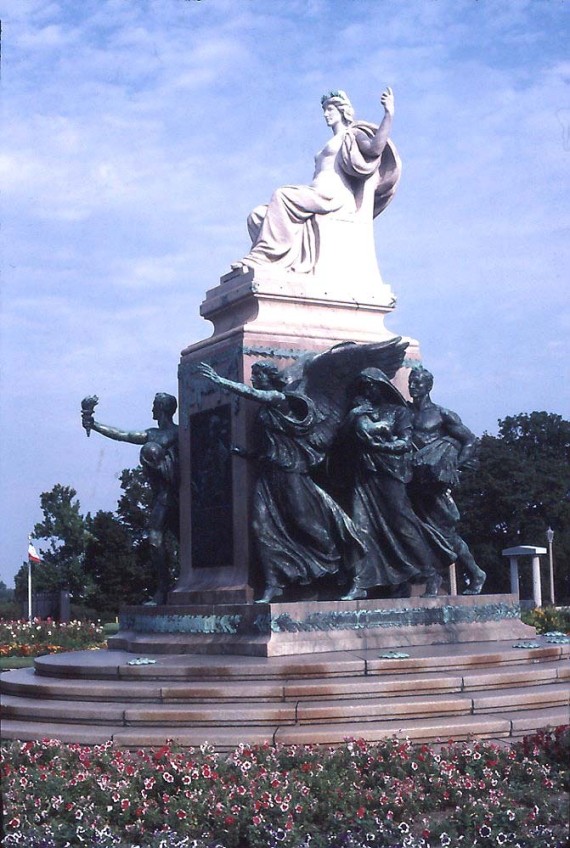 Sen. William Boyd Allison Monument, Des Moines, Iowa 1916
Born: 1874From: Winchester, OhioMedium: SculptureWhy we love her: Longman's allegorical sculptures were displayed at art expositions, public buildings, monuments and memorials -- including the Lincoln Memorial. She was also the first woman sculptor to be elected a full member of the National Academy of Design.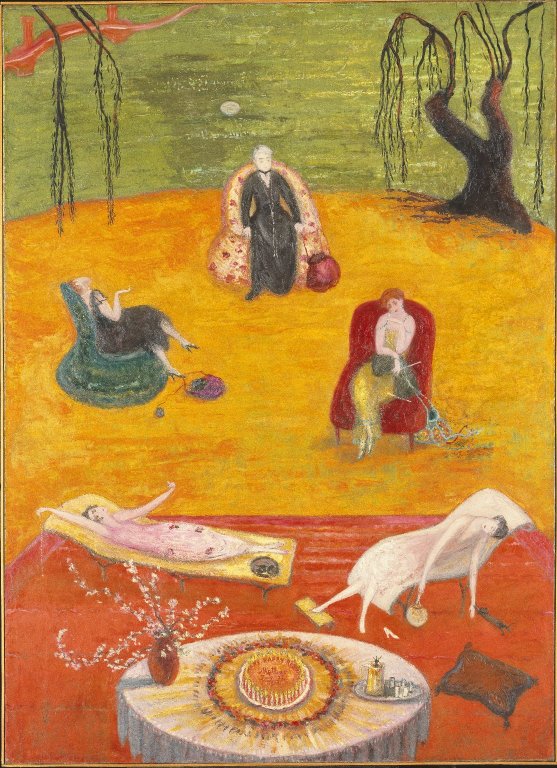 Heat, c.1919, by Florine Stettheimer is in the Brooklyn Museum
Born: 1871From: Rochester, New YorkMedium: PaintingWhy we love her: Stettheimer was known for her Manhattan-based modernist salons with guests including Marcel Duchamp and Georgia O'Keeffe; and this was the sole space she'd exhibit her wildly colorful paintings. Her highly personal works have been described as "unapologetically domestic and über-feminine ... 'rococo subversive,' embracing a camp sensibility." She intended to have her work destroyed following her death, but, luckily, her sister had other plans.
Related
Before You Go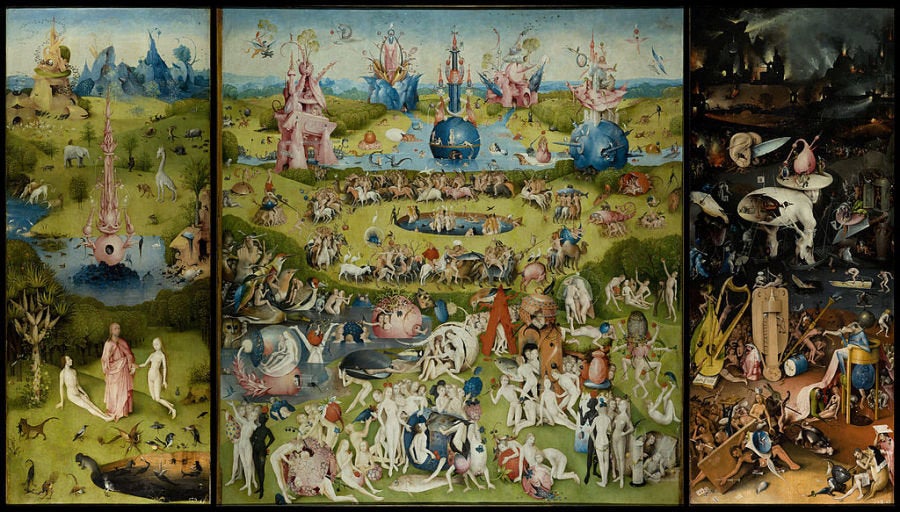 30 Artist Names You Are Probably Pronouncing Wrong
Popular in the Community