 The last time we spoke to 2 Chainz, he was campaigning for felon enfranchisement and mused that he could beat Mitt Romney if the then-GOP candidate for president wasn't so rich. In a conversation last Saturday on his bus at Coachella, however, 2 Chainz took a more balanced view of the presidency.
"I really can't have a say-so about whoever is the commander-in-chief," he said while recovering from his second performance at the festival. "I just try to do right whether it's a Republican or a Democrat. But I definitely voted for Obama. He's just dealing with a lot of issues, from that Boston shit to overseas issues with North Korea and everything. Bro's got a lot on his plate, so you can't do anything but support him."
That sort of positivity and casual regard for life's challenges has underscored 2 Chainz' renaissance from Atlanta trap scenester to hip-hop's favorite rapper. The 35-year-old never thought he'd reach international superstardom, but he's here now and he's looking to have fun. "It still hasn't hit me, actually," the lanky man born Tauheed Epps said when asked if he's settled into his newfound celebrity. "I know this won't last forever, but I'm maximizing my 15 minutes of fame and trying to make it an hour and fifteen."
So far, it's worked. During his second Coachella show, the rapper brought out Fall Out Boy to perform a remix of the group's infectious lead single, "My Songs Know What You Did In the Dark (Light 'Em Up)." Fall Out Boy -- the band that currently has the country's No. 1 album -- was not booked at the festival, which means Pete Wentz, Patrick Stump and friends drove all the way to the desert just to do one song with a rapper performing in the middle of the afternoon on a minor stage.
2 Chainz knows his career is propelled as much by his likability as by his witty if unchallenging verses. When we told him that Diplo wanted him to come out on stage during Major Lazer's performance later that afternoon, he immediately took out his cell phone and called the dancehall-cum-EDM producer. Less than an hour later, 2 Chainz came out and performed an unreleased remix of Major Lazer's song "Bubble Butt," having changed into a new Jeremy Scott getup for the occasion. Hell, he's even on "SVU." The guy's just game.
Ahead, an edited transcript of our chat with 2 Chainz, in which we discuss whether he felt slighted by his Coachella slot, what we can expect from Kanye West's new album and how he overcomes his health issues to stay fit on tour.
How do you feel about the album and the way it plays live?
I just feel like the hard work is paying off. I definitely saw results. I'm looking forward to my sophomore album. I've practiced some of the same habits as I did making the first album. I'm just focused and I'm enjoying life. If you have good thoughts and pray a lot, you can have a good outcome. That's my form.
Were you surprised how small your name was on the Coachella line-up and that you were on a little tent? It was packed in there!
Wait -- the tent isn't supposed to be like that?
No, it is, but it looked like you could have attracted a much bigger crowd.
Yeah, I was like, "Damn! Look all the way in the back." I think I could have done the main stage this year. One thing about me, is that I don't mind speeding people up and notifying them about my campaign. In London, I opened up for Nas, so it was more of a hip-hop crowd that was there for Nas, but I still went out there and did my thing and trusted I could get somebody out of that fan base to support me.
There are still so many people that want to do songs with you, from basically every rapper to Fall Out Boy. Why?
It's a little bit of quality and quantity put together. There have been a lot of good things that went out and did well. But also, I'm just a good person.
Last time we spoke, you said you wanted to get away from doing so many features--
Obviously that shit hasn't worked. But I'm just trying to do different features now. Not so many mixtape joints, because it doesn't really benefit me anymore. And I also don't want to do so many hip-hop joints because I've done a song with every single hip-hop artists I wanted to, so I want to still keep it like a competition. Now I do features outside of my genre, like the Fall Out Boys or R&B cuts.
You're always posting photos of these tasty and healthy meals on your Instagram. Is that a recent obsession in your life or a longstanding way of living?
I don't eat beef or pork and I have never eaten pork. I stopped eating beef around the ninth grade. I really just eat like that. I don't eat fast food, I've had a chef with me for the past couple of years. What people don't know is that I have a bad case of acid reflux and ulcers, so if I don't eat properly, I'll get sick. And we can't afford to get sick on the road while we're moving like we move.
Is it more just about health, or would you say that you're also a foodie? Are there any restaurants you just have to go to?
I have restaurants that I like, but I just like eating healthy. I like good healthy meals, that's what I'm about.
Are you going to Paris to work on the Kanye album?
I already went.
What can you tell us about it?
You know I'm not going to tell you anything about that crazy ass boy! I know he got some hot shit and I can't wait. It's just time. Our conversations are always about making music better, about challenging each other. Just know that Mr. West has some dope shit on the way.
Do you have any thoughts on the whole Rick Ross / Reebok / rape lyric controversy?
Nope… That was easy, right? That's how you stay out of trouble! You see that? People come in like, "Well, I feel like…" It ain't about how you feel! I have no comment. That's how we keep it moving.
What's next?
I have an artist now, Cap 1 who is dope. We're just focusing on making other people's dreams come true and helping feed other people's families. My sophomore album should do good just because I say so. I will work hard and do right -- I have great songs and I worked with dope producers. It's just about me spreading the love and the blessings.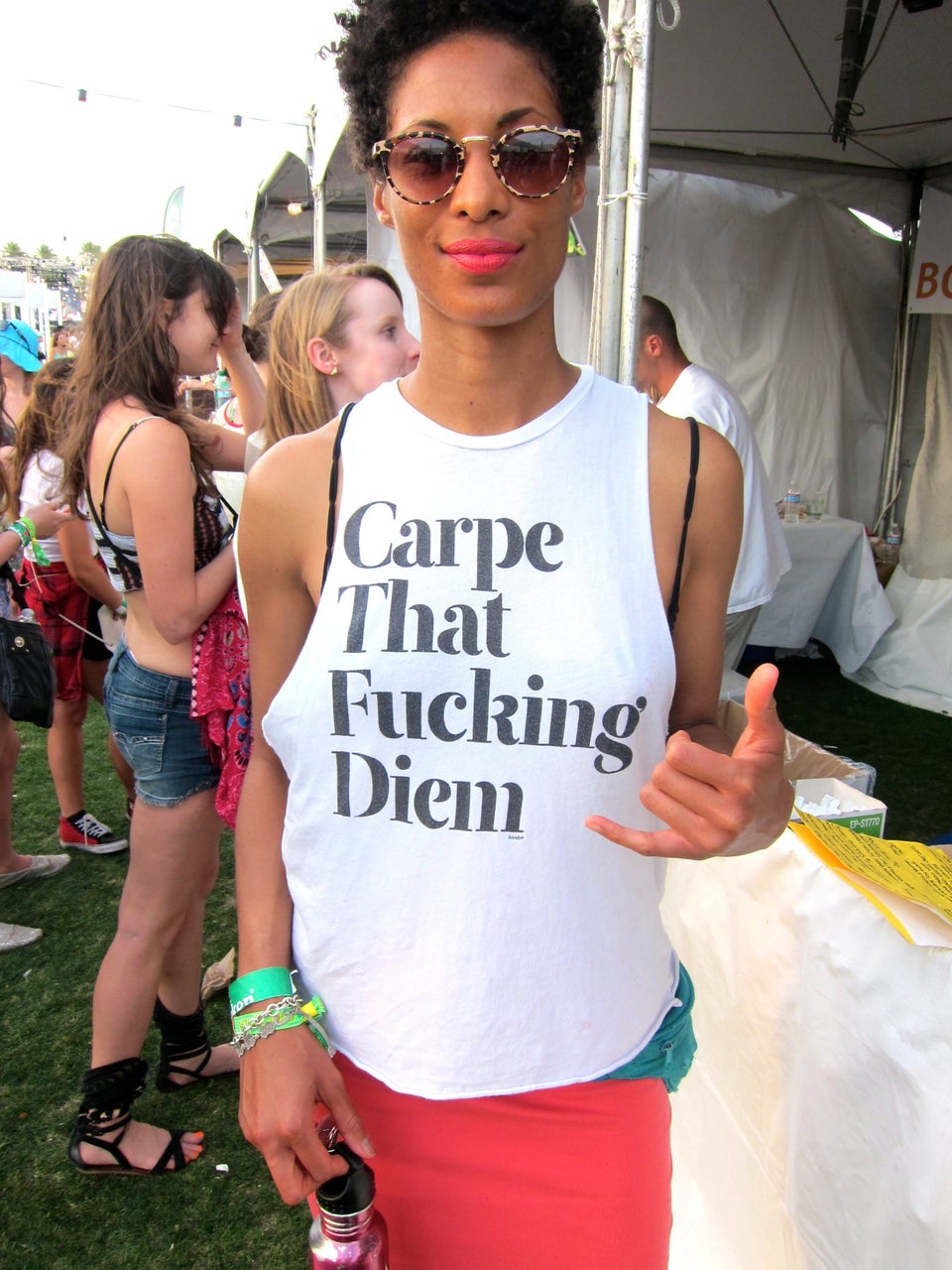 Best Coachella Style 2013
Popular in the Community