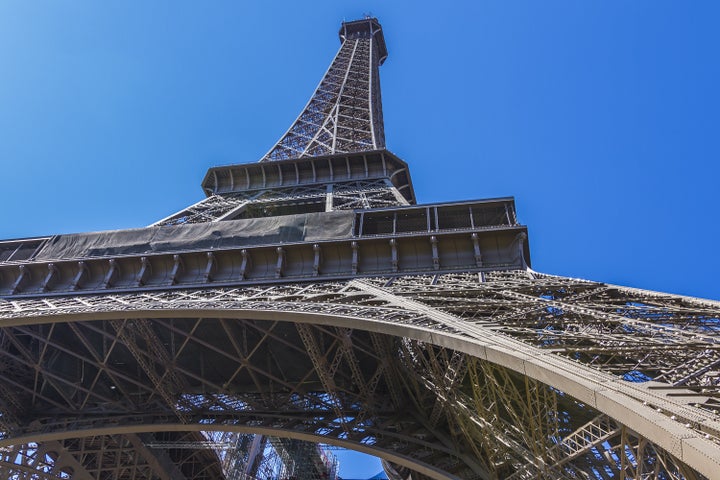 We got so much love for our first "2 Days, 1 City, $100" feature (London, remember?!) that we've decided to follow it up with a little inexpensive jaunt to another one of our favorite cities: Paris. To this end, we've enlisted Lisa Czarina, an ex-pat (New Yorker) of several years who's been chronicling her trials and tribulations (yah, life is sooo hard) in Paris via her addictive blog, Ella Coquine. She also writes for Girl's Guide to Paris and My French Life. Without further ado, here she is:
Discount prices and cheap eats aren't exactly what come to mind when you think of Paris. Being a city that takes pride in its fine cuisine, haute couture and pricey pastries, it's hard to imagine that there's a real urban underbelly for normal folks who don't exist in the Sex and the City finale. Living here for years on a tight budget has required me to get creative with my funds. What I've learned in these three years scraping centimes is that being broke in Paris can actually be a lot of fun! Who knew?
Breakfast in Paris is light, so pop into any brasserie for a pastry. Instead of taking a table, a local secret is to stand at the counter for half-priced coffee. This also allows you the opportunity to get a real feel for the locals and their banter with the servers. Chances are these customers have been coming here for several decades, including the guy in the corner who is sipping a glass of wine. At 9 a.m.
You can't come to Paris without doing a little shopping, and the 9th arrondissement is bursting with boutiques. Pa Design has fun and inexpensive kitsch, Mamie Blue boasts some of the best vintage in the city and Balades Sonores will get you up to speed on the local music scene via their selection of discs and vinyl, as well as their free in-house shows.
Since Paris has a way of bringing out your romantic side, make sure to explore the free Museum of the Romantic Life while you're in the area. There, you'll have access to a secret garden, a tea house and the museum's permanent collection.
After, walk up the picturesque Rue Lepic towards Montmartre, but please don't bother with the café that once "employed" a certain famous French brunette; the servers are rude, and the food is overpriced! Lux Bar across the street is the place to be. They offer better food and smarter prices, not to mention the fact that they also happen to whip up deliciously minty mojito royales (mojitos topped off with champagne).
No trip to Paris is complete without a visit to the Marais. While exploring these tiny non-Haussmann streets, be sure to keep your eyes peeled for signs of the booming street art movement that is happening in Paris right now. With the help of the free street art app Urbacolors, you can check in each time you see a piece and interact with other enthusiasts worldwide.
The Marais also has over 50 proper galleries that you can pop into for free. The curators can usually accommodate English speakers, are very friendly and will give you information about the artists without any attitude. Some favorites of mine are Odile Ouizeman and Karsten Greve, but since this neighborhood is saturated with galleries, discovering them on your own is part of the adventure.
If vintage shopping is more your thing, the Marais has several "Freeps." These boutiques are bursting at the seams with well-maintained vintage clothing from the '70s and '80s that range in price from 5 to 10 euro apiece.
At nightfall, head to the boho Oberkampf district. The street Jean-Pierre Timbaud is teeming with bars and restaurants, which makes choosing the right spot a bit overwhelming. A personal "J-P Timbaud" fave is Pili Pili; a kitschy dive with vintage floral wallpaper. When they're not playing The Smiths and Gang of Four, they have a live fiddle player and a cabaret singer stationed in the corner, lending to your ultimate bohemian Parisian experience. Be sure to try their homemade vanilla-bean-infused rum, but be careful; it sneaks up on you.
Then, get your dance on in the basement of dive bar U.F.O, while indulging in a 5-euro "Strawberry Slut," a strong cocktail that goes down a little too easy and is always fun to order. If you want less dance and more of a bar scene, Au P'tit Garage and Au Chat Noir serve cheap beer and wine toward the end of the drag, and they often offer shows featuring local artists.
Sunday can be a bit quiet as most businesses are closed; luckily, the Canal Saint-Martin in the 10th arrodissement still offers the Sunday culture that we Americans adore. A must-see in this neighborhood is the art space Point Ephémère. They host free art shows, have moderately priced live music and do a fantastic prix-fixe Sunday brunch that's actually filling.
I also like L'Epicerie Musicale, a new spot along the canal which is fashioned after a vintage vinyl boutique, and which happens to have one of the best coffees I've had in the city: rich, smooth and imported from Italy. The counter, where light dishes are prepared, doubles as a DJ booth, where they spin '70s soul and funk.
Note: Sadly, many brunches in Paris do not offer mimosas for one fact and one fact only -- they don't exist in France. Whenever I request this American Sunday morning staple, I'm often questioned as to why I would ever ruin champagne with orange juice.
Later, head over to hipster dive The Motel for Sunday night trivia. Happy hour (from 5-9 p.m., even on Sunday) boasts 4-euro cocktails and 3-euro glasses of wine. Impress the cute guy next to you with your knowledge of American culture. I once got a phone number after giving away the answer to "what sport do the L.A. Lakers play." Seriously.
Paris has so much more to offer than snotty service and the Eiffel Tower. Once you escape the cliché, you'll find that this is a city that has a penchant for pop culture, an appreciation for modern design and love for a good cocktail... all on a dime, of course.