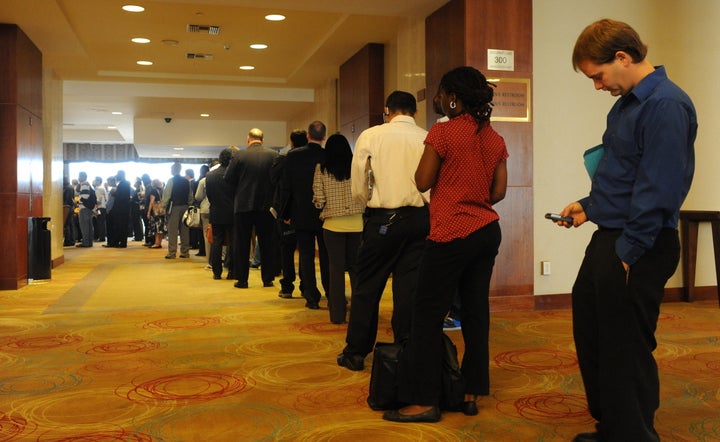 WASHINGTON -- Two million people will prematurely lose their unemployment insurance this holiday season unless Congress reauthorizes the benefits by the end of November, according to an updated analysis by the National Employment Law Project.
Using data from the Department of Labor, NELP estimated last week that 1.2 million would be cut off from aid. On Thursday NELP updated that analysis to include 800,000 people receiving Extended Benefits in 24 states where the program "sunsets" the instant federal funding is cut off.
Those people will "experience a near-immediate termination of extended benefits if the federal program is not renewed," according to NELP.
Once Congress reconvenes on Nov. 15, it will have just two weeks to reauthorize the federally-funded benefits before people who've been out of work for longer than six months find themselves ineligible for extra "tiers" of federal benefits. (State governments handle the first six months; the feds typically cover the rest during recessions.)
The prospects are grim: While the benefits can probably get through the House, one Democrat suspects the holidays will be spoiled for unemployed people because the Senate contains "too many Republican Grinches." The Senate was the chokepoint for previous reauthorizations. Over the summer, it took nearly two months to overcome a Republican filibuster as 2.5 million people had their benefits interrupted.
"These are people who have been laid off through no fault of their own and are desperately looking for jobs, but would be snapped from the lifeline of jobless benefits just as the holiday season kicks into high gear," said NELP director Christine Owens in a statement. "Congress will have to act fast when it reconvenes to avoid a catastrophe. The clock is ticking."
Popular in the Community