Forrest Fenn, a famous Santa Fe art dealer, claims he has hidden a treasure chest containing $2 million worth of antique gold coins, gold nuggets, pre-Columbian gold animal figures, and jewelry (including an important archeological find he won in a pool game) in the deserts of the southwest.
In 1998, Fenn developed cancer. Although it went into remission, he was told it might return. The decorated Air Force pilot and former owner of the most successful art gallery in Santa Fe decided to hide a treasure. He then self-published a memoir The Thrill of the Chase, containing all the clues necessary to find the booty. The book, for sale only at Santa Fe's Collected Works Bookstore http://www.collectedworksbookstore.com has attracted countless treasure hunters.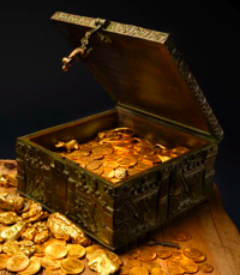 Forrest Fenn's Treasure Chest (Photo Courtesy of Forest Fenn)
After I read The Thrill of the Chase,, I sent Fenn an email requesting more clues. A real charmer, he wrote back, "Why aren't you out looking for it?"

That's all it took. I hopped a plane to Santa Fe. Even if I didn't find the treasure, I wanted to meet this character and find out who in his right mind would bury two million bucks worth of loot.
Fenn met me at the airport wearing a scruffy cowboy hat, his signature short-sleeved blue shirt, jeans, and a huge grin. "So," I asked, "are we off to look for the treasure?"
"Oh yeah," he said. "Wait till you see this treasure."
He took me on a drive leading to two locked gates (he knew the combinations) on dusty dirt roads, past a 1911 Ford sitting in a field and past a shelter for abused horses.

"What is this place?" I asked.
I kept looking for the clue about water he'd mentioned in his book, but so far the landscape had been as dry as a dinosaur bone. We were on his property, he said, on our way to the San Lazaro Pueblo, which he bought a few years ago when he learned that it was in bankruptcy. Now, Fenn comes out to excavate pottery shards and other artifacts - his form of meditation. Of the Pueblo's over 5,000 rooms buried beneath the earth, he's excavated less than 1%.
"Is the treasure buried here?" I asked.
"Yes, you could say it's a treasure," he grinned. We pulled up to a huge earthen hole, an ancient kiva where eleven teenagers were piling earth into buckets and screening it under the supervision of Wyoming archeologist, George Zeimans, head of "Expanding Environments" of the Western Plains Historic Preservation Association http://www.westernhistorycenter.com/documents/grant.pdf.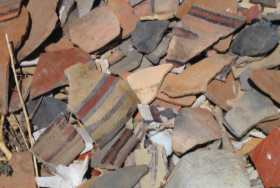 Pottery Shards (Photo: Margie Goldsmith)
I spent the afternoon digging with the kids, finding gaming pieces, jewelry bits, turquoise beads and shards. Maybe it wasn't Fenn's treasure chest, but it was equally exciting to see the ancient artifacts pulled from the earth.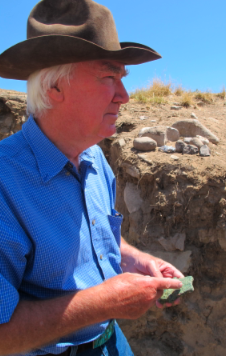 Forrest Fenn at San Lazaro (Photo: Margie Goldsmith)
Fenn was even more excited than the kids when someone found a green piece of metal, a fragment of the Pueblo's 1860s mission bell.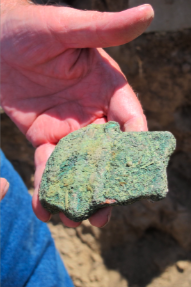 Piece of an 1860s Mission Bell (Photo: Margie Goldsmith
As we drove back towards Santa Fe, I asked, "How about another clue?"
"Every day, people call begging for clues. The other day, I had 21 email requests. One man asked if he should buy a topographical map and I told him he'd be better served reading the book again. Fenn looked at me. "All you have to do is think about the nine clues and follow them in order."
"Just one clue?" I pleaded.
He grinned. "Okay, I'll tell you what I told a woman from Nevada who called and said she knew where the treasure was, but was incapacitated so would I please get it for her. I said, 'Well, you tell me where it is, and I'll bring it to you.' The woman wanted an additional clue so I told her it's more than 300 miles southwest of Toledo."
When we arrived at Fenn's house, I found that his home itself is a treasure. Each wall, shelf, table and floor space was filled with antiques, everything from Sitting Bull's pipe to rare Native American dolls and hand-painted ceremonial hides. He pointed out a few pieces: a necklace strung on yucca dating back to 300 B.C that might have been the first American necklace; shrunken heads from the Jivaro Indians, an Egyptian falcon mummy, a 17th century Mongolian cloak.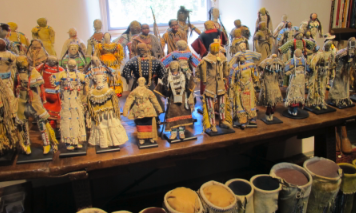 From Forrest Fenn's Collection (Photo: Margie Goldsmith)
I knew that none of his hidden treasure could hold a candle to what I was looking at now. Many were pieces from his gallery which he ran for seventeen years before closing it when he learned he had cancer.
"Do you miss the gallery?" I asked.
"I miss finding a great painting or antique," he answered. "I miss the thrill of the chase."
Suddenly it came to me. I hadn't really come here to find the treasure. Like Fenn, I was in it for the thrill of the chase. Now I'd found something far more valuable than a chest full of booty, a like-minded friend. That was treasure enough for me.

Related