Although it's a mere hour and a half from LA, Orange County can feel like a world away. When my brother Matt and his girlfriend Anya book a last minute trip to visit for his 30th, I have two weeks to plan something memorable. His only request is Joshua Tree, so the perfect contrast is a weekend getaway to Laguna Beach, which brings to mind one thing; a little show on MTV.
The four of us, including my boyfriend, pile into our rental car, blasting 90s nostalgia (Lisa Loeb, anyone) and head from the dusty, dry desert to the coast. Two hours and a pit stop at In-And-Out later, we blissfully arrive.
Our first night we stay at the Laguna Beach House. It's the kind of boutique hotel you're relieved to be at after a long day. Newly renovated, the quaint hotel boasts coastal meets mid-century décor that immediately feels like home. The beautiful part about vacationing in Laguna is that everything is so easy to get to. A stark contrast to the chaotic LA and NYC lifestyle we're used to navigating.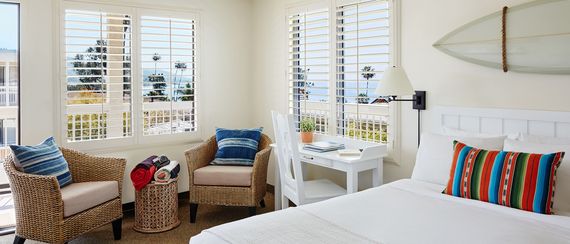 Our airy, spacious room with plantation shutters, and contemporary wicker furniture looks straight out of Pinterest, complete with beautiful flowers, robes, and beach items. Anya loves the charm of it all with strung lights above the pool, a fire pit, and hot tub. After a quick dip, we're instantly revived. The receptionist tells us about a local sushi spot she swears is the best.
Hands down, this is one of the best meals, and by far the best sushi of my life. 242 Café Fusion Sushi, helmed by female owner and chef Miki and ran by an all-female staff boasts innovative, unique flavor combinations that are eloquent, and above all, super fresh. We marvel in delight at each dish presented.
The next day, high from our wondrous meal, we head into town, just blocks down the road. Reminiscent of Carmel or Santa Barbara, downtown is filled with boutique and tourist shops alike. After a quick search I find Parani Thai Massage and we all get hour-long hot stone, deep tissue massages for $55. Absolute heaven.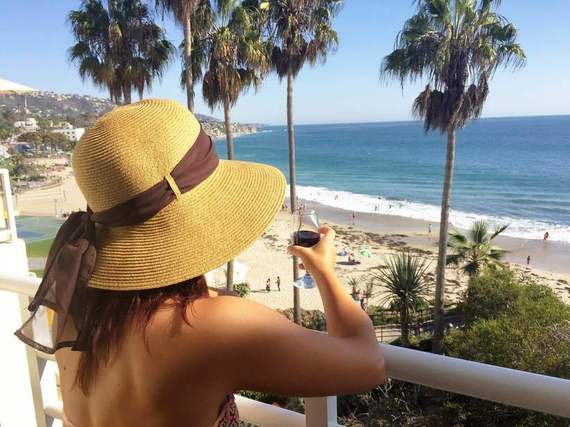 On our second night, we stay at The Inn at Laguna Beach, just a block down. I spot a couple of dogs in the lobby, which makes my heart sing. This reminds me of the cute dog I saw by the fire pit the night before and find out the hotels are sister properties. Finally a place we can escape to with our dog!
Our room overlooking the ocean blows me away. Matt and I wave hello to each other from our balconies as he looks through the binoculars that are in each room. This hotel is much larger, with a traditional flair, which I prefer, and although we try to debate which is better, we agree that it's too hard to choose.
The bartender on the terrace makes us her signature drink and we float in the pool before walking down to the beach, just steps away. The best part is that next door, Las Brisas serves upscale Mexican faire with a California twist and refreshing crafted cocktails. You can even order it to your room.
Walking along the beach, laden with seaweed and salt air, we are transcended into the moment of just being and enjoying each other's company. Before we head out in the evening, we're surprised when tea is delivered to our rooms, and are joyfully content coming back after dinner.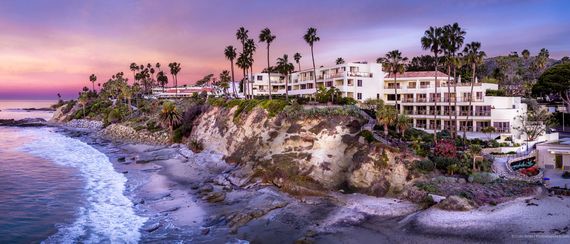 Brandon and I sit on the balcony, starring into the starry night, as the waves gently crash and feel truly relaxed. We later put on Cops, a vacation favorite, and settle in.
Two nights in Laguna Beach is the perfect getaway whether you live nearby or fly in for a quick trip. Feeling relaxed without the pressure of having to be somewhere is how it should be after all.