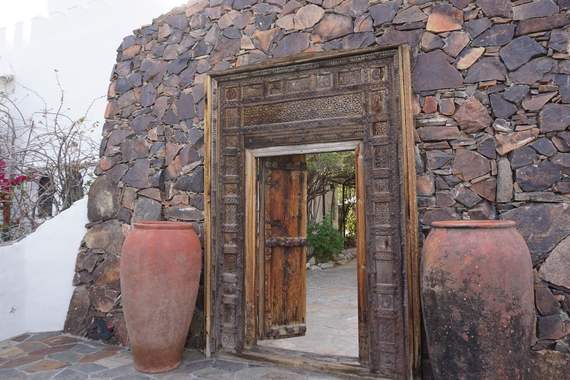 Tranquil. Inspiring. Enticing. A few ways to describe Korakia Pensione, a well-known gem nestled up against the mountains in Palm Springs. We arrive on a Thursday, and are instantly transported to what feels like a remote island. This last minute mini-vacay acts as both an early birthday trip for my boyfriend, and retreat for myself, before I embark on my book tour.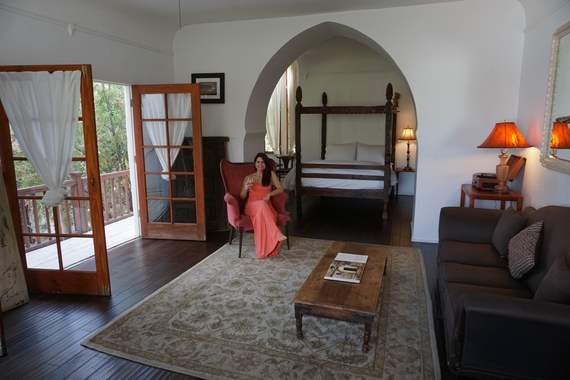 Greeted by giant Moroccan doors, we are giddy as we explore the quiet grounds.
In our room, Johnny Cash croons on the record player, and a bottle of white wine greets us. Our room, the Artist Studio, is airy and open, with a balcony overlooking the rustic nature of the Moroccan and Greek inspired architecture complete with a wide hammock. The mountains, so close, are framed in a giant window across the long room filled with eclectic art, poems, and sketchpads. I stare peacefully at the view all night long from the canopy bed.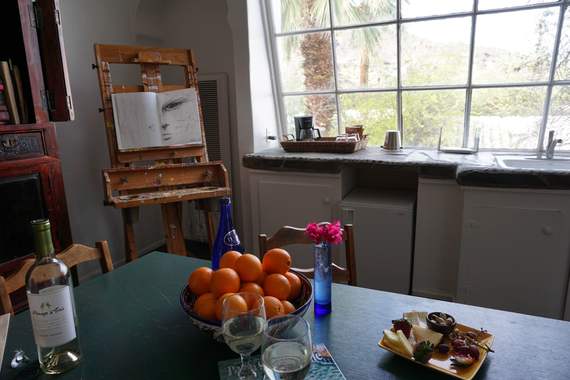 We take our glasses and explore. There are no phones or televisions in the rooms. We spend the afternoon listening to Cash and Amy Winehouse records, pouring more wine, talking, and enjoying each other's company. It dawns on me; real luxury is quietness.
Thirty minutes away, we drive to The Chateau at Lake La Quinta after being invited to dine at Melange. I've actually done an event here before for Coachella. The crowd is older, seemingly a mix of locals and those in for Modernism Week. We both agree that they excel at fish, our favorites being the ahi tuna tartar and trout.
We don't want to leave Korakia, like, ever. Even before we leave, we talk about coming back. Although they serve complimentary breakfast, we're curious to see downtown.
A ten minute walks leads us to Pinocchio's, a local outlandish restaurant with $4 all you can drink mimosas and sign that says "free parking in rear!", if you know what I mean. It's fun, it's people-watching, it's Flintstones-sized portions. It's everything we wanted.
Palm Springs is the kind of place you can do nothing at, and not feel guilty about it. It now makes sense why so many Angelenos go on the weekends.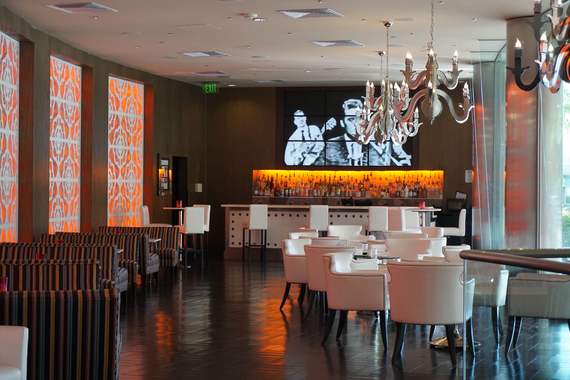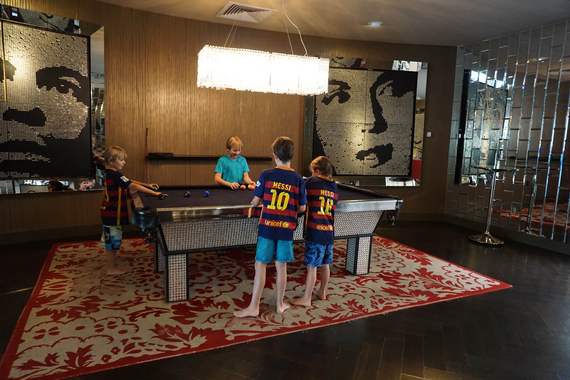 Our next hotel, The Riviera Palm Springs, a Tribute Portfolio Resort, is a 180 from Korakia. Flashy mirrored walls, glitzy décor, and a pool with music that jumps from EDM to indie. It's Vegas without the bros or brothels. We lounge in the sun; he's reading The Big Leap, while I flip through Marie Claire, both making sure our berry mojitos are never empty. We agree not to leave the property and treat the experience like a cruise.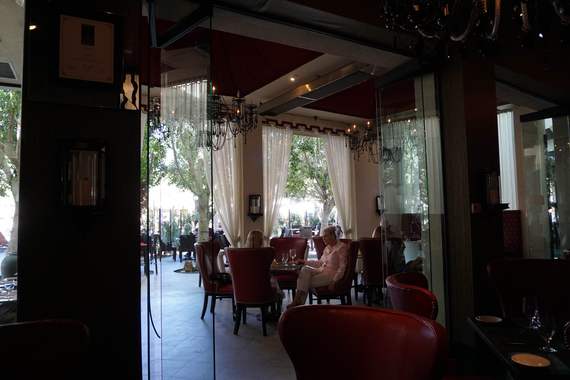 Later in the evening we dine at their restaurant Circa 59 while hearing stories about Elvis and all of the celebrities that stayed at the Riviera, free from press. The food is hearty and hits on all of the American classics. We love the lobster bisque and toffee cake.
As we pack up, we note our two nights feels like a week, in the best way. Both hotels were such a contrast to each other, and we felt like we were whisked away to another time of convertibles, Sinatra, and gimlets.