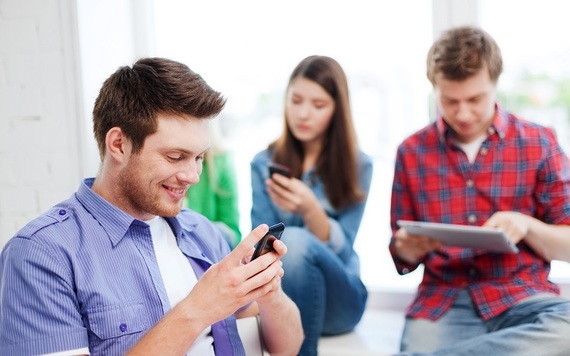 By Laura Woods, Contributor
There's a good chance you often find yourself killing time by idling browsing through your smartphone. Playing games and catching up on social media sites is great, but these activities alone won't pad your wallet. Make the most of your spare time by downloading an app that can earn you extra money.
It might seem like there's a catch involved, but there isn't. There are many legitimate, free apps that allow you to make money by completing surveys, watching videos, secret shopping, sharing photos and more. Most of these apps offer modest pay and allow you the flexibility to earn money when your schedule permits.
See the 20 apps that allow you to learn extra cash.
1. iPoll
Android and iOS users can earn gift cards, airline miles, magazine subscriptions and more for completing 15- to 20-minute surveys. After downloading the app, you'll tell the app a little about yourself to help iPoll match you to future surveys. Complete as few or as many questionnaires as you like, but the more you participate, the more you earn.
Most surveys pay $1 each, according to IveTriedThat.com. But you can earn up to $10 on some. You can request a payout when you have $35 in your account, according to IveTriedThat.com.
2. Swagbucks
Accumulate points called SB by searching the Web, completing surveys, watching videos, referring your friends, shopping in the app's mall, completing special offers, voting in daily polls, finding swag codes and entering fun contests via social media and the Swagbucks blog. These points can be redeemed for gift cards from stores like Amazon, Target and Walmart or for PayPal cash. At time of writing, Swagbucks has given out $97,751,668 in destributed rewards. Download the app on your iOS or Android device.
3. Slidejoy
Get paid an average of $5 to $15 per month, according to CNET, for putting ads on your Android device. Every time you check your phone, you'll see a card with a news story or promotion. You can slide left to learn more about it, slide up to see another card or slide right to use your phone as normal.
You don't receive any more or less money for engaging with the content, so you essentially do nothing to get paid. Keep the cash you earned or donate it to the Jericho Project, Got Your Six or TutorChatLive.org.
4. Pact
Cash in for achieving your health and fitness goals. Download the app on your iOS or Android device, make a weekly pact to exercise more or eat healthy, use the app to track your goals and earn an average of 30 cents to $5 per week for achieving results, depending on the number of activities completed.
Your activities are verified with GPS, photos and other services. If you fail to meet your pact, you'll have to pay up.
5. BookScouter
Earn money by selling your old books. This iOS and Android app allows you to scan or enter the barcode number to instantly compare buyback prices from leading book-buying websites. Choose the buyer offering the highest price and ship your book for free.
Registration is easy. Simply use your email address to create an account or log in through a host of eligible social networks.
6. AppTrailers
Watch trailers of new apps spanning 30 seconds or less on your iOS or Android device and get paid for it. Earnings start at 500 points (50 cents) and can be redeemed for gift cards or cash via PayPal, according to Dailybucks.info. Another way to earn cash with this app: Upload videos and get likes.
7. Loot!
Complete actions for your favorite brands, such as taking pictures or sharing content on social media, and get paid for it. To get started, download the app on your iOS or Android device, browse through the different brand campaigns and complete an action. When you reach $10, earnings can be withdrawn through your PayPal account. So far, users have earned more than $100,000.
8. Gigwalk
Find as much or as little contract work as you want by connecting with local businesses in need of your skill set. Download the app on your iOS or Android device, register your account and apply for gigs you see on the map or the list. Gigs pay from $3 to $100, and you get paid through PayPal.
9. Ebates
Earn up to 40 percent cash back every time you shop online at one of 1,800 participating retailers. Plus, you can earn up to $50 for referring two friends. Simply download the app on your iOS or Android device. Payments are made every three months by paper check or PayPal, or you can have your money sent to a charity, organization or family member.
10. Clashot
Get paid by taking photos of art, cities, food and more with your smartphone and selling them on Depositphotos. Android and iOS users can sell photos for 50 cents to $80, and royalties average 44 percent per sale. Users are required to register an account at Clashot, share a photo with a complete description and a model release and complete a quick verification process to start selling.
11. Ibotta
Earn cash back for shopping online, submitting a receipt or linking a loyalty account by downloading Ibotta with your iOS or Android device. Before shopping online, head to Ibotta to unlock cash rewards by completing simple tasks. After shopping at a store, simply scan your product barcodes and send a photo of your receipt to have your purchase verified. When using a loyalty card, just remember to scan your card or enter your phone number.
12. Mobee
Get paid to mystery shop at businesses in your area. Simply download the app for your iOS or Android device and search for a mission that interests you. It only takes a few minutes to answer the five to 10 questions you'll be asked, and within 24 hours you'll be eligible to receive quality and credit points.
Expect to earn between 150 points ($1.50) and 3,000 points ($30) for each completed mission, according to the book "Easy & Quick Money."
13. Surveys On the Go
Get paid for sharing your opinions on various things, including the news, entertainment, sports, technology and more. Download the app on your iOS or Android device, sign up and complete all available demographic surveys. You'll be notified when new surveys are available.
Pay ranges from 25 cents to $5 in cash for completing surveys, and it averages $1 each. When you reach $10, you can cash out through PayPal.
14. Shopkick
This iOS and Android app shows you popular products and rewards at popular retailers and gives you kicks (points) for walking in the door, more for scanning items and even more for making purchases. Most rewards are worth 250 kicks, and 500 kicks equals $2. Create an account to set up your profile and then you're ready to start.
15. Tap Cash Rewards
This Android app allows you to earn gift cards and cash for downloading, installing and playing the newest free games and apps; watching videos and completing simple tasks. After earning enough credits, you can redeem them for Amazon, Google Play gift cards or cash through PayPal.
16. Google Opinion Rewards
Android users can respond to a survey from Google and receive up to $1 in Play credits, but the credits vary, depending on the survey. Download the app, answer a few questions about yourself and wait to receive your first questionnaire. Expect to receive an average of one survey per week, covering topics such as "Which logo is best?" and "When do you plan on traveling next?"
17. Money Machine
Earn cash by completing easy tasks, like downloading apps and watching videos. Offers are available each day, making it possible to earn points that can be cashed in via PayPal or traded for the various offers. You can also earn referral points by sharing the Android app with your friends.
18. Snap by Groupon
Make clipping grocery coupons a thing of the past by downloading this app on your iOS or Android device. Browse the offers for the week before heading to the market and save any you want to buy to your Snap shopping list. Take a picture of your receipt after purchasing the items and request a cash payment after earning at least $20.
19. Field Agent
Earn approximately $3 to $12 per task for completing simple jobs, such as visiting your local discount store and taking a picture of an assigned product and verifying its price. Download the app on your iOS or Android device, complete your profile and start making money that will be sent to your PayPal or Dwolla account. The app is used by hundreds of small businesses and major companies, such as General Electric, Johnson & Johnson and Walgreens.
20. Iconzoomer
Share snapshots of your consumer activity and earn extra cash. Download the app on your iOS or Android device, create a profile and wait to receive your assignments. Expect to be asked to take pictures of things like what you're eating for dinner or the shoes you're wearing.
Share a review of the products you photograph and submit the image to receive five credits. You can request a PayPal payout when your account balance reaches 200 credits.
Related