How do you define a beautiful woman? Someone who empowers others, carries herself with dignity and class, and is a forward-thinking, action-oriented visionary? All of this, and more, would easily apply. Maya Angelou's classic poem, "Phenomenal Woman" (one of my favorites), gives meaning and form to this arresting image. So does the red-hot book 20 Beautiful Women: 20 Stories That Will Heal Your Soul, Ignite Your Passion, and Inspire Your Divine Purpose. It is the latest from international, best-selling author Saba Tekle, and is a great book to help lay a foundation to a rewarding and successful 2015.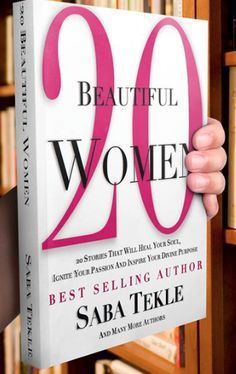 As Tekle points out in the introduction, she shared her experiences and "brought nineteen other beautiful women together" to share theirs, and, to collectively "shine the light on true beauty." The result is a master work whose power goes far beyond its awesome title. What makes it a must-read are its rich, relatable, and layered perspectives: women discovering their gifts, overcoming seemingly insurmountable obstacles, reflecting on the paths they've taken, and being an inspiration to everyone around them.
From Tejal Patel on redefining her relationship with her parents, to Ashley Cooper's 21-day vow of silence, to Liz Nead on her emotional trek up Mount Kilimanjaro, this book is both absorbing and thought-provoking. I know a literary winner when I see one. I knew Sheryl Sandberg's Lean In, Sonia Sotomayor's My Beloved World, and Porter Gale's Your Network Is Your Net-Worth were going to be massive best-sellers. And they were. Those were three of my favorite books of 2013. They had impact, were well-written, and encouraged intellectual curiosity. The same can be said for 20 Beautiful Women, which is why I think its headed for major stardom.
So what is a beautiful woman? I'll end this with the lead author's own words: "A beautiful woman shares her story so other women won't feel alone. A beautiful woman is peaceful: she has made peace with her past. A beautiful woman is passionate: she is on fire with a strong desire to change the world. A beautiful woman is purposeful: she knows why she was born and does what she was created here to do. Be beautiful."
Popular in the Community