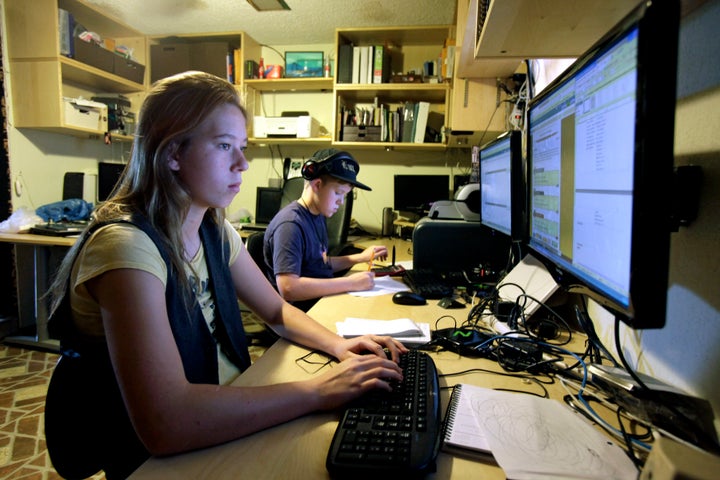 What will happen in 2012? In the spirit of the aphorism "The future is not something to be predicted, it's something to be achieved," let me suggest 20 transformations (which The Huffington Post will publish in four groups of five; one, two and three can be found here, here and here). We need to make progress on these issues now to prevent next year from being a complete disaster.
These ideas are based on the research I did with Anthony D. Williams to write our recent book which comes out in early 2012 as a new edition entitled Macrowikinomics: New Solutions for a Connected Planet.
All 20 are based on the idea that the industrial age has finally run out of gas and we need to rebuild most of our institutions for a new age of networked intelligence and a new set of principles -- collaboration, openness, sharing, interdependence and integrity. These big ideas will be the focus of much of my writing next year.
16. A next step for social media: social business?
How is Social Media changing business? Companies everywhere are using platforms like enterprise social networks, micro-blogging, wikis, digital brainstorms, challenges and ideation tools to collaborate internally. These are becoming a new operating system for a business improving its metabolism-capacity to collaborate.
However, recent examples illustrate that social media is becoming a new mode production that changes the way economies and firms innovate, create wealth and compete. Beginning years ago with Wikipedia and the Linux operating system and extending today to entire industries like the manufacturing of motorcycles in China. Closed, hierarchical corporations that once innovated in secret can now tap and contribute to a much larger global talent pool -- one that opens up the world of knowledge workers to every organization seeking a uniquely qualified mind to solve their problem.
Scientists can accelerate research by open-sourcing their data and methods to offer every budding and experienced researcher in the world an opportunity to participate in the discovery process. Social media are becoming social production. How can companies benefit rather than being harmed?
17. New models for the music and entertainment industries
The music industry was the canary in the mineshaft for the entertainment industries. Digital music offers a historic opportunity to place artists and consumers at the center of a vast web of value creation. But these novel dynamics have turned the record industry on its head. Rather than build bold new business models around digital entertainment the industry has sought legal solutions to disruption. (The third-greatest source of revenue for U.S. labels is lawsuits against customers.)
Arguably, an obsession with control, piracy, and proprietary standards on the part of large industry players has only served to further alienate and anger music listeners. With artists now increasingly turning against the record industry's lawsuits, however, momentum may be shifting in favor of a better way forward.
How can customers share music while ensuring that musicians, composers and promoters are fairly paid for their work? How could labels develop Internet business models with the right combination of "free" goods, consumer control, versioning, and ancillary products and services? Could music become a service where consumers have access to online streaming audio of any song for a monthly fee? What new platforms for fans' remixes and other forms of customer participation in music creation and distribution are required? How could new approaches apply to other aspects of cultural content like film, television, books and even art?
18. New models for higher education: collaborative learning and content creation
Without fundamental reform, universities will not be able to compete with cheaper and more effective online education providers. While many young people are still going to university, a growing portion of the best and the brightest students have given up attending classes, because the information is available in a more easily ingested form online.
Universities must shift their business model from the centuries-old notion that a professor lectures students, to a more collaborative, interactive model. Instead of being the "sage on the stage," teachers should be the co-pilot for students as they explore and collaborate online to acquire knowledge.
We also need an entirely new modus operandi for how the content of higher education -- the subject matter, course materials, texts, written and spoken word and other media -- is created. Rather than the old textbook publishing model, which is both slow and expensive for users, universities professors and other participants can contribute to an open platform of world-class educational resources that students everywhere can access throughout their lifetime.
How can leaders create a Global Network for Higher Learning? If universities open up and embrace collaborative learning and collaborative knowledge production, they have a chance of surviving and even thriving in the networked, global economy.
19. The new demographic revolution: Embracing the Net Generation as young adults
The world is becoming younger with over half the population under the age of 25. With many having grown up bathed in digital bits, they are adept with interactive media and completely comfortable with technology. Research shows that those with access to the Internet are the first-ever global generation -- with strong norms for freedom, customization, collaboration, integrity and innovation.
As they enter the workforce and marketplace, they are a huge force for transformation in every institution. But are we ready? How are they different? What do firms, governments, and educational institutions need to do to embrace them? What can we learn from them when redesigning our institutions for the new realities?
20. The New power of the commons
Increasingly it's becoming difficult or even impossible for companies to achieve breakthrough success without changing their entire industry's modus operandi. In particular it increasingly makes sense for all the companies in an industry to cooperate for success by sharing intellectual property -- placing important assets in the commons.
Pharmaceutical companies are about to drop off what's called "the patent cliff." They will lose 25-40 percent of their revenue as the patents for many blockbuster drugs expire. There is little individual companies can do to recover from this crisis. They need an industry-wide solution that rethinks how they work together as an industry -- to restructure industry practices and share some pre-competitive basis research or sharing their clinical trial data, such as results from failed trials or from control groups.
Banks need to share information about risk management. Manufacturers need to take a page from Nike and share information, software and other assets for sustainable business practices. The auto companies should place fuel cell development in the commons. We need a new intelligent power grid for the production and distribution of energy. Co-development and collaboration within the industry and sharing is necessary. But industry leaders need to wake up and step up.
Don Tapscott is the author of 14 books, including (with Anthony D.Williams) MacroWikinomics: New Solutions For a Connected Planet. He is an Adjunct Professor at the Rotman School of Management, University of Toronto.
Calling all HuffPost superfans!
Sign up for membership to become a founding member and help shape HuffPost's next chapter