A recent survey found that connecting with a prospect takes 18 more phone calls and outbound emails are only opened 24% of the time. In fact, 84% of B2B buyers are now starting the purchasing process with a referral. 90% of all B2B buying decisions are influenced by peer recommendations. A growing trend is that more and more people are avoiding salespeople. Forrester warns that 1 million B2B salespeople will lose their jobs to self-service e-commerce by 2020.
How can salespeople improve relevancy and shift this trend of sales avoidance to long-lasting partnerships, where customers view sales pros as trusted advisors? In the age of the customer, where personalization, immediacy and intelligence is an expectation and consider by most as table stakes, sales teams must reevaluate their talent, existing processes and better use of technology.
In order to better understand selling best practices and characteristics of high-performing sales organizations, Salesforce Research surveyed over 3,100 global sales professionals to discover:
Which overall trends are changing the role of sales?
How is sales pivoting to be smarter, faster, and more customer-centric?
Which technologies are the most impactful for improving sales productivity and efficiency?
Which strategies and tools are high performers adopting to stay ahead of the pack?
What does the future of selling look like?
Throughout this report, data is examined relative to business performance to identify patterns for overall success. High-performing sales teams are those that significantly increased year-over-year (YoY) revenue. Only 20% of the respondents were identified as high performers.
What trends define the new ear of selling? Technology-empowered and information-savvy customers now expect sales reps to be intuitive, knowledgeable, fast and personal. In a recent research of the connected customer, similar findings defined the age of the customer in the digital era.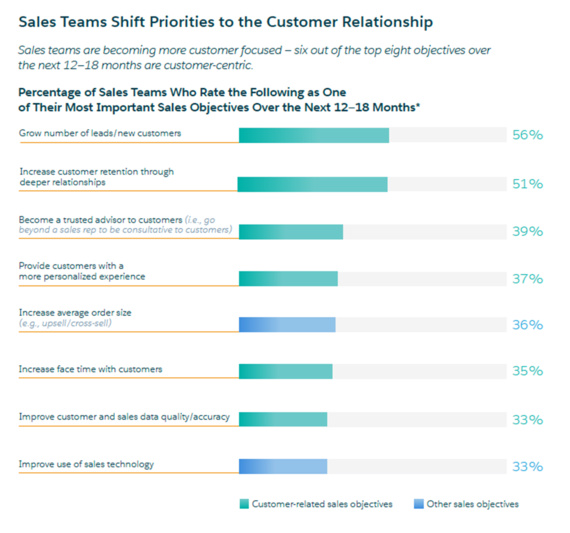 Here is an overview of top findings from the research:
Rethinking success: customer experience is now the top sales benchmark
A new sales blueprint: sales becomes more connected and proactive. High performers are 2.9X more likely than underperformers to strongly agree their company is available to customers anytime.
The productivity gap: top sales teams turn to tech and training.
Smarter selling: intelligent sales takes off - triple-digit growth is expected in areas such as predictive intelligence, lead-to-cash process automation and artificial intelligence in the next 3 years.
Here are 20 important characteristics of high-performance sales organizations:
89% of high performing sales professionals say that empowerment of sales has increased over the past 5 years - 2.1X more than underperforms.
High performing sales teams are 2.8X more focused on personalizing customer interactions over the past 12-18 months.
87% of high performing sales teams say their company is aligned on how to empower sales to exceed goals.
Customer experience overtakes process as the top key performance indicator for sales.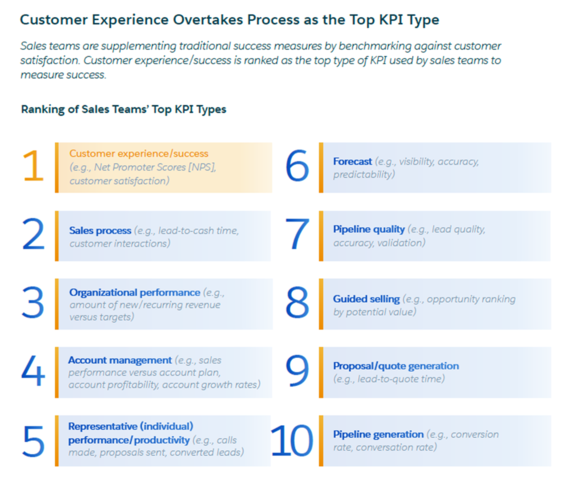 High performers are 2.4X more likely to rate their team's analytics and insight capabilities as outstanding or very good.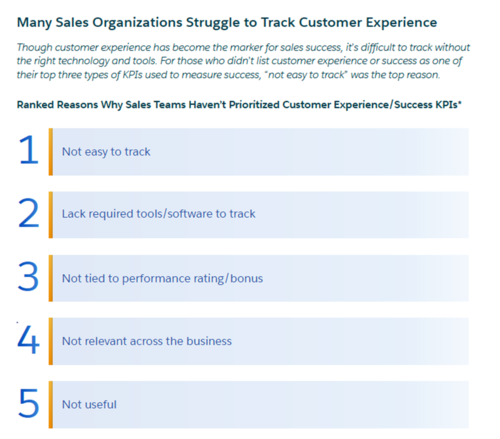 60% of sales pros say that collaborative selling has increased productivity by more than 25%, and 52% say it has done the same for increasing pipeline.
Top teams are 2.1X more likely to be outstanding or very good at having a single view of the customer.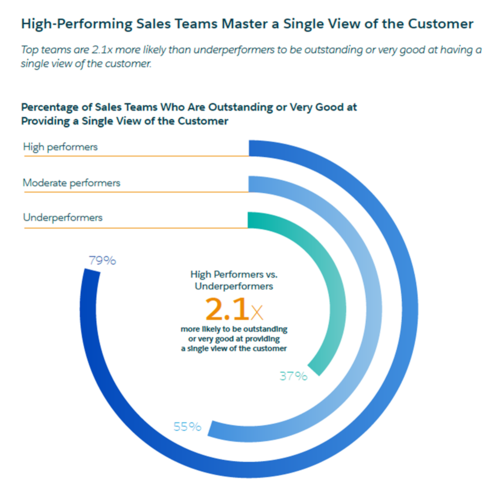 75% of sales professionals said their company connects customers, employees, partners and products.
Top sales teams seek to drive personalization at scale, knowing that 72% of business buyers are likely to switch brands if they're treated like a number instead on an individual.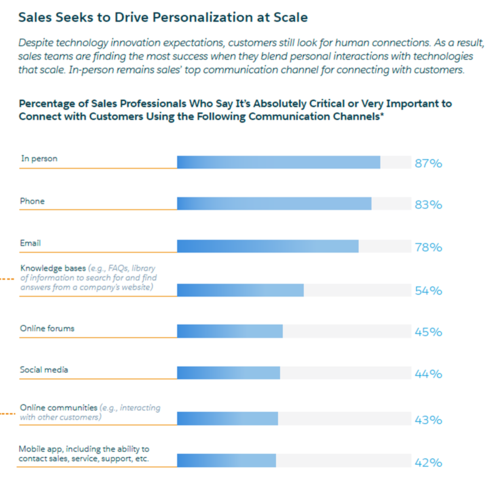 High performing are 3.8X more likely to reach out to customers proactively - welcome to the new anytime, anywhere expectations.
High performing sales teams are investing in analytics, mobile, and automation technologies to reduce the productivity gap.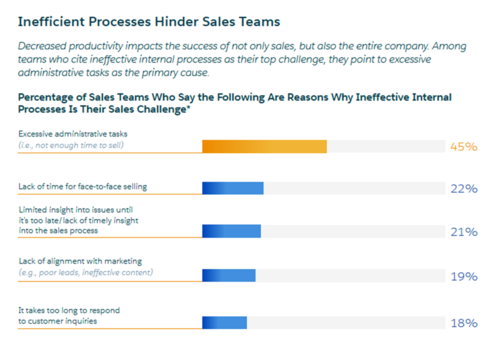 Sales reps aren't spending most of their time selling - only 36% of time selling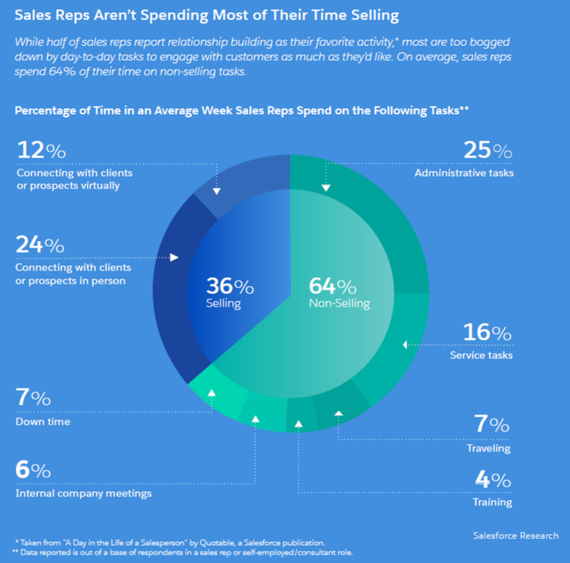 High performing sales teams are 3.5X more likely to rate their mobile sales capabilities as outstanding or very good.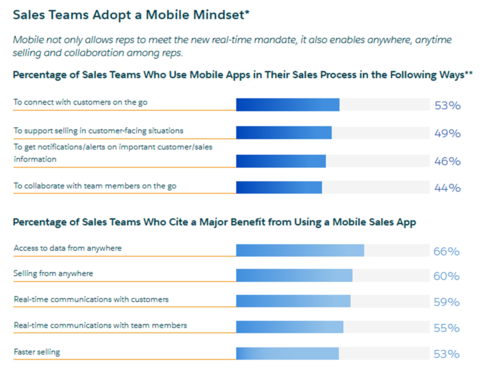 79% of sales teams currently use or planning to use sales analytics technology.
High performing sales teams are 2.5X more likely to receive outstanding sales training.
High performing sales teams are 2.3X more likely to use guided selling. Major growth expected for sales intelligence and automation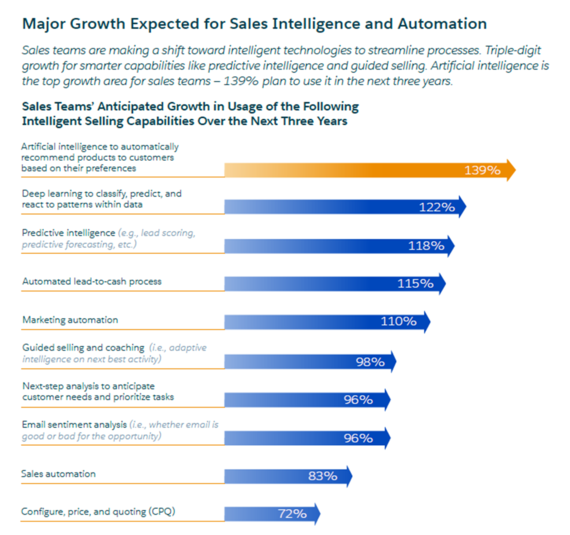 High performing sales teams are 2.8X more likely to be outstanding or very good at predictive intelligence.
Predictive intelligence is being used or forecasted to be used in the next 3 years by 86% of high performing teams.
High performing teams are 3.4X more likely to use artificial intelligence (AI)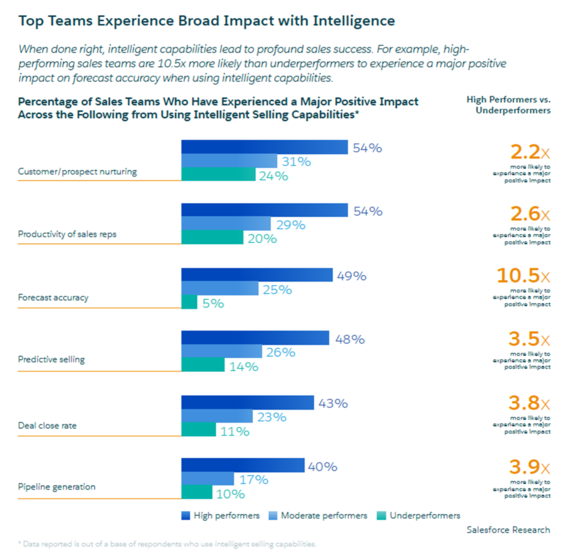 78% of sales teams recognize the importance of anticipating customer needs, and 76% the importance of proactive customer engagements.
The keys to success for modern-day sales teams begins with: tracking customer experience, adopting the new sales blueprint, minimizing inefficient processes, and taking the leap into smarter selling by leveraging artificial intelligence and advanced analytics.
The best path towards becoming a trusted advisor in the age of the customer is to embrace augmented intelligence and to recognize the new currencies in the digital economy - personalization, intelligence and immediacy.
Popular in the Community