They say it's the thought behind the gift that counts, but we all know that's not entirely true.
Valentine's Day is just around the corner - and many of us are cringing. Too many times over the years, we've been given -- or have given -- corny or perfunctory gifts, made predictable restaurant reservations, or relied on the dubious crutch of Hallmark.
If the present provides so little inspiration when it comes to expressing adoration for your paramour, why not look to the past? So many old-guard romantic rituals and gestures have been left behind in the name of progress -- and are well due for a comeback.
For additional inspiration, please consult my new Let's Bring Back book -- from which the entries below are excerpted -- and I welcome your further suggestions in the comments section.
Without further ago, let's bring back ...
1. Go on a winter picnic.
Grab a bundle of red wool blankets, a box of truffles, and a bottle of Champagne -- which you can chill by wedging it in a nearby snowbank. Snuggle up and enjoy the winter landscape.
2. Cook an old-fashioned color-themed dinner.
These amusing dinners were apparently popular toward the end of World War I in certain European circles. The 1966 New York Times Menu Cook Book describes one such meal, which was "contrived to be monochromatically red": the menu consisted of a smoked salmon starter, a cold rose-tinted cherry soup, roast beef with a hot puree of beets, sliced tomato salad, a centerpiece of radishes, and raspberry sherbet topped with red ripe strawberries. The book also notes that "there is a certain humor in the fact that during a green meal in the same period Roquefort cheese appeared with the salad."
3. Play an indoor croquet match.
Everyone associates croquet with balmy summertime afternoons on vast green lawns, but it's always a decadent treat when played indoors as well. Have heaps of wine with supper, and use the empty bottles as wickets.
Find your local swing-dancing club and pick up a few moves. Or teach yourselves how to Jitterbug, Foxtrot, or do the Charleston.
5. Go see a double-feature.
Perfect for a dark, cold February afternoon, and for prolonging first-date make-out sessions.
Why not? It's terribly romantic. Get hitched in Niagara Falls and then spend your honeymoon there, like newlyweds of yore.
7. Wear flowers in your hair.
Ladies, take a cue from Billie Holiday and tuck a gardenia behind your ear at dinner: the effect is innocent and sensual at the same time. Men rarely forget a first encounter with a woman who wears flowers in this manner.
Gentlemen should note that a jaunty fedora looks quite debonair and elicits a similarly swooning effect from the ladies.
8. Go to a Fly-in Movie Theater.
All right, all right: I know that this is a rather impractical suggestion, since there aren't really any around anymore. The first such establishment was opened in 1948 in New Jersey; it could accommodate twenty-five small planes and helicopters and five hundred cars. Unfortunately, the enterprise fizzled. But perhaps some chic entrepreneur will scramble and open one before February 14, 2011.
9. Give a bunch of charming old-fashioned flowers.
Banish that bunch of rubbery, scentless roses. Instead, give your darling a bouquet of forgotten blooms, such as Bachelor's Buttons, daisies, or forget-me-nots. Simplicity is often best.
10. Depart on a Grand Tour.
In generations past, American families embarked on months-long grand excursions through Europe. The family would take in the sights of the major capitals and resorts: London, Paris, Rome, Venice, Florence, Lausanne, Athens, Munich, and so on. Why not follow suit?
11. Take a hot air balloon ride together.
A wonderfully romantic way to travel. See the countryside without the annoyance of traffic; enjoy all of the benefits of altitude without vile airplane air or annoying seatmates.
And dress the part: long scarves and stocking caps, white figure skates for the ladies, mittens, and so on. Don't forget the thermos of hot chocolate.
13. Write your honey an old-fashioned love letter.
Preferably with a quill and ink. But when it comes to true confessions of the heart, even a humble ball point pen will do.
15. Go to the opera - and dress for it.
Opera capes and gloves for the ladies; a glinting monocle for the gents. Don't forget the opera glasses: they make for excellent spying on the other opera-goers.
16. Give a personalized perfume.
Scent is such a particular thing: what woman wants to step into an elevator and smell her perfume on some other broad? So have a personalized perfume created for your lady.
17. Read aloud to each other.
After supper, read your husband his favorite story. He can read you your favorite poem.
18. Serenade your sweetie.
Even if you can't sing to save your life: it's the thought that counts.
19. Send a telegram declaring your love.
So much chicer than a text message, and they become great keepsakes and objets d'art.
20. Invest in a fur shag rug.
These adornments definitely rank quite high on the "Best of the 1970s" list. A fur shag rug spread out in front of a fire in the fireplace is synonymous with hanky-panky.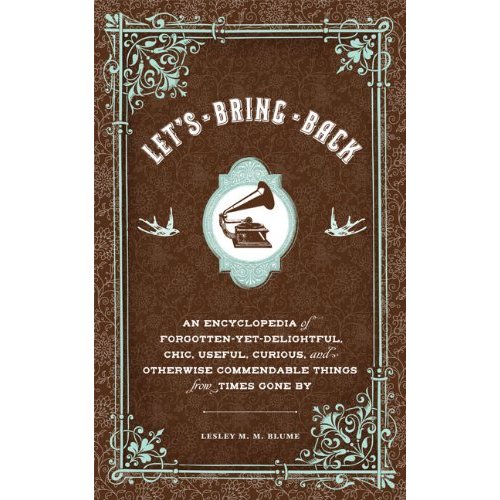 For publicity inquiries, please contact April Whitney at Chronicle Books: April_Whitney@chroniclebooks.com