Not every burger restaurant does a riff on Thanksgiving and turkey for its November Burger of the Month. But many of the best ones do. Start it off with The Counter chain and its Not Your Granny's Turkey Burger (below). That's a 1/3-lb. seasoned turkey patty layered with baby spinach, dried cranberries, sliced red onion, made-to-order sweet-potato hash, a slice of maple glazed ham and rosemary cream sauce.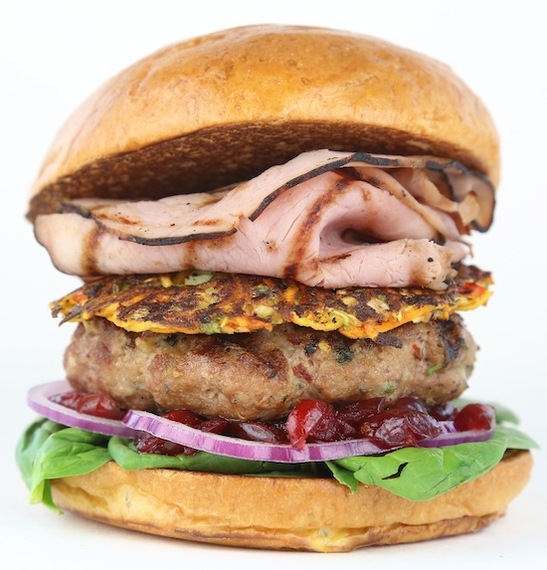 Another winner is the Thanksgiving burger being served all month at Kuma's Corner and sibling Kuma's Too in Chicago. Called simply "Sleep," it's an 8-oz. turkey patty with cranberry jelly, tempura-fried stuffing patty, fried sage and turkey gravy.
That's good eating any time. But if you're looking for a turkey burger idea, check out these other homages to Thanksgiving appearing on menus this month. Please eat responsibly.
5 Star Burgers, multiple Southwest locations
Thanksgiving Turkey Burger ($9.50)
All-natural turkey breast ground and hand-formed in-house, topped with sweet-potato waffle fries and cranberry aïoli
A&G Burger Joint, Miami
Thanksgiving Burger
House-made turkey patty topped with applewood bacon, Muenster cheese, and skin-on red mashed potato. Served on a cornbread bun with kalamata-garlic aïoli.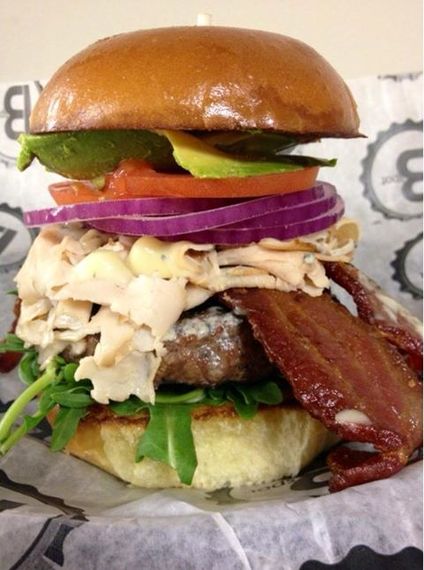 B Spot, multiple Ohio locations
Turkey Club Burger (above)
Beef patty topped with turkey, bacon, avocado, red onion, tomato, arugula and blue cheese
BGR: The Burger Joint, multiple locations
Thanksgiving on a Bun
Our turkey burger topped with cornbread stuffing, cranberries, and a killer gravy Mom would be proud of! Wash it down with our Pecan Pie Shake of the Month.
BRGR, Pittsburgh
Gobble Gobble Burger
A turkey burger with pickled green beans, cranberry aïoli, sage stuffing and turkey gravy
Burger Boss, Elmwood Park, Ill.
Thanksgiving on a Bun
Turkey paatty topped with tangy cranberry sauce, house-made stuffing, and mayo on a brioche bun
Grub Burger Bar, College Station, Texas
"Stuffing" Your Face Burger
Cranberry-turkey patty topped with cranberry and cream cheese, green beans, brown gravy and fried onions on house-made stuffing bread
Jack's Prime Burgers & Shakes, San Mateo, Calif.
Gobble Gobble Burger ($12.95)
Diestel turkey patty topped with Cheddar, apple-cranberry chutney and house-made stuffing with romaine and mayo on an onion bun
Jake's Uptown, multiple Texas locations
California Turkey Burger
Turkey patty, chipotle mayo, lettuce, tomato, bacon and sliced avocado
Jake's Wayback Burgers, multiple locations
Turkey Dinner Burger
Turkey patty, stuffing, cranberry and mayo with a Pumpkin Shake made with pumpkin pie filling
Kooper's Tavern, Baltimore
Turducken Burger
Ground turkey + duck + chicken burger with spinach, tomato, Irish porter Cheddar and cranberry-Dijon sauce
Milwaukee Burger Company, Eau Claire, Wis.
Trisha Peterson's Burger
A turkey patty flavored with onion, topped with Swiss cheese, chipotle mayo and onion rings all on grilled sourdough
New York Burger Co., New York City
Thanksgiving Burger
Fresh-ground turkey patty, maple sweet-potato-mash and cranberry-orange chutney
The Oinkster, Los Angeles
Thanksgiving Turkey Burger
A 6-oz. turkey patty flavored with Thanksgiving stuffing herbs and topped with celery-sage-onion relish, house-made cranberry sauce, sharp Cheddar, lettuce and mayo
Original Wow! Burger, Wilsonville, Ore.
Holiday Feast Burger
Diestel turkey patty topped with provolone cheese, lettuce, tomato, sauteed mushrooms, mayo, chipotle aïoli and dried cranberries on your choice of fresh baked bun. Paired with Gingerbread Shake and sweet-potato tots
Rockit Burger Bar, Chicago
The Thanksgiving Gobbler
Turkey patty topped with stuffing, spiced cranberry sauce and house-made gravy
Slater's 50/50, multiple Southern California locations
Thanksgiving Burger ($10.95)
Turkey patty topped with house-made brioche dressing, turkey gravy, scratch cranberry sauce and sage mayo on a honey-wheat bun
Teddy's Bigger Burgers, Woodinville, Wash.
Turkey Bacon Swiss
Grilled turkey burger with Swiss cheese and bacon with sweet-potato fries