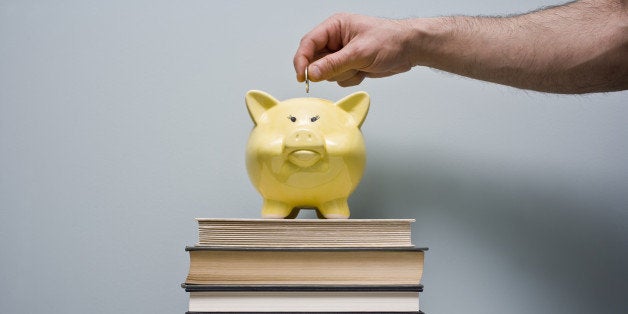 With back-to-school season upon us and those tuition bills looming, it can seem all but impossible to keep money in your bank account once the school year rolls around. But we've got plenty of money-saving hacks that are sure to leave your bank account with a bit more padding.


Build a budget. Laying out your projected expenses upfront can make you much more conscious of your spending throughout the month. Use online templates or an app like Mint to work with your parents to anticipate your expenses and create a budget. Then check in each month to see how close you are to sticking to it.

Leave the car at home. Having a car on campus may seem convenient, but it's also a money-suck. Between gas, parking tickets, and the other miscellaneous expenses that come with owning a car (and add up way too quickly!), having a car on campus adds significantly to your budget. Leave the car at home and save money plus stay healthier by walking everywhere instead!

Sign up for a smart credit card. While you always want to be careful when opening a credit card lest it lead you into credit card debt, as long as you manage your spending properly, the right card can allow you to reap real rewards. If you know you'll be flying Jetblue every time you go home for break for example, look into opening up the Jetblue credit card which will allow you to earn free flights. Same thing goes for Amtrak, and many others.

Rent or buy used textbooks. Don't assume the campus bookstore is your only option for picking up your required reading. You can usually find a better deal online through sites like textbooks.com, Chegg, and more. Think twice before heading to the campus bookstore and do a quick online search for the titles of your needed texts first.

Shop stores with student discounts. You'd be amazed at the huge number of retailers and restaurants that offer some sort of student discount. But unless you know to ask about it, they probably won't offer it up! Places like Ann Taylor, J.Crew, Chipotle, Subway, Eastern Mountain Sports, AMC Theatres, and many more offer meaningful student discounts. Always ask!

Keep it in the d-hall. If you're on the meal plan, use it! While the dining hall can get a bad rap, it's convenient, it's easy, and most importantly you already paid for it! Plus dining hall fare nowadays rivals some of the best restaurants--you'd be amazed at how gourmet and how varied today's d-hall options will be.

Going out? Score deals at local restaurants. If you do feel the need to get away from the dining hall every so often, look out for establishments in your college town that offer special deals throughout the week, like half-priced apps at their Monday trivia night, or 15 cent wing nights for example. Many restaurants in college towns will offer deals like these with college students' sparse wallets in mind!

Capitalize on campus activities. Before planning a date with your roomie or new bestie someplace off campus, look to see what activities are already happening at your school that night. On-campus events like concerts, movie nights, performances, BBQs, and more are usually free or cost only a nominal fee, plus you won't have to trek off campus to have a good time!

Take notes. Taking good notes in college can benefit not just your transcript, but your wallet too. Reputable sites like FlashNotes allow you to sell your notes to students in your course or similar ones at colleges across the country. Who knew your hard-earned note-taking skills would pay off!

You (don't) reuse, you lose. "Invest" in a reusable water bottle to tote with you everywhere you go. Buying bottled water is a totally unnecessary expense, plus it's worse for the environment! Fill your reusable bottle up in the d-hall, at the library, in the gym... you name it.

Brew your own. In the same vein, pick up a coffeemaker or Keurig for your dorm room, which will save you loads of time and money over the course of the year. A daily coffee-buying habit can quickly add up, plus by brewing your own, you'll save yourself from those endless lines!

Subscribe to your fave magazines. Wait, doesn't that COST money? Not when you consider the fact that you're probably already picking up a few copies at the newsstand throughout the year, and when you consider that a 1-year subscription to many magazines is only $7 or $9, just going for the annual sub will probably be a money saver. Just remember to bring your copies with you when you head to the airport to go home for break, so you don't end up paying double when you buy it again at Hudson News!
Calling all HuffPost superfans!
Sign up for membership to become a founding member and help shape HuffPost's next chapter