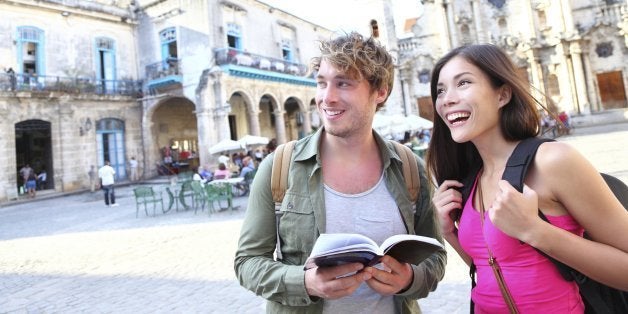 Solo travel can be invigorating, enlightening -- and terribly lonely.
Why not just "be friendly" and "say hi" to new people that you meet? Here's why: because introducing yourself to a total stranger in a café (or bar, or party, or at a tourist attraction, or on public transport) can feel creepy, anxiety-provoking and awkward -- especially when you don't have a friend or two backing you up.
If you're like me, you crave context before striking up a conversation as a solo traveler. You want to know something about the person, have a common subject of conversation, and, ideally, have already corresponded (through a website or e-mail) before meeting. With such a context established, people like us feel more prepared, confident, and relaxed in our socializing.
Here are the 20 best non-awkward ways I've discovered to meet new people while traveling solo, whether internationally or in your own country.
The first time I Couchsurfed I had just landed in Christchurch, New Zealand, for a few weeks of solo travel. My two female hosts picked me up from the airport, drove me to their apartment, put me up in their spare guest room (with its own bed), fed me dinner, suggested a few places to check out tomorrow, gave me my own set of house keys (they had to work early tomorrow), and encouraged me to have a good day. Obviously, I was sold. Since then I've stayed with hosts in Peru, The Netherlands, and the U.S., and I've hosted a handful of travelers myself. (Here's my profile.)
Couchsurfing hosts are some of the coolest and most generous people on earth. The best ones are also in high demand, and so it's important that you have a compelling profile and write a smart surfing request.
But Couchsurfing isn't limited to hosting; the most powerful way I've found to tap the network is to directly message other Couchsurfing members in your area. Use the "Find Hosts" tool -- making sure to check the "Wants to Meet Up" box to include locals who aren't hosts -- and write direct messages to anyone you're interested in meeting. For best effect, include a specific request: "I see that you love frisbee. I do too! Want to toss a disc around a park?"
To illustrate this method, when I was living in Northern California, a Couchsurfing member from a nearby city messaged me out of the blue. He noted our many common interests and invited me join a free live music event in the area. We struck up a long conversation and hung out many more times. It felt really good to get an unsolicited message from someone interesting who just wanted to hang out with me!
Finally, Couchsurfing is a forum for member-created meet-ups, parties, and other events (use the "Find Events" tool). In my experience, these gatherings are hit-or-miss. I once attended a meet-up in Amsterdam with about 40 incredibly friendly travelers from all over Europe; another meet-up in Madrid was less friendly and felt more like a glorified pub crawl.
For better or worse, Facebook is the dominant social network in the world, and that makes it incredibly useful for finding people to meet abroad. Start by searching for "My friends who live in [destination city or country]" (type it into the top bar) to see who you're already connected to in the area.
Next, do a search for "Friends of my friends who live in [destination city or country]" to find interesting people to whom your friends might introduce you.
Finally, write a simple Facebook post with your travel plans and dates (e.g. "I'll be in Barcelona for the first half of May -- know anyone I should meet?"). You might be surprised by the incredible people (or organizations, or destinations) to which you're connected.
Blues, salsa, swing, and Argentine tango: the world of partner dancing is robust, inclusive of beginners, and a shockingly easy way to meet new people in almost any large city.
Group classes, social dances, and festivals/intensives/bootcamps are all typically accessible to the beginning dancer. Doing a Google search for your location and preferred dance will reveal most opportunities (e.g. a search for "Bangkok swing dancing" reveals bangkokswing.com, with weekly a la carte beginner and intermediate group classes).
Not all dance styles will be available in any given city; be willing to immerse yourself in whatever the local favorite may be -- like tango in Buenos Aires -- to meet the most people. (And if you do go to Buenos Aires, take the evening group tango lesson at La Catedral on Tuesday nights. It's quite the scene.)
Also: although it isn't "partner" dancing per se, I know people who make new friends wherever they go through 5Rhythms, Open Floor, Ecstatic Dance, and drum circle events: public, large-group improvised dances that typically followed by socializing.
On Meetup.com you can find free group activities organized by local people. It's best used in large cities, and like Couchsurfing events, Meetups are very hit-or-miss.
Connecting with people who share your love for a sport is a no-brainer. Soccer, ultimate frisbee, running, rock climbing, and other sports that can easily include new members of various ability levels (without much equipment) are the best bets.
A quick Google search for your preferred sport plus your location name will typically reveal what's available: for example, a search for "Tokyo pickup ultimate" led me to iku-ultimate.org, with free ultimate frisbee pickup games 6 nights a week in Tokyo. Listings may also appear as Couchsurfing events, Meetup events, and Facebook groups.
The key thing to know about online dating websites and apps like OkCupid and Tinder is: you don't have to use them for dating! If you write an honest profile that explains that you just want to explore the area and meet locals, you can use these tools to genuinely connect with neat-looking people who share your interests without romantic expectations.
Of course, dating is also a good way to meet new people; go on a few dates with a local and you'll soon be connected to their world of friends and activities. Best of luck to you!
Group language classes are great for meeting fellow travelers, but more crucially, they enable you to better communicate with the true locals. You can either pay for for an official class or look for free language exchange meet-ups (most often advertised at hostels, on Couchsurfing or Meetup, or via location-specific Facebook groups).
There are typically countless ways to get involved as a volunteer wherever you travel in the world--and consequently meet local hosts and other volunteers -- but my favorite is HelpX, through which I've found ultra-high-quality volunteering gigs for solo travelers, couples, and groups. HelpX costs 20 euros for a 2-year "premier" membership (essential for making full use of the site). Workaway is another highly regarded option.
Search online for "rideshare [country name]" and there's a good chance you'll find a local network of free or low-cost rides between cities in private automobiles. Like Couchsurfing, the type of people who do rideshares are typically interesting -- some might say eccentric -- and spending multiple hours in a car with them can lead to memorable stories and new friendships.
Coworking spaces are hubs for entrepreneurs, freelancers, digital nomads, small business-people, and anyone else who wants to rent a little chunk of office space with reliable wi-fi and bathrooms so they don't have to camp out in coffeeshops anymore.
If you'd like to get some focused work done while traveling, a coworking space can be a great place to do that among a group of like-minded peers. Most spaces have scheduled community social activities that you can browse via their online event calendars (or via their e-mail newsletters which you can subscribe to in advance). Membership options range from day passes to multi-visit punchcards to monthly membership, and many spaces offer free one-day trials.
11. Conferences / Gatherings / Festivals
If you have a niche interest -- like raves, ultramarathons, or Python programming -- do a quick search to see if any big events are scheduled in the area where you're traveling. Join as a paid participant or, even better, become a volunteer.
Search Twitter or Instagram for keywords and hashtags related to your location, interests, or activities. and you might stumble upon a few interesting people whom you could then proactively contact. For example, doing a Twitter search for "Berlin coffee" led me to 30+ potential users to contact to ask for coffeeshop recommendations. Use this website to search Instagram if you don't have an iPhone.
Find out if there's a sub-reddit discussion board for your location. For example, googling "Queenstown NZ reddit" immediately led me to the Queenstown board where a few interesting conversations were taking place. Start your own conversation or, as with Twitter and Instagram, consider directly messaging users who seem interesting.
Do an advanced search on LinkedIn to find people in your destination based on their industry, keywords, and how closely you're connected to them. Message them through directly through LinkedIn or just google their names to find more effective means of contact (like an e-mail or Twitter account). Strike up a conversation based on mutual career interests.
A website designed specifically for help travelers meet each other, TravBuddy boasts more than 500,000 users -- both travelers and locals -- who seem to be active in even the most remote corners of the globe. $10 lifetime access fee.
Available in an increasing number of big cities, EatWith connects local chefs with strangers (i.e. you) through group dinner parties. Eat well and meet other foodies at the same time.
Like Couchsurfing, AirBnB tends to attract some of the coolest hosts on the planet. Ask your host to connect you with some of their local friends who share your interests or point you in the direction of neat places/events that you won't read about in a guidebook. Or invite your host over for dinner in their own home!
Travelers go to hostels because they want to meet other travelers, which makes them one the least awkward places to strike up a random conversation. Do this by hanging out in the common rooms and kitchen, offering to help cook a group meal, sitting in the lobby reading an interesting-looking book, or joining a hostel social event. You can sometimes volunteer to organize your own social event through the hostel, too, like a group bike ride or game night.
Homestays are wonderful because (1) you're instantly connected to a group of locals, and (2) those locals will surely introduce you to their friends. Research a potential homestay beforehand to make sure that it includes people around your own age, who share some of your interests, and who will actually hang out with you. (In other words, make sure it's not the elderly couple who's just renting a room to make money and won't talk to you outside of meal time.)
20. Play Two-Player Games in Public
Finally, an unconventional tactic that's worked for me: play a two- (or more) player game in a public place like a café, park, or hostel common area. My favorite game for this purpose is SET: a simple but challenging card game that anyone can join regardless of their age or language. The colorful shapes of the game tend to attract people's attention, and if those people are bold or desperate (like yourself), they'll ask you about the game, you can ask them if they'd like to play. Other games that work well for this purpose include chess, Go, and, for the highly ambitious, Settlers of Catan. (A friend and I once set up an entire game of Settlers in a café and waited for a third player to materialize. It worked.)
Related