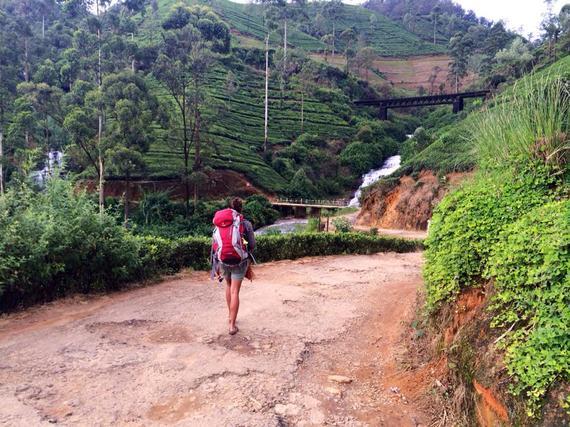 Ladies, we all know how overwhelming it can be to pack for a vacation, let alone a lengthy backpacking adventure halfway across the globe. It always begins the same way: an empty suitcase or backpack and a closet bulging with treasures of lace, silk and cotton. First, you snatch all of your most favorite articles of clothing, because well, they're your babies and you can't just leave them behind.
Then, it's on to the essentials: undies, bras and socks. You might say to yourself, "I know I need several pairs and panties don't take up much space, so...all of them are coming."
Oh boy, next it's the basics. As you're trying to determine what clothes are most comfortable for hiking through the jungle in Sri Lanka, for some reason the only image that replays in your head includes that lucky red dress, towering heels, the size zero waist you had in high school and handsome foreign men. "OK, taking the heels; better pack these other heels too, in case I wear silver jewelry...speaking of jewelry..."
I'm sure you get the picture. The end of your packing expedition ends with you pulling a back muscle while simultaneously hearing the sickening crack and release of the suitcase zipper shattering under the pressure of a thick boot heel.
I did a highly scientific bag-packing experiment one time. Actually, I spent days packing for a trip, traveled a few months, made a ton of mistakes with what I had packed and learned from said mistakes. Travel doesn't mean sacrificing style. With a few key pieces and basic necessities, you can magically fill a smaller suitcase or backpack without even needing the monster bag that's big enough to conceal a small, pimple-faced teen. We never end up wearing everything we pack anyways, do we ladies? Here are 20 travel hacks for fashionistas looking to ditch the baggage overload and morph into sophisticated, lightweight travelers instead.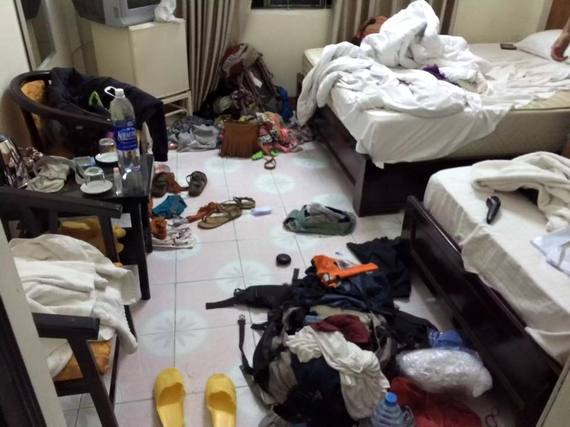 This is called a "bag explosion." It results from not being able to find that "one" T-shirt in your bag.
1. Lay out all of the clothes you wish to bring on your trip. Of course, there are certain items you can swap out depending on where you're going. Research the country climate and culture. Some countries are more conservative than others, so you'll want to be aware of this before tucking that lime green g-string bikini. Can you cut that pile you gathered in half? A good rule of thumb is to get rid of multiple bottoms and keep the number of tops in the single digits. For shoes, leave the heels at home, unless you'll be attending a special occasion.

2. Bring a small packet of detergent so you can save money by washing underwear and quick-drying clothes in your hostel or hotel. This post lists some great travel ideas for guys and girls alike, such as tucking dryer sheets into your bag or with dirty clothes for 24 hr freshness.
3. For toiletries, choose travel-sized bottles for liquids and testers for makeup.
4. Pill containers hold jewelry beautifully.
5. Reserve an entire bag compartment for tampons, pads and condoms.
6. Some girls are prone to yeast infections and UTIs. You'll be moving and adapting frequently while traveling, so it can cause the body stress, especially down there if not cared for properly. Let your doctor know you'll be traveling and ask for recommendations on medicine so you can be prepared. Don't forget to stock up on birth control and Plan B.
7. Following up on No. 2; be picky with your underwear, as this can have a significant impact on hygiene and health. Breathable cotton works best!
8. Keep a small store of plastic bags. Don't ask me why, just know that these will save your life over and over while on the road.
9. All because you're traveling doesn't mean you have to succumb to the frumpy, greasy-haired, curry-stain-on-pants-but-looks-like-diarrhea look. If you want to wear makeup, pack only the essentials: powder, mascara and eye liner. If your makeup is waterproof, even better. Should you bring the red lipstick? Most definitely!
10. Instead of packing a bulky towel, invest in a quick dry towel. They're thin, light and save on space.
11. A tablet is such a great investment for traveling. Instead of taking up valuable bag space with guidebooks and novels, you can carry a tablet in your purse with as many eBooks as your little book wormie heart desires.
12. Be smart about the purse you decide to bring, as it will become your most trusted companion. Keep security and convenience in mind; a medium cross-body pouch with a zippered enclosure makes it easier to keep your valuables close and keep sneaky fingers at bay.
13. It doesn't matter how long you're traveling for (but location does matter), opt for a smaller backpack or suitcase. Not only will it force you to pack light, but when traversing the world, you'll have a smug smile on your face while watching those other suckers, I mean backpackers, lugging around 80 liter backpacks.
14. Will you need heels when backpacking in the mountains? Is a hair dryer necessary for volunteer work? This one is a personal decision. Every girl has a pair of heels, hair dryer or statement piece they just can't live without. To pack light, choose only one. You don't have to say no to everything, but try not to bring everything either.
15. Instead of folding clothes to pack, roll them up like smooth little burritos for easy, wrinkle-free packing that doesn't suck up bag space.
16. It doesn't hurt to pack fresh underwear and a t-shirt with your carry-on while flying, just in case there's a mishap with your luggage and it gets lost in space for a few days.
17. Fold a washcloth into a soap pouch and you've got a soap holder and body scrubber in one!
18. I know this doesn't have anything to do with packing, but it's a nifty tip nonetheless. When you're offline and need GPS: Type "OK maps" into Google Maps and the current location will save, in case you need to pull it up again.
19. A fake engagement ring is handy for females traveling solo to ward off unwanted attention.
20. Don't worry too much! Remember that in the end, the clothes won't matter as much as the places you see and the wonderful people you meet. As I traveled, I ended up leaving garments of clothing behind or giving them away to those who had far less. Give it a try and I guarantee you won't miss that skirt you gave to that little girl in Myanmar. Not one little bit.