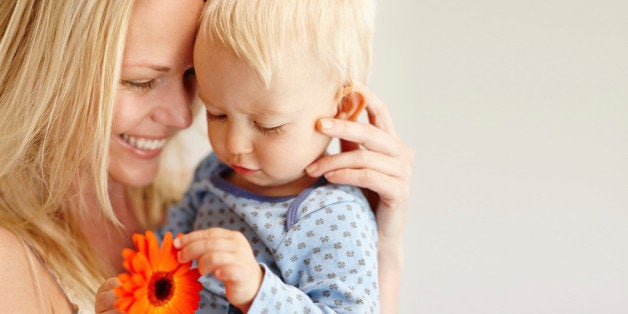 There's no doubt that becoming or being a single mom in your 20s can be intimidating, terrifying, and make you feel like less of the "normal" family/parenting unit, but, that being said, it's one of the most rewarding, remarkable journeys a person can embark on. Raising one munchkin solo can have it's perks, and here are a handful of them...
1. While all your other mama friends are keeping the "2 under 2" statistic alive, you don't have to worry about basically being pregnant and nursing for like 5 years in a row.
2. You don't have to worry about losing baby weight from baby #2, because instead of being pregnant again, you're chasing after your toddler solo, crushing the "mom-bod" with nice legs and abs instead of milk-filled DDs and a newborn on your chest.
3. You can go to happy hour or a night out on the town and actually enjoy a drink or two, because you don't have to get home and nurse a newborn, or pump and dump for an entire day. and, you're most likely guaranteed snuggles from a little 3' rascal who probably snuck into your bed with the sitter while you were out.
4. No double-stroller over here! Thank goodness -- have you felt how heavy and chunky those bad boys are?! Not to mention how full our car trunks already are anyway.
5. You can go on adventures with your mini without needing doubles of everything for another kid . One carseat? Check. One set of snacks? Check. Only one shared bag packed with essentials and goodies? Check. One set of hands to cuddle up your munchkin? Check.
6. You're still a babe, so you can actually look forward to dating instead of being scared of it and feeling "old" -- I mean, it is 2016, so who are we kidding? It's still terrifying thanks to online dating and this odd generation of nonchalant gypsy "men", but at least you're still young, fun, and confident - even being a single mama. Which what isn't to admire about that? You're strong, independent, and clearly hardworking, so those are major turn-ons.
7. You don't have a big pregnant belly, so don't have to worry about not being able to give your little one unlimited sit-on-my-lap snuggles and cuddles during story-time or bedtime, and you can still crouch over the tub.
8. You're forced to be social and go on play dates, because you don't have another sibling to help entertain your high-energy-filled little love bug monster
9. You only have two mouths to feed, so you don't have to cook or grocery shop for an entire tribe
10. Special night-time snuggles build an extra-special mama-child bond, because all your unconditional love and energy is poured into one tiny human, and doesn't have to be divided
11. The only one telling you "no" is your tiny, independent nugget, not a spouse
12. You still have a roomie to keep you company, and maybe even a bed-sharing one at that. Snuggles and cuddles from a toddler > a bed-sharing partner who doesn't want a tot invading.
13. You take pride in EVERYTHING. Because you're the one responsible for the milestones, no matter how big or how small. and you don't have to pick a favorite child.
14. When your little one goes to bed, you actually get a couple seconds to yourself. You can dive into a book, a chic flick, or fulfill hobbies and enjoy peaceful "me time."
15. You really value your friends and your family for their love and support. Without them you wouldn't survive since you don't have a parter's help with daily tasks that seem simple when split between two sets of hands, legs, eyes and ears. Your nugget feels extra special and loved by your family and friends, because all of the attention is on them. They don't have to feel jealous or compete with a sibling (yet).
16. Want to redecorate the house or rearrange furniture? Your toddler won't care or judge you for it. In fact, they'll probably want to be a big helper and dive in, excited. When's the last time a spouse was overjoyed to help you hang new photos or go pick our new bedding? Pretty sure little helping hands think it's the coolest thing ever getting to be your assistant.
17. "Mommy, I want a smoothie and mac-n-cheese for dinner!" Easiest meal prep and clean up ever? Check. Not having to prepare steak and potatoes for your other half who would never be satisfied with just that? Check. Dinner for two, and an excuse to eat macaroni and cheese? Check.
18. You get to share your laundry piles and closets with clothes that could fit a doll, instead of clothes that take up the entire hamper, all the hangers, and all your time washing, drying, folding, and putting away.
19. To your mini me, you are superwoman. You are beautiful, fun, kind, and special. Although plenty of days they will make you feel tested and exhausted and question your sanity, at the end of the day, they will give you kisses and sweet hugs, and love you for you.
20. Weekends can be filled with... whatever you want them to be. Want to make pancakes from scratch in your PJs, then cuddle up on the couch to eat breakfast and watch cartoons? You can, and you can take as long as you please. Want to create things and go on adventures with no timelines, wifey duties to fulfill, or putting someone else's needs before your nugget? Yes, please. Just you + your little and the entire day and weekend ahead to go and do as you wish.