A wise man once said, 'Once you are tired of London, you are tired of life," and I am pretty sure this is the truest thing ever said. If you can't find something you like to do in London, you are pretty much incapable of finding things to do period. This city has absolutely everything, and there are essentially unlimited treasures to be found. From pop-ups to cultural festivals to warehouse parties to comedy nights, from boat cruises to street art tours to rooftop bars to flower, produce, antique, street food, clothing, vintage, and jewelry markets... there's something for everyone. Really. Even from people who would rather chill at home, to people who want to go out every night. Whatever it is, London has it for you.
I've met people who have lived here their whole lives and still discover tons of new things all the time. With such a large, dense, and multi-cultural city comes a LOT going on and a LOT to explore; people come here from all over the world and bring with them so many new traditions and customs that come to be London's own. And, of course, it still retains a lot of the classic English culture that has always been so integral to the city. Here are some of the reasons London really is the most exciting city in the world.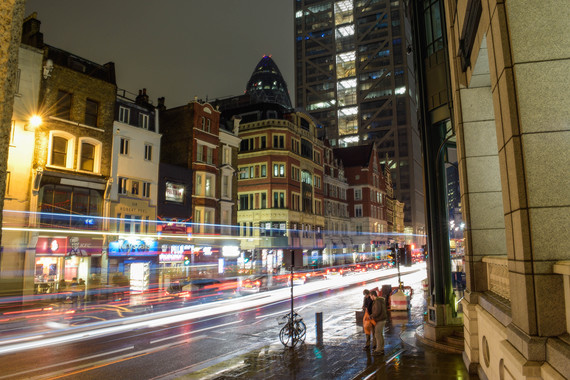 Bishopsgate Road on a rainy night - Photo: @kimmconn
1. There Is No Place Where Asking 'Where Are You From?' Is More Relevant
London is SO multi cultural. The latest statistic says that foreigners now outnumber actual Brits in their own capital. Millions of travelers and expats flood London, and you can sometimes hear five different languages upon passing five people on the street. London is a melting pot of culture for Europe and beyond, and there are people here from absolutely everywhere. London is a central hub to the rest of the European Union as well - and many people come here from the rest of the EU to live and work. It's definitely one of, if not the most multicultural city in the whole world, and you can find that out within the first few hours of arriving.
2. A Multi-Cultural Melting Pot Brings Multi-Cultural Food.
London has some of the best Indian food around. And Vietnamese, and Mediterranean, and Korean, and Italian and... you get the point. I read that the most popular dish in England is currently chicken tikka (and slowly being overtaken by curry), which have apparently beaten out even the legendary British fish & chips! When a nation's most popular dish is that of another nation, you can tell that it's a legitimate place of ethnic diversity.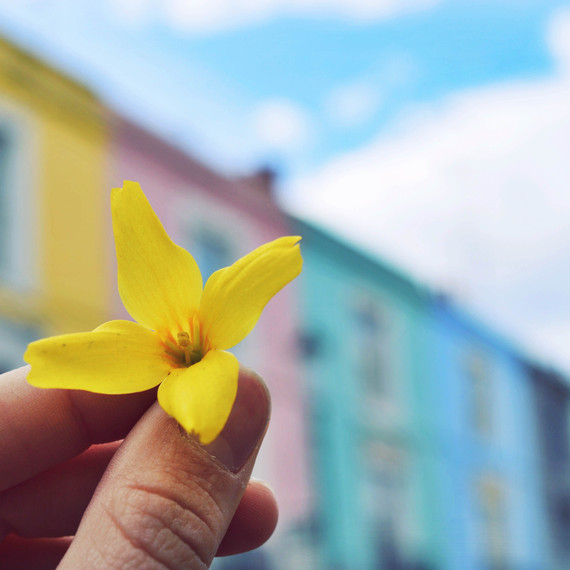 Bursting with color in Notting Hill - Photo: @kimmconn
3. The Constant Bustle of London is Uniquely Exciting
Step foot on the streets of East London at 5pm on a weekday, and you will understand what I mean by 'constant bustle.' Step foot into Leicester Square on the weekend, Oxford street on any day, a pub in the early afternoon... and you will also see. London is constantly alive, at any time of day. There is a permanent buzz about the whole city, and even the most seasoned and rushed Londoner will be able to feel it if they just take a second away from their routine and pause. Everyone is on a mission to go somewhere or do something; everyone is always out and about. There are always faces going by on red busses, people bursting past each other on the street, bikes whizzing past the traffic, cabbies waiting for their next passengers, groups laughing together outside restaurants, men and women in suits making sure to get to work on time. There really is a tangible and exciting bustle about the whole city, and it's amazing.

4. Not Only Adequate, but Exceptional Public Transportation
Not only is the public transportation here adequate, but it is superior. It is easy to get anywhere in London - there are so many ways to get around that it could potentially be the best connected city in the world. If you want to take a quick adventure around the city or check out some landmarks or new places, there are multiple ways that you can go about getting anywhere.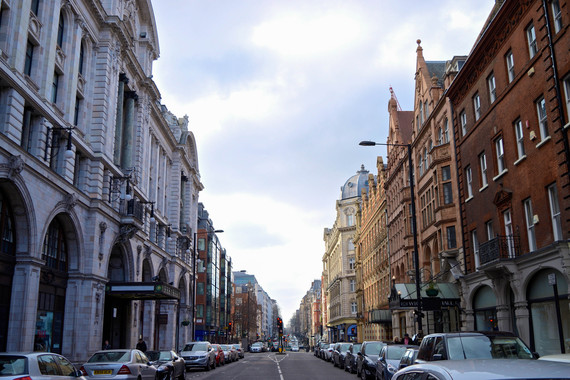 A sunny day in Marylebone - Photo: @kimmconn
5. Most Things are Within Walking Distance
Although it may not seem like it at times, you really can walk most places in London. Many people just descend underground to the tube and take it to wherever they need to go without really stopping to think about whether they could get there by foot. Walking to your destination now and then can prove to be very exciting and actually a great workout. Most places within central London are totally walk-able, and chances are you will pass by many pretty cool places along the way, because London has interesting places on every corner.
6. If It's Not Within Walking Distance, It's Within Biking Distance
If you don't think you can walk, you can always bike anywhere in London. It might be a bit scary at times, but there is a huge population on cyclists in London who do it every day, and there are bike lanes on most roads. If you don't have your own bike, you can rent the Santander Cycles for £2 for 24 hours, as long as each journey is under 30 mins. There are stations everywhere in central London, and an app to find the one you want to go to. How easy is that?! It's cheaper than any other transportation, and you get to workout and sightsee at the same time. It's a great option for visitors and locals alike!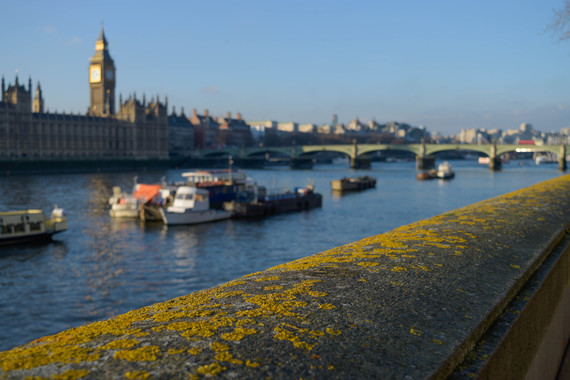 A different view of Ben - Photo: @kimmconn
7. If It's Not Within Biking Distance, It's Within Bussing Distance
One of London's biggest staples are its double decker red busses. With the cheapest one-way journey rate, they are an easy way to get from point A to Point B- reliably, but maybe not too quickly! Busses are so readily available here and you can't get one pretty much anywhere you need to go from anywhere you are. Busses are yet another reason London is so well connected and accessible for everyone - and also a good way to see the city!
8. If It's Not Within Bussing Distance, It's Within Tubing Distance
Last but not least.... we of course have the tube. The tube is another one of the most exciting parts about London, even if locals forget that sometimes. The underground is one of London's most famous assets and one of the oldest and best public transportation systems in the world. It is constantly being improved and is constantly bustling with bust people eager to get places. You might not get to see any sights while you commute, but it can get you anywhere very quickly and reliably and is yet another reason London is so well connected and easy to get around.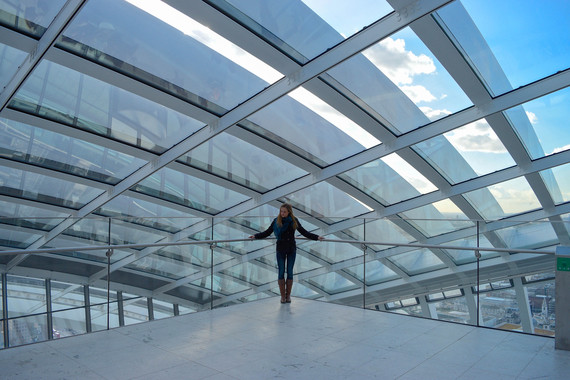 Exploring with angles in The Sky Garden - Photo: @kimmconn
9. You Can Of Course Also Catch a London Cab
Personally, I think there might be more of these than cars themselves. Classic London cabs are everywhere, some wrapped in unique colorful advertisements or otherwise just their normal black color. They can take you everywhere you need to go - if walking, biking, tubing, or bussing still doesn't cut it!
10. There is Rich History Everywhere
There is SO much history around London. England in general has a lot of history dating back even to the Bronze and Iron Ages, and of course a lot of Ancient Roman history as the Romans occupied the country during their Empire in the first few hundred years AD. London itself has sites ranging from many different periods of history, from bits of Ancient Roman ruins like the London Wall, to sites from the Middle Ages like the Tower of London and Westminster Abbey (11th century) and other ruins, to a lot of surviving Victorian artifacts, sites, and places like the Tower Bridge. Even more recently, there is a lot of WWII history in the city as well as it was an integral part of that war. The Churchill War rooms and other similar museums like the Imperial War Museum will take you on a journey through a city that retained all of its pride even while it was under intense siege for months during the war.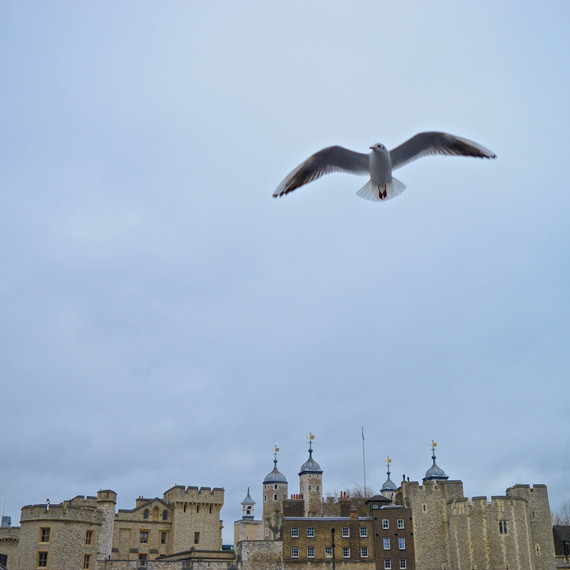 The Tower of London...with one of it's many visitors! Photo: @kimmconn
11. There are Dozens of World-Famous Landmarks
London has an unusually large number of internationally famous landmarks which can be found all over the city. If you think about it, there are way more notable places in London that most other places! I can't think of any city with more. Big Ben, the London Eye, the Tower Bridge, the Shard, the Gherkin, Piccadilly Circus, Shakespeare's Globe, Hyde Park, St. Paul's Cathedral, Buckingham Palace, Royal Albert Hall, The Millennium Bridge, Oxford Street, Marble Arch, and any of the dozens of huge museums in London are recognizable by many people around the world. Even if you live here, it is an exciting thing to pass such beautiful and world famous landmarks each and every day.
12. It's a Center for Art
Another weekend, another niche (or broad) art show somewhere in London. Whether you stay up to date with different artistic events in London or just happen to stumble upon one while walking down the street, you are sure to find at least one while in the city. London is home to some of the most famous street artists and some of the most talented musicians. There are countless art and music schools and places of learning. No matter what type of art you are looking for, London will have a community just for you.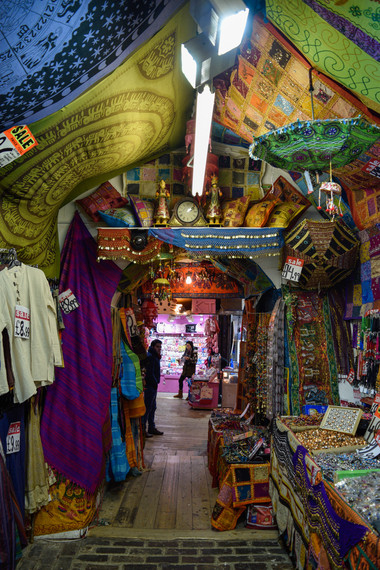 Somewhere beautiful in the depths of Camden Market - Photo: @kimmconn
13. It Is a Hub to the Rest of Europe and the UK
Not only is it east to travel around London itself, but it is easy to travel from London to anywhere else in the UK or Europe. London is the first stopping point of any flight coming to Europe from the West, and you can find flights to nearly anywhere from London. There are trains to anywhere in the UK from London. Basically, it is a hub of travel for this entire region of the globe, and chances are if you want to go somewhere you can get there from the insanely well-connected city of London.
14. It's Easy to Travel From
Not only is it possible to travel many places from London, but it's decently easy also. With at least a dozen large train stations (a few in each main region of the city), and most with connections to any airport or to any train destination, it is simple to figure out how to get to where you want to go from London. There is no reason not to visit the surrounding areas once in a while when you can get everywhere from at least one station in London. You have options too - there are usually quicker and cheaper options or faster and more expensive ones. Like I have been saying- there's something for everyone.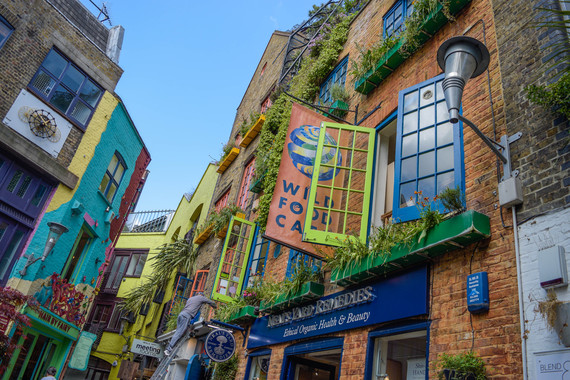 A little alley somewhere in Covent Garden - Photo: @kimmconn
15. Fitness Options are Extensive
There is no excuse not to keep fit in London. There are millions of fitness options all around the city to tickle anyone's fancy. All kinds of gyms, spin and pilates studios, boot camps and different classes. There are loads of free options as well - yoga, running clubs, and other fitness classes too. There are runs all the time as well - from the London marathon down to tons of smaller 5k's and 10k's to train for. There are rollerblading groups, bike races... there are so many options. I even saw an ad for an 'urban triathlon' consisting of a hot yoga class, an indoor cycling class, and a three mile run ... Truly extensive.
No matter what some people say... London is a safe city. As long as you use your common sense, don't walk down dark dodgy alleyways at night, or walk with your headphones in, London is an extremely safe city. Especially if you are close to the center. There are usually people around at all times of day and night anyway, and for the most part, you shouldn't have anything to worry about.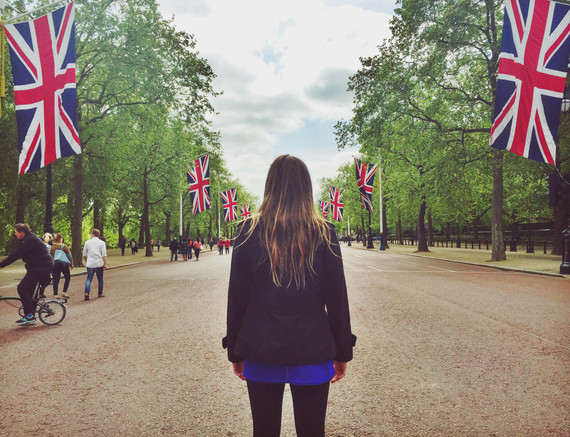 Getting patriotic at Buckingham Palace - Photo: @kimmconn
Yeah sure, London gets pretty cold during the winter. There temperature drops, the wind is icy cold, and you cannot leave the house without gloves. It can be quite grim for a few months, but when spring comes it is all worth it. As soon as the temperature rises a little bit, the trees go from completely brown and drab to insanely green, lush, and amazing in a matter of weeks. I remember when I saw the first little leaves sprouting on the trees outside my window in the spring and wondered if they had been there before.... they hadn't. Within a week or two from the first green, all the trees go from zero to overflowing with green so quickly, and it is always an amazing sight to see. During this time, daffodils and colorful flowers start sprouting up all over the city in fields and in any patches of grass, and trees start flowering in white and pink as well. This time makes you suddenly remember why you withstood the cold winter and how much of a mood-lifter it really is when spring finally comes around and coats the city in color and happiness.
18. It Comes Alive During the Summer
As spring starts settling in and the summer months approach, London comes alive even more. There are events going on each and every day throughout the city - festivals, cultural food fests, pop-ups, parties, new markets, and outdoor shows. Posters up all over the city advertise the newest summer events. Parks are filled with people picnicking, and streets are full of walkers and runners. Rooftop bars overflow with people, and you can really feel the summer vibes in the air when passing by people talking and drinking outside all the pubs and beer gardens in the afternoons. No matter which way you look at it, London comes alive during the summer as people flock outside to take advantage of the sun when it does come out! Londoners really do know how to take advantage of good weather.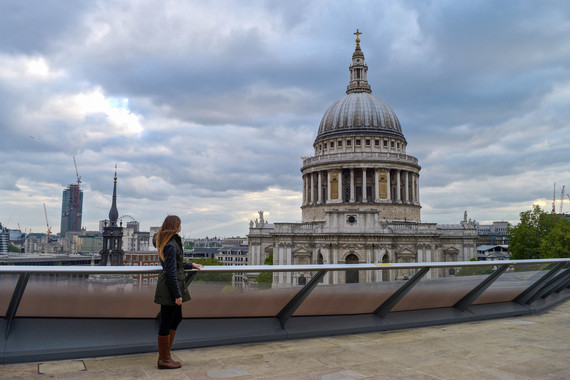 Exploring rooftop bars with exceptional views - Photo: @kimmconn
19. You Can Always Escape Into A Bit of Nature
London has many amazing parks throughout the city - no matter where you live, there is almost definitely one within walking distance of your flat. If you ever get a little tired of the city, you can always explore any of its amazing parks, some more forresty and nature-y than others. If that's not enough, beautiful English countryside surrounds the city on all sides and is only a short train ride away. There is always an easy escape from the busy city if you need one, and the English countryside is some of the most beautiful.
20. There are Truly Endless Places to Discover
You really can live in London for years and years and still find something new each day. There is just so much going on everywhere that it is impossible to really know it all, and this fact about London is what makes it truly mysteriously fascinating to me. You can never discover it all or know it all; London will always be withholding something exciting from you and it's like a never-ending quest to find just what that may be. The excitement never ends in this city, and until I die I will always be on the hunt for the next amazing discovery here.
Read about an actual day of adventuring I had in London right here, which included breakfast at a cereal cafe, stumbling upon vintage and fresh produce markets, lunch in the park, finding an italian-inspired, multi station food and drink popup inside an old warehouse, stumbling upon a deep house party on a sunday afternoon, getting drinks on a rooftop bar overlooking St. Paul's, and then getting drinks at a speakeasy near Liverpool street where you enter through a fridge.... all in one day. True story!