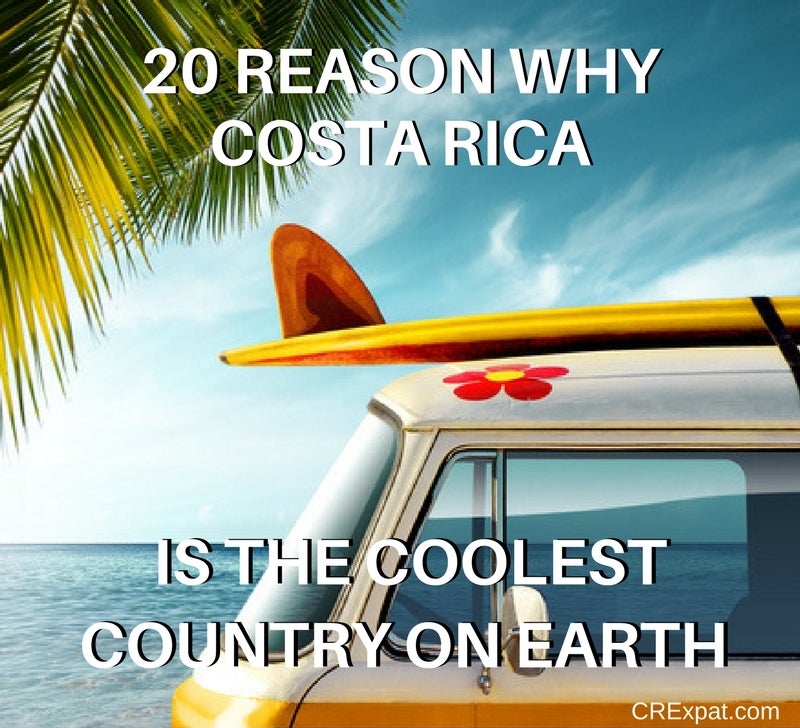 Whether you're planning to visit Costa Rica for a nice vacation, spend the whole winter there, or even move there permanently, here are my 20 reasons why Costa Rica is the coolest country on earth! 

1. It's ecologically friendly
2. It has the oldest constitution in Central America
3. It's a country with no army
With their progressive constitution in 1949, Costa Rica decided to ban any armed forces, making it one of only countries in the world without an army, still to this day.
4. A model education system
By investing in education instead of funding an army, Costa Rica now boasts a 96% literacy rate, the highest in Latin America. Their commitment to education has allowed them to attract good skilled jobs and boost income for their citizens.
5. Unmatched natural beauty
6. The most diverse wildlife on the planet
There are over 130 species of fish, 220 of reptiles, 1,000 butterflies, 9,000 plants, 20,000 species of spiders and 34,000 species of insects in Costa Rica. That represents about 5% of the world's biodiversity even though it is just about .03% of the earth's total landmass. Costa Rica is also known for its sloths and turtles, which can be seen in protected habitats and beaches. But if you're more of a monkey, lizard, or exotic bird lover, Costa Rica will be your favorite place! In fact, the country became the first place in the Americas to ban recreational hunting.
7. Adventure sports galore
Zip lining, sky diving, jumping off waterfalls, repelling, exploring caves, horseback riding, 4×4 runs, jet skiing, and just about every other adventure sport you could imagine are all on the menu in Costa Rica.
The landmass of present day Costa Rica is the result of volcanic eruptions 75 million years ago – and still is active today. In fact, Costa Rica still has five listed active volcanoes and more than 200 volcanic formations. The most famous of these is Arenal Volcano, an easy day trip from San José. It last erupted in 1968, but it's now considered safe and you can still enjoy the hot springs at its base.
9. Protected nature reserves
Costa Rica is on the forefront of environmental conservation, long ago protecting about 25% of their country as national parks. Manuel Antonio National Park on the west coast is the most famous, but Tortuguero National Park and La Amistad International Park are amazing, too.
10. A top surfing destination
Costa Rica is ranked as one of the best surfing destinations in the world, home to year-round warm water and a unique microclimate that bring consistent offshore winds. Big competitions like the Billabong World Surfing Games are often hosted by Costa Rica, but even beginners can wax up their boards and catch some waves.
11. Their "pura vida" attitude
A common saying among locals is "pura vida," which means "pure life." Everywhere you go in Costa Rica you will be welcomed with a smile by the locals, and they will truly make you feel at home in their country.
12. It's so close to the U.S. and Canada
One of the best benefits about Costa Rica is its close proximity to the United States and Canada. San José is only a 3-hour flight from Miami and 4 1⁄2 hours from New York, and there are more and more nonstop, cheap, and direct flights all the time.
13. The happiest country on earth
The World Database of Happiness ranks Costa Rica as the #1 happiest nation on earth out of 148 countries. (The United States ranks no. 20, by the way.)
15. Superb coffee and chocolate
Thanks to their mountain terrain and tropical weather, Costa Rica is known for producing some of the best coffee and chocolate in the world. Those just happen to be two of our favorite things!
16. A world-class health care system
17. Modern and improving Infrastructure
Costa Rica has gone to great lengths to modernize and improve their infrastructure in the past decades. There are efficient international airports, paved highways connecting the country, and modern amenities in the capital of San José, as well as any popular touristy area.
18. Diving and marine life
Costa Rica has some of the best diving, snorkeling, and accessible marine life in the world, such as such the Cocos Island National Park (also a World Heritage Site), and the Gandoca-Manzanillo Wildlife Refugee. In fact, Costa Rica's oceans are home to at least 6,777 species, which is 3.5% of the known marine species on the planet!
19. Bull fights...that are safe for the bulls
Bullfights are a Costa Rican tradition at every small village festival and the grand events in San José. But unlike the bullfights in Spain and other countries, the bulls are never harmed in Costa Rica...although they do dish out some serious damage to whoever is brave enough to jump in the ring with them!
20. Costa Rica welcomes expats
People from all over the world choose to move down to Costa Rica and make it their new home. Retirees, surfers, young families, and those who just desire the simple, beachside life move there every year by the thousands – and Costa Ricans general welcome them with open arms.
This post was published on the now-closed HuffPost Contributor platform. Contributors control their own work and posted freely to our site. If you need to flag this entry as abusive,
send us an email
.