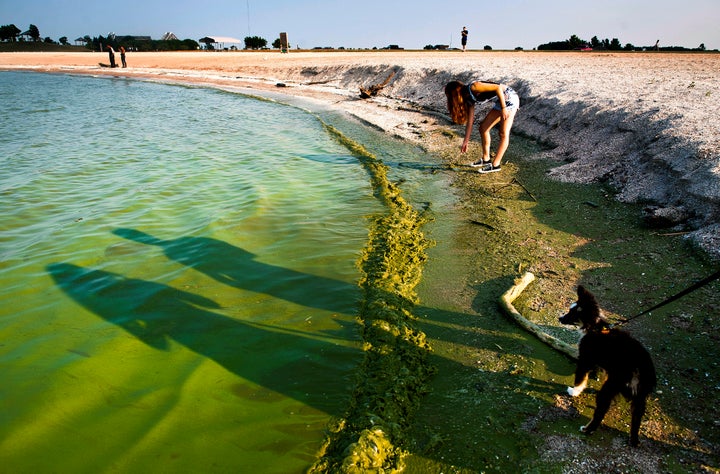 Thick, massive cakes of smelly green toxic algae bubbled up along beaches and rivers in South Florida's coastal communities this summer. It was so serious, authorities declared a state of emergency.
Meanwhile, a large algal bloom in Utah forced the closure of the Scofield Reservoir, a popular boating and swimming destination, in the past month. A scattering of rotting corpses of dead fish and waterfowl emerged along its shores. Last week, authorities warned residents near New York's Seneca Lake to avoid the water following a confirmed algae outbreak. And on Wednesday, Oregon's Blue Lake was similarly closed for recreation due to an algae advisory.
Toxic algal blooms have been confirmed in more than 20 states this summer. And they're becoming more serious and more common. These blooms impact local economies dependent on water-reliant recreation, but scientists are even more concerned about the broader repercussions of the trend.
The blooms, also called cyanobacteria or blue-green algae, can negatively impact on human health. They can cause rashes, stomach or liver issues and respiratory problems in anyone who ingests or swims in contaminated water or who breathes in mist from an impacted waterway.
The toxins found in the blooms can also sicken and kill aquatic life, wreaking havoc on local ecosystems and creating hypoxic dead zones where aquatic life cannot get the oxygen it needs to survive.
Different types of toxic algae also occur in estuaries and coasts. If someone consumes a shellfish, for example, exposed to those algae, that person could face symptoms ranging from upset an stomach or diarrhea to respiratory arrest, explained Pat Glibert, an environmental science professor at the University of Maryland.
"A large enough dose can cause respiratory arrest," she told The Huffington Post. "And respiratory arrest can lead to death."
These cyanobacteria need nitrogen and phosphorous to grow and scientists believe they are getting it, largely, because of increased nutrient runoff from farms that are overusing fertilizer on their crops.
Climate change isn't helping matters, either. Drought conditions and torrential rainfall linked with the changing climate both contribute to a higher concentration of nutrients in waterways, and warmer temperatures also help blooms grow.
It's a perfect storm for bigger, more frequent harmful algal blooms, Glibert said. And those conditions don't seem to be changing significantly anytime soon.
"We're changing our climate, we're in a warming period, we have a nutrient pollution problem and once many of these [algae] species get established, they can reoccur year after year," Glibert said.
The federal government is getting involved, too. The Centers for Disease Control and Prevention launched a national reporting system for the blooms — its first — this June in an effort to help raise federal awareness of the issue.
But the system makes it strictly voluntary for states and municipalities to report any blooms or associated illnesses and, as Scientific American reported this week, many states and municipalities lack the funding to adequately test for and treat the blooms.
Additional efforts are underway to attempt to prevent the blooms in the first place, such as the Great Lake Commission's Lake Erie nutrient reduction plan — an agreement announced last year between eight U.S. states and two Canadian provinces to reduce the runoff of phosphorous into the lake by 40 percent by 2025.
That plan's focus on reducing phosphorous runoff into waterways is in line with a recommendation a group of Canadian of U.S. scientists laid out in a paper published last month in the Environmental Science & Technology journal.
The study reviewed studies evaluating how nitrogen runoff reduction efforts, either alone or with phosphorous reduction efforts, impacted the development of algal blooms.
Their analysis found that when phosphorous runoff alone was controlled, the blooms were reduced. Controlling the nitrogen runoff, conversely, did not impact the development of blooms.
While an important finding that could help officials prevent blooms, Steve Carpenter, the director of the University of Wisconsin-Madison's Center for Limnology and a contributing author of the paper, pointed out that phosphorous runoff is largely linked to agricultural practices ― a contributing factor to the phenomenon that has proven to be an elusive target for reduced nutrient runoff.
"So far we have been unable to come up with policies and practices that work for managing agricultural phosphorous pollution," Carpenter told HuffPost. "It is a major unsolved environmental problem."
But the Great Lakes plan and other strategies don't specifically target the farms many experts say is largely to blame for the problem. Environmental advocacy groups are calling on the agriculture industry to step up.
The nonprofit Environment America linked the problem in a report published this summer to large agribusiness companies and their massive "manure footprint." They called for farmers to embrace practices like cover crops and buffer zones to reduce the amount of nitrogen and phosphorous leaving their farms and entering waterways.
"These factory farm operations generate so much manure they don't know what to do with it. And the easiest thing to do is spread it around on crop land," John Rumpler, the report's author and senior attorney at Environment America, told HuffPost in July.
Such practices are becoming more popular in farming strongholds like Iowa, where the use of cover crops is up 35 percent. While that still only represents 2 percent of the state's overall cropland, Iowa Gov. Terry Branstad (R) said last month that more resources are needed to further incentivize the practice for farmers and make it more common.
Solving this issue will clearly require additional funding, but that funding has been on the decline, according to Glibert.
The environmental science professor pointed to areas of China, India and Southeast Asia, where rapid development and increasing use of nutrient fertilizers in farming have left many beaches caked in algae that becomes toxic when it starts to rot, as "in many ways an endpoint we don't want to get to here."
"This is a serious environmental issue," Glibert added. "It's important for our water quality and for protecting human health."
Joseph Erbentraut covers promising innovations and challenges in the areas of food and water. In addition, Erbentraut explores the evolving ways Americans are identifying and defining themselves. Follow Erbentraut on Twitter at @robojojo. Tips? Email joseph.erbentraut@huffingtonpost.com.
Before You Go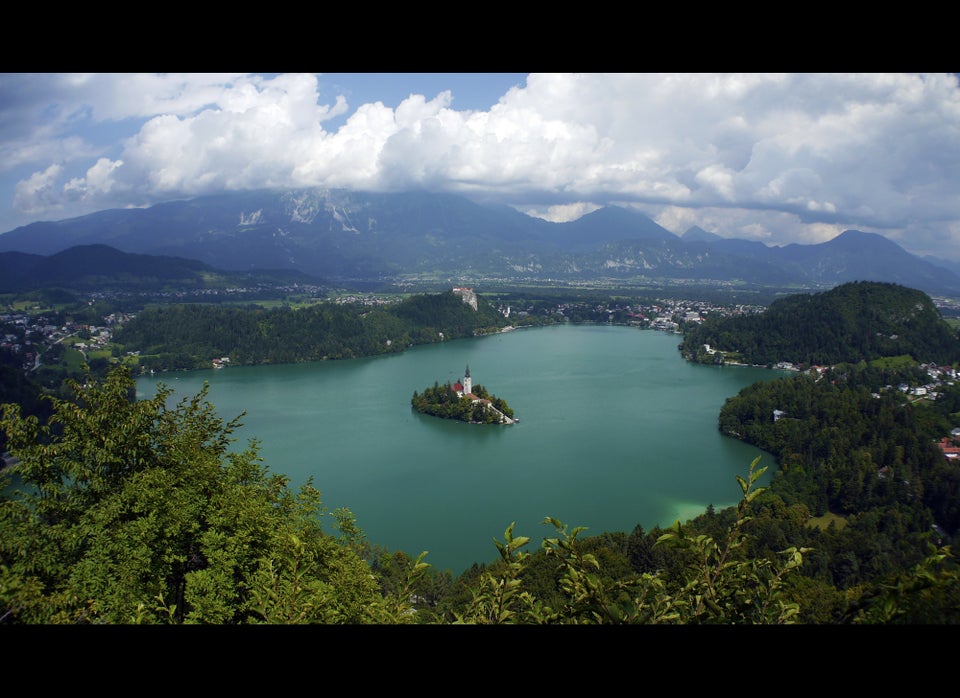 World's Most Beautiful Lakes
Popular in the Community