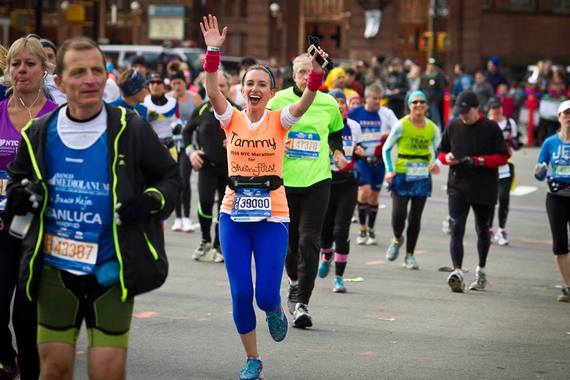 I couldn't run a mile in high school gym, but a decade later, I completed the NYC Marathon! It was one of the best, most triumphant days of my life. I'm proof that anyone can do it! It all comes down to training. Here are my tips for crushing your first marathon.
1. Download a training plan. I used one by Popsugar Fitness.
2. As the plan says, cross-train. Let me repeat that: CROSS-TRAIN! To avoid injury, particularly IT band syndrome that comes from overuse of the thigh and knee, you must do exercises that strengthen your abs and core. I took an abs class at the gym one to two times a week and downloaded this free injury prevention course for suggested exercises.
3. Study the race course. If the course is not flat ground, make sure that you're doing practice runs up hills or bridges.
4. Stretch out with yoga one to two times a week. I took advantage of the free classes at Lululemon on Sunday morning before the store opened. I also use the Yoga Studio app for iPhone.
5. Reduce inflammation! After a run, or at night when you're watching TV, be sure to ice the knee and joints. Pop an ibuprofen if needed (not Tylenol -- can bad for your liver), but don't become too dependent on pain relievers.
6. Pick a cause and fundraise. I raised $13,000 to sponsor girls' education for She's the First, the non-profit I founded. On days when the training gets tough, thinking of your beneficiaries will give you endless motivation.
7. Raise money with Charity Miles. Turn on this free phone app when you run, and it will donate a quarter per mile that you run to your charity of choice. You'd raise $120 at least from all your mileage in training!
8. Do a long run without music at least once. What if it rains on race day and you can't bring a phone, or what if your headphones break? Get used to running without music so if you ever have to run in silence, you won't freak out.
9. Do at least one long run in the rain. Just so you know you can. Wear a waterproof watch that tracks your distance, a baseball cap to protect your eyes, and put some vaseline on your toes to prevent blisters. When you get home, remove the soles in your sneakers and put crumbled newspaper in your sneakers to help them dry inside.
10. Listen to podcasts. When you are running with your phone, make time go by faster by listening to a podcast. You'll get absorbed in conversation and forget how far you've ran. It's magical.
11. Join a running group. For my longest runs, I joined the Dashing Whippets in NYC. Chatting with women who ran my pace made the 18-mile and 20-mile distances much less intimidating--and then we celebrated afterwards at brunch.
12. Stock up on GU. Purchase GU Energy Gel or the Clif Energy Gel and take one every six miles for a burst of energy. They're like superpowered candy.
13. Keep your GRID roller close. Foam rolling is key to avoid IT band injuries. I like the GRID best, because while it'll make you wince as you're kneading tight muscles and knots, you'll be avoiding greater pain in the long run.
14. Get fitted for sneakers. I go to Jack Rabbit and run on the in-store treadmill, so a specialist can tell me what type of sneaker is best for me, based on how my feet hit the ground. Wear the same sneaker in the race that you trained in. Buy a new pair mid-training.
15. Learn what food your body likes. You never want to try new food on race day. I always went with a rice cake with peanut butter and banana before a run, or a Health Warrior chia bar. I carb loaded at Dig Inn the nights before my longest runs. Many runners have a go-to pasta dish. Drink more water than you normally do--even try to have some electrolyte-enhanced water.
16. Read running books. I recommend Anything for a T-Shirt, a biography of Fred Lebow who created the NYC Marathon and made long-distance a sport for the everyday person; What I Talk About When I Talk About Running by Haruki Murakami; and for humor, The Oatmeal's The terrible and wonderful reasons why I run long distance. You will understand them on a very deep level now.
17. Avoid long runs in cotton socks. To prevent blisters, get sweat or moisture-wicking socks at a sporting goods or running store.
18. Wear your marathon day outfit out on a run. Never try new clothes on race day!
19. Put your name on your marathon day shirt. It's the best feeling when cheerleaders call out your name. It truly makes a difference.
20. Enjoy every moment. There is a feeling of incredulous wonder you get when you go the longest distance you've ever ran, which you will not feel again in the same way after you run your first marathon. Remember that when you're dreading your 20-miler. It's the only time you get to experience your "first" distance like that...and I guarantee you, it won't be the last.
Want more good advice? Head over to Avelist. Learn from others. Adult together.
Related