1. Garland-Draped Ceiling
If your vision of a romantic outdoor tent is stifled by the tent's exposed support beams -- cover them up! For a lush, full-looking garland, consider greenery like ivy, maidenhair fern or boxwood. Add even more intrigue by hanging amaranthus flower spray, clear glass terrariums and bundles of bare branches.
Cascading greenery and lush hydrangea imitate a romantic overflowing fountain, but with much more whimsy. Take this look to a whole new level of romance by adding floating candles and lily pads to the pool.
A floor-to-ceiling arrangement of greenery and color-coordinated blooms set the scene for some pretty amazing ceremony photos. We love the urban contrast between the exposed industrial-looking walls, the garden-chic blooms and crystal chandeliers.
A petal-lined aisle is one thing -- a topiary-lined aisle with trees that look like they're straight out of Wonderland is something entirely different. If you're going for an all-white or neutral color scheme, that means you can play around more with the color of your florals. Don't be afraid to mix and match!
Yes, kale. The superfood of superfoods is also a standout choice for a unique bouquet. It outshines many other greens in the full foliage category, and the deep purple hue of its center leaves act as its own accent color, which can be pulled into the bouquet with similarly-colored blooms.
Varying sizes and colors of pomanders dress up a bare tree for an outdoor ceremony. Just be careful to use extra supports when you hang them -- you don't want one falling down in the middle of "I do."
7. Staircase Cake Display
If your venue has a grand staircase, use it! Start off the reception with a cocktail hour in the foyer and transform the railings into a floral masterpiece. Vines of greenery, bushels of roses, scattered petals, candles and overhead bistro lighting make for a ridiculously impressive entrance (and not to mention an amazing wedding cake display!).
Thanks to their soft green hue, grapes are an easy-to-incorporate non-floral accent that add a surprising shape to your floral arrangements. Full bushels create a cascading effect, while small bundles are just enough to get noticed, but won't take away from your beautiful blooms.
9. King Protea and Air Plants
For a never-before-seen bouquet arrangement, this one takes the cake. King protea is the main attraction here, supplemented by an impressive air plant and full cluster of seeded eucalyptus.
With a stretch of moss and some wild-looking floral arrangements, you can create a striking woodland-esque tabletop. Arrange dark jewel-toned blooms in footed urns, and to complete the look, add in unique fillers like fiddlehead ferns and burgundy hypericum berries.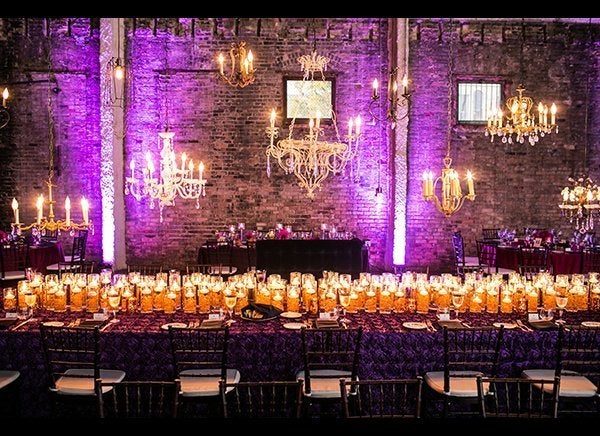 50 Unique Ideas for Your Centerpieces