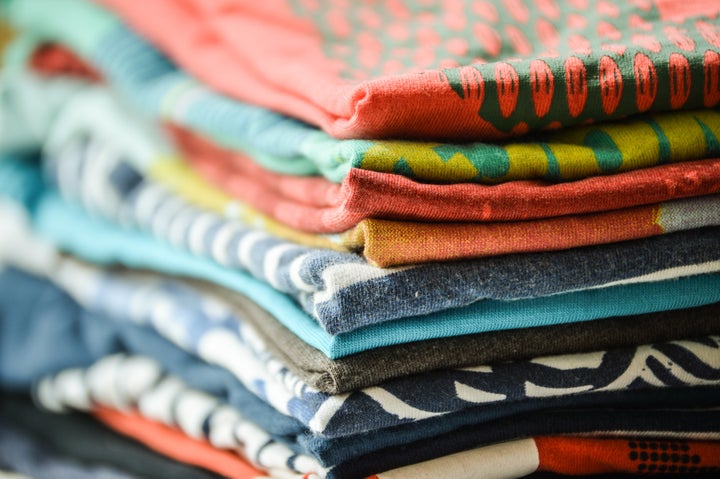 T-shirts are a rather ubiquitous clothing item. If you've ever played sports, attended a concert, joined Greek life in college or participated in a charity walk, you've likely racked up a bunch of them.
But over time, they tend to get worn out or just overwhelming in volume. Sometimes, a purge might be necessary. But how can you deal with T-shirts without being wasteful?
We asked the HuffPost Parents and HuffPost Women Facebook audiences what they do with old T-shirts to give them new life. (Pinterest, it should be noted, also has a wealth of crafty tricks to offer in this regard.)
Without further ado, here are 20 ideas for upcycling T-shirts, from the simple and practical to the downright creative.
Reusable bags
"Turn them into a reusable bag. Cut fringe and tie along the bottom, cut off sleeves to turn into handles." ― Teri Lynn
"A no-sew reusable bag! So easy and I still get to see the cool shirts I've collected from races or fundraisers every time I use them." ― Cari Cowling
"We host Family Service Fairs (where families do good for local nonprofits), and used old T-shirts to create reusable grocery bags to help get plastic bags out of the environment. The organization that inspired the station is called Boomerang Bags." ― Doing Good Together
Quilts
"I've saved all my daughter's scout, sports and school T-shirts and made her a quilt for college." ― Della Yurasek Csehoski
"I made a blanket from old band T-shirts when I was pregnant to give to our son when he gets older but I'll probably never really let him have it, it's too cool!" ― Ali Walter
Jewelry
"My friend makes baby-friendly jewelry from old T-shirts ― necklaces, bracelets, earrings, and scarfs, etc." ― Krisztina Oláh
"Turn them into headbands and jewelery, using braiding, knotting and macrame." ― Danielle McEwan
"Cut them into strips, braid them into necklaces so my kids chew on them instead of their T-shirt collars." ― Hortencia T. Benavidez
Pillows
"Stuffed the leftovers into a travel pillow for the kids. A tad bit harder than I would have liked it, but they don't seem to mind. Otherwise, they are used for rags and other DIY projects." ― Sylvia Salas-Brown
"We cut around the T-shirt design and add other fabrics around it to make pillows." ― Marie Meidinger
"Pillow covers when kids are sick or I'm sweating at night." ― AnneMarie Greenfield
Art
"I stretched some of my husband's race tees over square art canvases. They hang in our family room along with my medal rack." ― Anna-Marie Ward
"I frame my old concert tees in record album frames and then hang them up in my screened porch." ― Michele N. Lotman
"Put them over canvases to hang on the wall." ― Karla Marie
"Put into small embroidery hoop for ornaments or large for display." ― Neelloc Niffit
Towels
"Towels for my curly hair!" ― Sarah Beth
"Use them to towel dry your hair, smoother than actual towels so supposed to be less damaging." ― Soma Chatterji
Kid clothes
"Turning a T-shirt into a romper for a child." ― Heidi Else
Pet accessories
"I have a dog who shreds her bedding when she boards so I make dog blankets for her by sewing four T-shirts together. They're harder for her to destroy and cheaper than dog beds." ― Melissa Westmoreland
"I have dogs, so anything fabric gets its second life as dog bedding." ― Melissa Lynserra
"Our Aussie shepherd mix likes to play tug (and rip!) and then sleep with them." ― Kathleen Wright
"Knot and tie into dog toys!" ― Tara Olivia
"My Key Club uses them to make chew toys for the local animal shelter." ― Teri Madewell
"Old T-shirts make great surgery recovery shirts for dogs. My dog HATED that stupid cone, but the shirt didn't bother him one bit!" ― Lauren Olcese-Mercurio
Donations
"Donate them to Rethreaded, an organization that helps people 'sew a new story' in their lives. They make and sell items, including various items from T-shirts." ― Anita Davis Sullivan
"Donate them. I'm not crafty enough to make things, and there are always people who need gently used clothing. Pay it forward, y'all." ― Erin Hablenko
Sleepwear
"I just sleep wearing them and use them in that way until they lose their usability. Best bedroom clothes for me." ― Natalia Shveykina
"My daughter takes them to wear for pajamas." ― Wendy Greve
Rugs
"I cut a bunch of shirts into half-inch strips and knitted a small area rug for our kitchen." ― Elina Singh
"Braided T-shirt rugs with the pieces left over after doing quilts/pillows and rags." ― Ashley Edinger
"You can cut them into strips to knit or crochet rag rugs." ― Kelly McDaniel Whitney
Doll clothes
"My kids cut up old T-shirts and make clothes for the Elf." ― Claudia Reis
Scarves
"I made T-shirt scarves for my daughters out of their old T-shirts." ― Kimberly Anderson
"Cut it straight across, right beneath armpits, and create an infinity scarf." ― Laura Coronado
Lampshades
"I've turned one into a macrame lampshade!" ― Danielle McEwan
Makeup Wipes
"Make reusable makeup-removing wipes (soaked in micellar water)." ― Lauren Neiger
Rags
"Mine go from T-shirts, to PJs, to rags after that the trash!" ― Brandy Allen-Burgard
"I use them for polishing silver (inherited a bunch, pain in the butt to maintain)." ― AnneMarie Greenfield
Hair care
"I wear them when coloring my hair and tear them into strips for hair curls." ― AnneMarie Greenfield
Reinvented clothes
"Give it new details ... i.e., cut off the sleeves and give it a different neck." ― Mish Buonantuono-Rausch
"Re-design to new shirts, bags, skirts ... " ― Rachelle Carrillo
Gardening aids
"Garden ties for holding up plants like tomatoes." ― Neelloc Niffit
"Tear them into strips and use those strips to tie up tomato plants in the garden or other plants/trees." ― AnneMarie Greenfield
Recycling
"Recycle them. School has a bin and it raises money for the school." ― Stephanie Tapia
If you aren't naturally crafty, you can send your T-shirts to folks who will transform them into quilts, pillows and scarves for you. Pinterest is also filled with helpful tutorials to help you create upcycled jewelry, skirts, totes, lampshades, and more.
Some quotes have been condensed for clarity and length.
Support HuffPost
A No-B.S. Guide To Life
Related
Popular in the Community