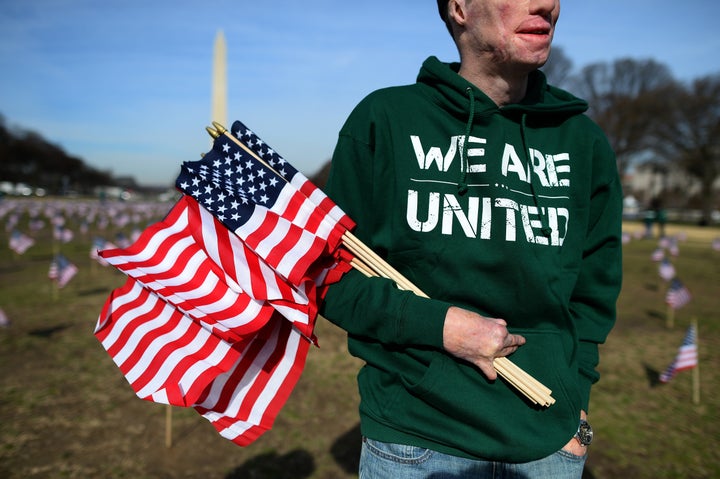 The rate of veteran suicide has dropped slightly, but figures still point to a crisis that requires "aggressive" measures, according to a new report.
In its most exhaustive examination of the issue to date, the U.S. Department of Veteran Affairs found that about 20 veterans died by suicide every day in 2014. That was down from 22 a day in 2010, according to preliminary figures. The complete report is slated to be released later this month.
But the VA says the drop is no cause for celebration.
Since 2001, the rate of suicide in the U.S. increased more among veterans than non-veterans. And that figure was even higher among veterans who didn't take advantage of VA services, according to VA analysis.
Over the past 15 years, civilian suicide increased by 23 percent while veteran suicide jumped 32 percent.
Veterans over the age of 50 and female vets who don't take advantage of VA services were most at risks.
Veterans are susceptible to suicide for a number of reasons unique to their service experience.
After leaving the military, for example, former servicemen and servicewomen lose the "intense feelings of belonging." Instances of suicide are also linked to traumatic brain injuries, post-traumatic stress disorder and depression, which have been widely associated with deployment experience in Afghanistan and Iraq, according to a 2011 report released by the Center for a New American Society.
The VA said it's "aggressively" pursuing new measures to help prevent veteran suicide, which was precipitated by the department's summit on the topic in February. That event called for improving mental health care access for veterans and increasing resources for the VA Suicide Prevention Program.
Improving mental health services and access to it is critical, experts say, particularly because of how the surrounding stigma often keeps vets from getting psychological help, according to the Center for a New American Society report.
The VA is working toward ensuring same-day access for veterans with urgent mental health needs. It's also going to employ predictive modeling to better determine which vets are at risk for suicide.
To help improve its efforts, the VA hired 446 new psychologists last year and 80 new psychiatrists, according to the AP. It's also bringing on 60 new crisis intervention responders for its Veterans Crisis Line who will be well versed in substance use disorders, screening, brief intervention and referral to treatment.
"One veteran suicide is one too many, and this collaborative effort provides both updated and comprehensive data that allows us to make better informed decisions on how to prevent this national tragedy," Shulkin said in a statement. "We as a nation must focus on bringing the number of Veteran suicides to zero."
Popular in the Community