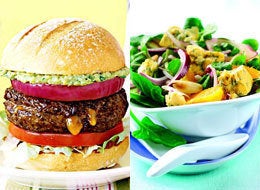 Suddenly it seems that chain restaurants like Applebee's, T.G.I. Friday's, Olive Garden, and Bennigan's are almost as ubiquitous as the Golden Arches. No surprise. There are nearly 200,000 "table side" restaurants in the United States today, a number that continues to grow.
For many, they offer a reliable, pleasant alternative to cooking -- plentiful servings, service with a smile, relatively good value for the dollar. But like fast-food outlets, these dining establishments can be ticking time bombs when it comes to nutritional health. Government surveys find that the food you typically eat when you're not home is nutritionally worse in every way than the food you eat at home.
The good news is that's changing. For instance, 7 out of 10 adults surveyed by the National Restaurant Association in 2003 said there are more nutritious foods available to them in such restaurants than there were five years ago. Nearly all the chains have added healthier options to their menus -- if you know how to look for them. But whether you're dining out at a major national chain or a locally owned family restaurant, following a few of these tips can guarantee you a pleasant dinner (or lunch) out without busting your health goals.
1. Above all else, be assertive. Dining out is no time to be a meek consumer, notes Michael F. Jacobson, Ph.D., executive director of the Center for Science in the Public Interest (CSPI) and coauthor of the book Restaurant Confidential. "You need to be an assertive consumer by asking for changes on the menu," he says. For instance, if an item is fried, ask for it grilled. If it comes with french fries, ask for a side of veggies instead. Ask for a smaller portion of the meat and a larger portion of the salad; for salad instead of coleslaw; baked potato instead of fried. "Just assume you can have the food prepared the way you want it," says Dr. Jacobson. "Very often, the restaurant will cooperate." Below, you'll find more specific requests.