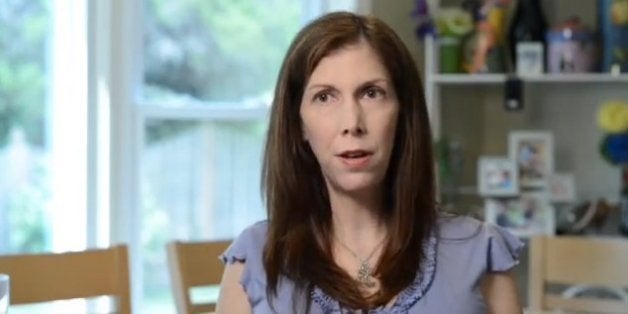 Dana Weinstein, a pregnant mother of two, made the decision to end her pregnancy in 2009 after doctors discovered her baby's brain was malformed. Her pregnancy was considerably further along than 20 weeks, the abortion limit that Republican senators are planning to introduce Thursday, and she is speaking out about her experience in a new cable television ad aimed at defeating the bill.
"Had our baby been viable, we would have done anything, everything. Making the decision to terminate and to end our baby's pain was absolutely the most gut-wrenching, impossible decision to come to," Weinstein says in the ad, sponsored by NARAL Pro-Choice America. "As a mother, I didn't want to bring this child into this world for her to only exist in immense pain and suffering. Being able to come to a decision that was right for us is really what's important here and that's not for a legislator to decide."
Sen. Lindsey Graham (R-S.C.) is expected to introduce the bill, which would ban abortions after 20 weeks of pregnancy with narrow exceptions for rape and incest victims, and if the mother's life is in danger. The bill passed the House in June, and has no exceptions for severe fetal anomalies or situations in which the mother's health could be damaged. It is not likely to pass the Senate because of the Democratic majority there.
When the House was debating its version in May, a woman who had to abort after 20 weeks based on a fetal anomaly testified. Rep. Louie Gohmert (R-Texas) commented that she should have carried her brain-dead fetus to term.
Abortions after the 20-week mark are very rare, and many of the women who opt to have the procedure so late in a pregnancy do so after discovering a severe medical problem. But Republicans argue that abortions should be banned after that point because the fetus can feel pain -- a medically disputed theory.
A 20-week ban would directly challenge the U.S. Supreme Court precedent, which protects a woman's right to have an abortion up until her fetus is viable, around 22 to 24 weeks. Arizona's 20-week abortion ban was blocked by a federal appeals court in August 2012.
NARAL released the new, 60-second TV ad Thursday morning, and plans to run it on national cable for a week.
"Anti-choice conservatives like Sen. Graham continue to pander to their base by using women as pawns," said Ilyse Hogue, president of NARAL, in a statement. "Instead, they are wasting taxpayer time and money on a blatantly unconstitutional restriction of women's rights, when this country has so many priorities Congress has not yet attended to. The personal and emotional challenges faced by these women and their families are a private matter best resolved with their doctors and their God. These meddling politicians need to find something else to focus their energy on."
REAL LIFE. REAL NEWS. REAL VOICES.
Help us tell more of the stories that matter from voices that too often remain unheard.
BEFORE YOU GO
PHOTO GALLERY
Which Women Might Run In 2016?