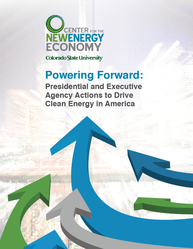 If you thought that the climate action plan President Obama announced last June contained a complete global warming agenda for the next three years, think again. There are few more things he can do.
Two hundred more things, to be precise.
In a Washington D.C. news conference today, former Colorado Gov. Bill Ritter released a long menu of new ideas for the President's consideration. The ideas, collected in a report called Powering Forward, were presented to the White House last week. They were developed by Ritter's Center for the New Energy Economy at Colorado State University (CNEE) in consultations with more than 100 U.S. thought leaders over the last 10 months. (Full disclosure: I work for the Center.)
The President's in-basket is filled with recommendations from NGOs and interest groups, particularly just before his annual State of the Union address, but in this case a meeting with Obama inspired the idea-gathering exercise. Last March, Ritter was one of a group of 14 people, mostly corporate CEOs, invited to the White House to discuss energy policy with the President and his team.
Ritter was called out of the room for a few minutes. When he came back, the other members of the group had "elected" him to lead the effort to engage experts in five areas: energy efficiency, renewable energy financing, new business models for utilities, responsible natural gas production, and alternative fuels and vehicles.
After months of research, roundtables and peer reviews involving experts and corporate leaders, the result is more than 200 recommendations the Administration could implement without further action by Congress.
Last week's White Housing briefing included Energy Secretary Ernest Moniz, Interior Secretary Sally Jewell, EPA Deputy Administrator Bob Perciasepe, GSA Administrator Dan Tangherlini, presidential science advisor John Holdren and Obama's top climate advisor, Dan Utech.
Today at the National Press Club, Ritter was joined in announcing the report by Heather Zichal, Obama's former Deputy Assistant for Energy and Climate Change, and Dan Esty, the Commissioner for Energy and Environment in Connecticut.
Many of the recommendations are ways the President can help the utility, transportation, natural gas and finance industries participate more effectively in America's transition to clean energy. But a central theme is how President Obama should use his authorities during his remaining time in office.
"When they believed a national situation warranted action, some past presidents interpreted their authority broadly and exercised it aggressively," the report says. "That is the practice of presidential authority American and the world need today."

CNEE encouraged but did not require participants in the project to reach consensus on the recommendations. As a result, not everyone or every organization that participated agreed with all of the ideas. In addition, most of the participants accepted CNEE's invitation to remain anonymous so they were free to think big and to be bold.
Among the many recommendations:
Be clear about the nation's energy priorities. Although policy certainty is difficult to achieve in Washington, private sector investors like to see it before they write checks, in this case for clean energy projects. Powering Forward suggests that the Administration prioritize the nation's many energy options on the basis of full life-cycle analyses that reveal which fuels offer most energy security, environmental health and greenhouse gas reductions with the fewest down-sides.
The report also encourages the President to be more specific about what "responsible" means in his support for responsible natural gas production. If it includes good water management, minimal land disturbance, zero tolerance for methane leaks and full disclosure of fracking fluids, for example, then the Administration should require those practices for gas production on federal lands.
Vehicle and fuel manufacturers told CNEE they would like to see the Administration develop a clear roadmap for alternative fuels and vehicles based on an objective evaluation of each fuel's full life-cycle costs and benefits, including the cost of infrastructure required to get each fuel to consumers.
Help investors and the public track progress on the nation's clean energy goals. As they say, you can't manage what you don't measure. And what isn't managed probably won't get done. The Bureau of Labor Statistics (BLS) stopped reporting on green jobs last year after its methodology came under fire. It blamed the budget sequester. Powering Forward recommends that the BLS resume its green job reports, just as it reports employment in other industry groups.
Similarly, the Energy Information Administration (EIA) should evaluate its methods for projecting the growth of renewable energy technologies in the years ahead. EIA has been criticized for underestimating renewable energy's future contribution to the nation's energy mix. Wrong projections on the low side do not encourage private investment.
Remove barriers to the clean energy transition. There has been talk of a "death spiral" in the utility industry as nontraditional forms of power and generation take hold. New technologies and customer preferences are challenging the industry to adapt to a time when power plants are being installed on rooftops and free fuels such as solar and wind are pushing their way into the energy mix. Utility executives told CNEE they are eager to participate in a clean energy transition, but outdated regulations get in the way, some of them dating back to the 1950s and 60s. As one executive put it, "Technology is 10 years ahead of utilities, and utilities are 10 years ahead of regulators." Obama could direct federal agencies to work with electric utilities and utility regulators to identify and remove unnecessary regulatory constraints.
Demonstrate new utility business models in the government's power assets. The report notes that when former Energy Secretary Steven Chu tried to enlist the the government's four Power Marketing Administrations in progressive planning and practices in 2012, he ran into considerable opposition from PMA customers and, in-turn, a significant pushback from Congress. CNEE suggests that President Obama and Energy Secretary Ernest Moniz meet with thought leaders in the PMA system to develop joint approaches to managing these assets for a new energy economy.
Trigger more private investment in clean energy. The IRS is an independent agency, but the President can encourage it to issue a revenue ruling that allows Real Estate Investments Trusts (REITs) to invest in energy efficiency and renewable energy. Powering Forward recommends that the IRS explore other ways to create parity in the tax code between fossil and renewable fuels. For example, the report says, the IRS should determine whether it has the administrative authority to allow Master Limited Partnerships for clean energy investments - an objective renewable energy companies have tried unsuccessfully to achieve in Congress.
In addition, the President could urge the Comptroller of the Currency to verify that when community banks make loans for renewable energy projects in low and moderate income neighborhoods, the banks will earn credit under the Community Reinvestment Act.
"The President should be a steadfast champion of eliminating tax support for carbon-rich energy resources - subsidies that are perverse in a low-carbon economy - and shifting them to sustainable energy," the report says.
Become an even bigger market force. Powering Forward urges the President to set even more aggressive goals for the government's use of Energy Saving Performance Contracts to finance energy efficiency and renewable energy improvements in federal buildings and operations. ESPCs allow the government to install energy-saving improvements with guaranteed results at no cost to taxpayers. In addition, the government's investments in these improvements help grow the national market for clean energy technologies.
Help homeowners save money. Recent studies by university researchers have concluded there is less risk of mortgage defaults in energy efficient homes. Powering Forward recommends that the Administration use its extensive data on home mortgages to see if it confirms that those findings. If so, the President should direct that federal home financing programs reflect the benefits of energy efficiency in their underwriting, lending and appraisal guidelines.
Support states. The importance of state and local leadership is a central theme in Powering Forward. The report notes that many of the authorities to accelerate America's transition to clean energy and to reduce greenhouse gas emissions reside at the state and local level, including utility regulation, the regulation of natural gas production, building codes, and urban planning that reduces traffic congestion and dependence on passenger vehicles.
The report encourages EPA to give states great flexibility in how they use these authorities to comply with air regulations, including upcoming limits on carbon emissions from existing power plants. It also recommends that the Administration triple its technical assistance to states on the policies and investments that are most effective in reducing carbon emissions and integrating clean energy into their economies.
"President Obama deserves credit for his resolve to take action on climate change," Ritter wrote in his foreword to the recommendations. "This report is intended to help him. There simply is no more important issue and no time to waste."
The Powering Forward report is available at www.poweringforwardplan.org.
Calling all HuffPost superfans!
Sign up for membership to become a founding member and help shape HuffPost's next chapter