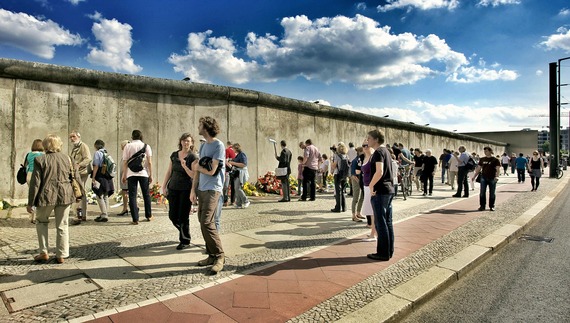 Last Tuesday, November 8 marked the 27th year since the Berlin Wall fell. On the exact same day a man wanting to build a wall was elected as President of the United States. Americans in Berlin, as well as thousands of Germans and other Europeans, rallied together on Saturday to voice their concerns about the new president-elect of the United States.
Peaceful Protest at the Brandenburg Gate
On Saturday, November 12 at 4:00 p.m. in front of the Brandenburg Gate more than 2,000 Americans abroad, Germans, Europeans, refugees, and other global citizens stood in solidarity. We formed a peaceful movement to show the world we will not tolerate the injustice, intolerance, hate, and inequality that Trump has embodied throughout the presdential elections process.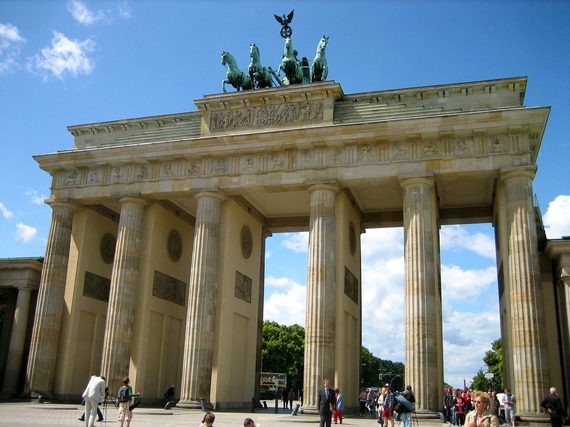 I had the great pleasure of co-organizing this event with Chantal Lamar and Ricarda Messner. We were able to quickly collaborate and organize everything over Facebook without even knowing each other beforehand, due to our passion for human rights, equality, and tolerance for all people. We held the rally in hopes that Donald Trump, and leaders in Germany, will be held accountable if they attempt to implement intolerant agendas.
Standing up for marginalized groups in America, Germany, and Europe
"We want to send a sign of international solidarity. Let's use our power of international relations to stand up for the civil rights and democratic values of our friends who will be most affected by Trump's presidency (i.e. women, African Americans, Muslims, the LGBTQ community, the poor, victims of sexual assault, and other marginalized groups).
In times of increasing xenophobia across America, Germany and Europe, we need to do our best to prevent equivalent actions which promote hate, intolerance, and violence against marginalized individuals."
More protests are being planned in Germany
Another similar protest "Pussy Grabs Back" took place on the same day at 1:00 p.m. at Hermannplatz in Berlin. More than 1,700 attendants were confirmed on their Facebook page. Activists in other cities throughout Germany, particularly Munich and Frankfurt, have contacted me in recent days for tips and feedback following our demonstration in Berlin. Many protests will be carried out in these southern German cities over the weekend.
Please follow along with the hashtag #LoveTrumpsHateBerlin and #LoveTrumpsHateFrankfurt
REAL LIFE. REAL NEWS. REAL VOICES.
Help us tell more of the stories that matter from voices that too often remain unheard.