Two thousand people attended a protest march in downtown Los Angeles last Saturday to 'break free' from fossil fuels. Advocate group 350.org organized a multi-cultural rally where organizers from across the state came to speak about communities suffering from petroleum and methane leaks across the country.
Afterwards the marchers walked en masse from City Hall, placed hundreds of flowers before the county of Los Angeles Hall of Administration in memory of those who have died from cancer and sickness in neighborhoods poisoned by fossil fuels, and ended their march shouting protests at the corporate offices of Southern California Gas, who are responsible for the "Porter Ranch Leak" in the city of Los Angeles. That leak has now been declared the largest methane leak in United States history, in findings published by the journal Science in February, where in the first 112 days of the leak in the well-heeled suburban community of San Fernando Valley has released over 100,000 tons of methane into the atmosphere (as of February 2016), which has doubled the methane release of the Los Angeles basin.

Though SoCal Gas reported the leak officially sealed February 18th, residents of Porter Ranch who have returned to their homes currently still complain of sickness.
Joe Galliani, the local 350.org organizer for the rally, said "I'm thrilled to see this turn out. It's hard to see the day to day effects of global warming, particularly in southern California, when every day is just a beautiful day, but the scientific reality that 350.org prides itself on, is that daily and yearly increases in the CO2 level is very real, it can't be denied, and all of our concerns are fact based on the simple science."
Bill McKibben, founder of 350.0rg, spoke at the rally as well. A scholar in residence in environmental studies at Middlebury College in Vermont in 2007 he started 350.org with eight college students after writing the well known environmentalist book "The End of Nature", a science based book warning of the dangers of global warming. He championed the claim by climate scientist James Hansen who determined that 350 parts carbon per million in the atmosphere was the 'safe' threshold that would prevent global warming. That year McKibben was trying to warn the world that carbon was already measuring 383 parts per million globally. This year in March NASA confirmed that we are currently at 400 parts per million. NASA has determined last year (2015) to be the warmest year on its 134 year record, with the 10 hottest years occurring since 2000.
Since its start 350.org has grown into a very large organization and has been active and successful in organizing political action and demonstrations in 100s of countries, and regular protests across America. They are organizers and advocates not only against fossil fuels, but also supporting and promoting new and clean energy systems.
The fight continues, says Joe. " We have continued residential drilling, it is very dangerous. Fracking is happening right now very close to communities and sometimes in the middle of neighborhoods. Los Angeles alone has multiple sites of residential drilling."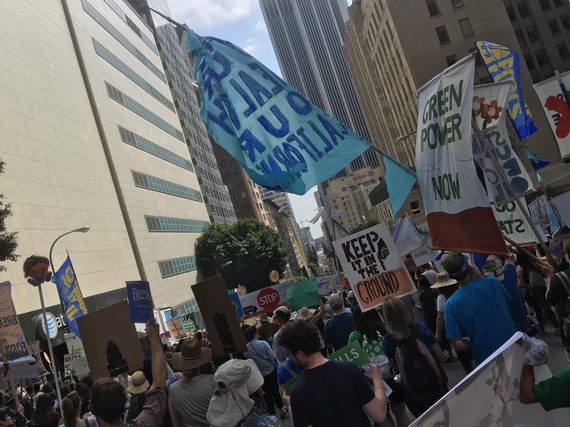 These are drilling operations hidden by high walls covered with ivy that can make them look pleasant, but looks can be deceiving, as Ashley Hernandez learned, a young Latino girl living in the Wilmington neighborhood of Los Angeles. She began suffering nose bleeds, headaches and nausea regularly at age 9 after LA city planners gave the oil company Warren Energy &Power permission 10 years ago to drill 540 wells in her neighborhood and extract 5000 barrels of oil a day. Some pumps were put in next to homes, another was placed next to a local student ball field. Sick and worried, she and her mom went around the neighborhood and found many others like them. They learned they were not alone, and put together "Stand L.A." a community organization to fight back. She is 23 now and her fight continues.
"There are many sites like this throughout Los Angeles," says Joe. "And they are always in communities of color, because those communities don't have a voice. It's an ongoing struggle to " says Joe. "We need a shift, or the climate is doomed."
The 350.org organizers felt the rally did what it was supposed to.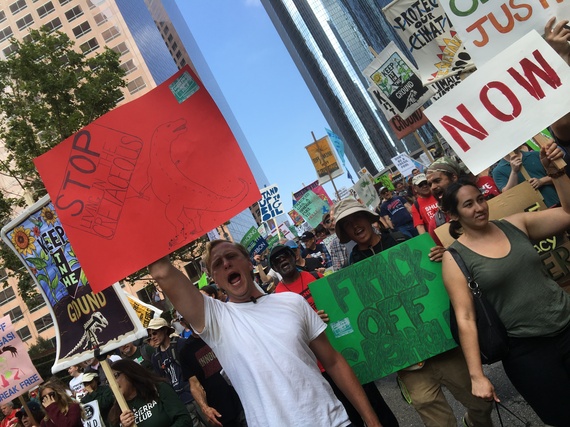 "This is a difficult topic for people. We don't sense the threat. It's too invisible. Even with Hurricaine Sandy and climate impact, people are not impressed. Even if you live in 'SoCal', there's no hint that we're being bombarded and that our climate is at the verge of becoming unlivable climate. There is no sense of urgency to this. But to see that crowd, and that diversity. What was really heartening was the coming together of so many different groups, Asian, Hispanic, Black, White, Indigenous people, L.A., Richmond, San Diego, Oakland, Kern County, Porter Ranch, young people, old people, families - this is what we've been working for. To change everything, it takes everyone."
Photo credit: Philip Morton
Popular in the Community