In early 1978, a child wandered into a now-razed mall cinema somewhere in the Midwest, ponied up $3.50 at the box office, and discovered that he had arrived early for his intended screening of Mel Brooks' consciousness-altering Hitchcock spoof, High Anxiety. Naturally, the child peeked at the tail end of the previous screening -- and felt a keen sense of spiritual expansion as a subtle crane shot aiming for the actors suddenly smashes, very awkwardly for all concerned, through a window! The child was me, and my perception of cinema was irrevocably altered. I loved every frame of the next screening, and -- catching up to the rest of the world who had caught on with Mel's astounding 1974 double-play of Blazing Saddles and Young Frankenstein -- I became aware of a genius.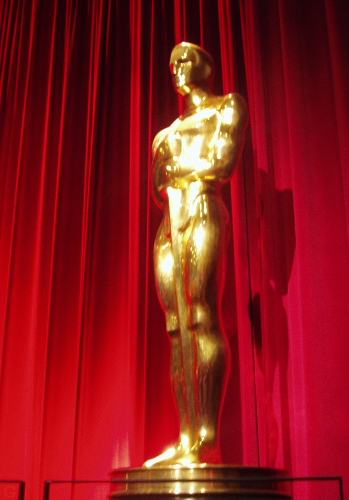 My angle on Oscar.
(photo: Gregory Weinkauf)
That genius -- né Melvin Kaminsky in New York in 1926, world-renowned as Mel Brooks -- received a glorious tribute Friday night at the Academy of Motion Picture Arts and Sciences' Samuel Goldwyn Theater, in Los Angeles. The capacity event was open to the public, and yet sustained a cozy family feeling throughout -- partly of course because many luminaries from Mel's world showed up, but also because Mel just attracts good people. (Several fans sitting near me were good-naturedly mouthing along with the cherry-picked selection of retrospective clips -- the loudest guffaw, also from High Anxiety [and at young Barry Levinson's expense]: "That kid gets no tip.")
The evening's host and moderator -- and no slouch at satire himself (see Peter Jackson & Costa Botes' Forgotten Silver) -- was film scholar Leonard Maltin, who offered comment on all of Brooks' films. And before we break free from High Anxiety (my fave; can you tell?), let us chuckle at Mr. Maltin's reflection thereupon: "I once had the temerity to describe [High Anxiety] as 'an uneven film' -- and Mel -- Mr. Brooks -- he replied, 'That's the most even film I ever made!" (Sing it: "Ooh...'xiety!...it's you that I blame!...")
The 2 ½-hour gala event commenced with Brooks' Academy Award-winning 1963 animated short, "The Critic," and closed with the legendary number "Springtime for Hitler" from his slow-to-build but eventually classic 1968 feature debut, The Producers (for which he took home the Oscar for Best Screenplay). Less dubious producer and current Academy President, Sid Ganis, reflected on Brooks' rare achievement of winning Oscars, Emmys, Grammys and Tonys ("His trophy shelves are groaning -- and it's kind of like the way our sides groan when we watch a Mel Brooks film") and noted of his closing term as President, "I see no better way of exiting than being present for the tribute to my friend, Mel Brooks." (Amazingly, they met back in 1964, when Ganis was assigned to go pick up Brooks' lovely then-girlfriend Anne Bancroft -- who was filming The Pumpkin Eater -- and transport her to fulfill her "Mystery Guest" duties on What's My Line.)
Maltin then took the podium (as far across the room as possible from where I brilliantly chose to sit -- please pardon the utter abstractness of my surreptitious photography), and put in a nice grace note with: "Just excuse me...I have to Twitter this: 'Introducing Mel Brooks evening.' -- thank you; I just promised my fans I would do that." He then reflected on his own first brush with Brooks' oeuvre -- onscreen at the Teaneck Theatre, in Teaneck, New Jersey, where "The Critic" was running with the newly-released Dr. Strangelove (he sat through 'em twice). Quoth Maltin: "Nothing, I think, could have prepared any of us for the films to come. Think about how many lines from these movies, and scenes, are absolutely imbedded in your consciousness -- that's really burrowing into the consciousness, not only of the nation, but of the whole world!" (True: I well recall one icy night in Stockholm, twenty-odd years ago. On the tube: Blazing Saddles. Kept us all warm.)
Next to speak was Brooks' casual acquaintance Carl Reiner, who quipped that we had all been rudely talking over their 2000 Year Old Man pre-show entertainment (Hey, I was listening: "public hair"). He remembered George Burns advising them on their little parlor act: "Is there an album on this? Make an album -- or I'll steal it." Not to mention Cary Grant requesting a dozen copies of said album to bring to England, one of which infiltrated Buckingham Palace and reached the Queen herself. "And there it was: The biggest shiksa in the whole world, laughing at this!"
The esteemed Mr. Reiner then called his pal, "super well-read," and explained, "He looks like a rag-picker sometimes -- but he's a highly intellectual, brilliant man." The 87-year-old man then performed his latest act: Walking offstage without falling.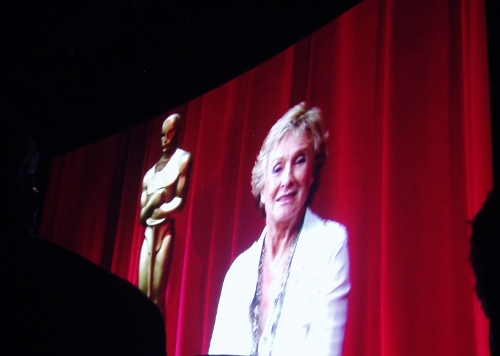 Listening to Lady Leachman.
We also heard a letter from Gene Wilder ("Now Mel has become my uncle, mother, brother and father -- and not one of them writes. But I'll always love him.") and a video from Cloris Leachman ("It's the landscape you're in, when you're working with Mel -- the mist of his madness settles on you, too."). This was followed by an in-the-flesh appearance from Richard Benjamin (director of Brooksfilms' My Favorite Year), who extolled the virtues of Mel's "guided missile" producing techniques ("not taught in film school") and Jimmy Durante-like sweet presence ("Mel does not do the mean joke -- instead he does the harder joke: With humanity, kindness, and generosity of spirit.") And Benjamin is still a card: "Just so you know how much I value our friendship," he informed his mentor, "I'm probably the only person in this room who didn't bother you for tickets to The Producers." There he hung an actorly little pause, and then: "I bothered Nathan Lane."
Lobby card for Brooks' daring Fox production Silent Movie:Featuring Dom DeLuise, Marty Feldman, Mel Brooks
(
image: 20th Century Fox
)
The luminaries arrived en force. Since we just lost a genius from the same fold -- the great Dom DeLuise -- it was a pleasure to see actor-artist Michael DeLuise and his mother Carol Arthur in attendance. And such fun to see the man in action in the seldom-screened The Twelve Chairs. The delightful comedian's zesty appearances in several of Brooks' other films are all priceless -- and to me he's always going to be the first human to appear in a Muppet movie. Blessings to his family, friends and fans.
Brooks' son Maximillian Brooks (author of The Zombie Survival Guide and World War Z) accompanied him. Also present were Rudy "Braces" De Luca (whose fun work from Silent Movie to the underrated gem Life Stinks merits a view), sensational director/choreographer Alan Johnson (without whom "Springtime for Hitler" plus "The Inquisition" from History of the World: Part I simply would not be), veteran producer Stuart Cornfeld (Brooksfilms releases The Elephant Man, The Fly; recent comedies Zoolander, Tropic Thunder), and Cary Elwes (who really is hilarious in Robin Hood: Men in Tights). Rick Moranis didn't show up -- but his clip from Spaceballs had the crowd roaring. Sitting near me, writer-producer-director Larry Karaszewski (Ed Wood) and his lovely wife Emily, right beside Laemmle Cinemas promoter and film aficionado Gregory Gardner. Also spotted was producer-impresario Martin Lewis -- whose company, Springtime, was formed long before The Producers' renaissance and takes its name from the Brooksian canon.
It stung a bit that Madeline Kahn (three words: Funniest. Actress. Ever.) and Harvey Korman were not physically present. And Marty Feldman. Plus, beyond measure, Anne Bancroft -- whose opening, Polish scene with her man Mel in To Be or Not to Be proved especially touching this time around. But still funny. Oh, so funny. We love them.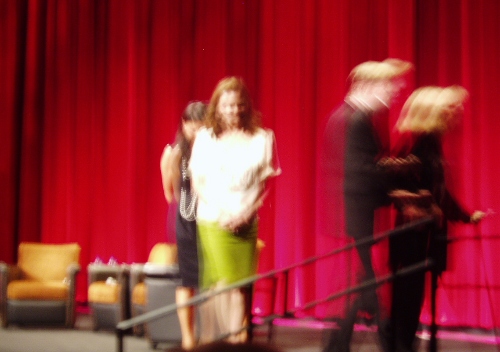 Brooks' babes: Ullman, Warren, Garr.
(photo: Gregory Weinkauf)
Before the guest of honor took the stage, a triumvirate of glorious Brooksfilm babes chatted for our pleasure. Reflecting on Young Frankenstein, the lovely Teri Garr brought her familiar charm: "I think about how much I laughed when we made the movie, and how much fun we had -- and I haven't changed a bit!" Of Life Stinks, Lesley Ann Warren recalled the wonderful dance scene her bag-lady shares with Brooks' tycoon-gone-homeless, and how Bancroft was so proud of her husband's fancy footwork she started crying: "To see that between the two of them was really quite astounding." Joining them was Tracey Ullman -- my fond reflections of whom could fill pages (hers was the first taping I ever attended, in 1987; more recently I "directed" her...maneuvering her vehicle out of the dry-cleaners parking lot) -- who brought her one-of-a-kind sparkle: "I'm not a Jew, but I play one on TV!" she announced, adding that Mel, Carl and their comrades "are still the funniest guys in town. They're a cavalcade of sexy seniors."
Following a clip from Dracula: Dead and Loving It (again, underrated: as Maltin put it, "Mel, it must be said, was ahead of the vampire curve"), Mr. Brooks himself took the stage, firing on all cylinders. Here, partake of some of the living legend's verbiage:
On his appearance at the tribute: "It's been a long night. I'm very emotional. What do I get for this? Isn't there a scale?"
On his early comedy career in the Borscht Belt: "Ugh, Jews -- tough. 'Melden! Melden!' -- they never got my name right. 'You stink, but we love you!' Thank you, Mrs. Bloom, I really appreciate that. Have another piece of sponge cake." (It turns out that even his early staples -- "You can't keep Jews in jail, ladies and gentlemen - you know, they eat lox!" -- fell on the uncomprehending ears of non-English-speakers. Built his ambition and verve, though, one would suppose.)
On launching his acting career, via wild friend Sid Caesar and especially actor/Catskills social director Don Appel ("our show-business god"): "Finally he thought I had something, and he sent me away to the mountains, he sent me to the Butler Lodge in Ellenville. And I was just, I don't know, doing rowboats -- I was doing everything, I was a pool tummler. I wanted to be an actor, so there was a part open -- oh, somebody got sick, a guy about fifty-five, and it was the part of a district attorney in a play called Uncle Harry. And Uncle Harry is a serial killer -- nobody knows that; it's kind of a crazy play. And I play the district attorney, and I pour a glass of water. And I'm supposed to say, 'There there, Harry -- just relax and tell us what happened.' So I pour the glass of water, my hands are sweating, the glass is wet, I drop the glass, it breaks, the water goes all over the place on the stage. I didn't know what to do -- it was just hushed silence. So I walked down to the footlights, I take off my wig, my beard, I say, "I'm fourteen and a half, it's my first play, whadaya want!" And I got my first big laugh, and I never stopped being funny after that -- and it all started with Don Appel."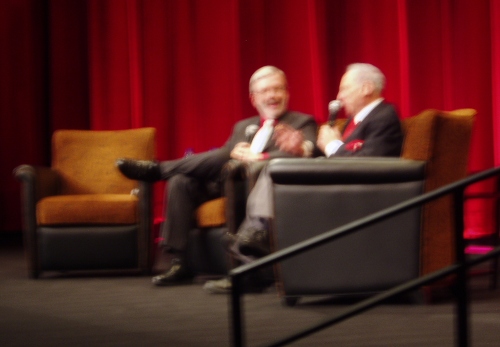 Maltin and Brooks: Geniuses of Cinema.
(photo: Gregory Weinkauf)
On ranking himself with his peers: "I felt there was a comic in me -- you know, a stand-up comic in the mountains -- but I never felt I could be on a par with Sid Caesar, or Imogene Coca, or Carl Reiner, or the late great Howard Morris. I never thought I could ever-ever be as talented and as good, you know -- I didn't know I could be better." (Following the collective guffaw: "I don't think anybody's ever been better than Sid Caesar.")
On how he scored the directing gig for The Producers: "Joe [producer Joseph E. Levine] laughed, and said, 'Who should direct it?' and I said, 'I should direct it,' and he said, 'But why?' and I said, 'It'll cost you very little. And a writer who has the chutzpah to direct, should direct, because the writer coalesces the vapor -- he's got all the scenes in his mind; he has seen them before! The director is an amateur at trying to figure out what people should be doing! The writer has seen them do it!' And when I said that to him, he said, 'That's right, you're smart. You can direct it.'"
On co-writing Blazing Saddles: "Thank god for Richard Pryor, who allowed us to use the 'n' word. I said, 'Richard, can I?' He said, 'Carte blanche.' I said, 'That's white!'" Following a long laugh: "The engine was racial prejudice, so it was okay -- we were just telling the truth."
On the tribute's close: "Okay, now listen, folks -- I have to pee. We're going to show you 'Springtime for Hitler' but I am going to make my way quietly out, so I can pee, so I can go -- so I really want to take this moment to say this has been a very surprisingly moving, unusual and sensational night for me -- one of my best nights in my life."
Mr. Brooks then issued warm thanks, and I was reminded of my great fortune a couple of years ago, wandering into Santa Monica's wondrous Aero Theatre in the middle of a double-feature of Young Frankenstein (which I've seen too many times) and (yep) High Anxiety (which I can't see enough) -- and lo! There was Mr. Brooks himself at the popcorn counter -- literally a surprise guest (he was driving past and saw the marquee)! Of course this is self-indulgent, but viewing High Anxiety with Mr. Brooks in the room was magical for the boy who viewed it at the mall thirty years prior -- and when I told him it was my fave, he blessed me.
Blessed by Mel Brooks! (I'll strive to deserve that one.)
From High Anxiety: Possibly the funniest scene ever.
(
image: 20th Century Fox
)
As Mr. Maltin said of Mr. Brooks, "There are very few who are his equal." Frankly, I'd say there are none. Mel Brooks emerged from a funny old world, and as we all enter a not-so-funny new one, his works are more vital than ever. As Ms. Leachman aptly put it, "There is much that is serious about Mel Brooks. Inside that rapid-fire humor machine is a man with deep emotions, with a great capacity to care, and to love."
That, friends, is what can turn a mere comedian into a genius.

Popular in the Community