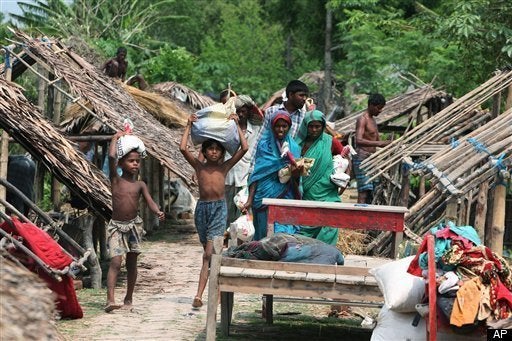 Cyclone Aila tore through southern Bangladesh in May last year, killing 300 people and destroying 2,500 miles of roads and embankments. Aid organizations are reporting that nine months later, 200,000 people are still living in inhuman conditions or have been displaced, according to the AFP.
No work has begun yet to rehabilitate the damaged embankment ares, which flood twice daily and contaminate drinking water and make farming impossible. Families in these areas rely on emergency food and water distribution.
Last year, the government made an international appeal for 1.15 billion dollars to donors for help with post-Aila reconstruction, including rebuilding embankments.
With Bangladesh's summer starting in April and ushering in months of monsoon rains, there is concern construction work will not start until October.
"That means more than 200,000 people will have to remain homeless for an indefinite time-period, which is inhuman and a serious issue of human and fundamental rights violation," the statement [from 18 charities, including Oxfam and Care] said.
To read more about the after-effects from Cyclone Aila, read the article by AFP. You can also learn ways to support the post-cyclone reconstruction efforts at Oxfamamerica.org.
Related
Popular in the Community