When Rep. Barbara Lee (D-Calif.) cast the lone vote against the congressional authorization to use military force after the Sept. 11 terrorist attacks, she warned the bill could signal the start of "an open-ended war with neither an exit strategy nor a focused target."
In the 17 years since, the United States has used the 2001 Authorization for Use of Military Force to justify wars, bombings, detentions and troop deployments in more than 20 different countries. The total number of countries surpassed 20 in 2017 when President Donald Trump told Congress that he had deployed 100 troops to Lebanon and that military personnel were deployed to Chad and Nigeria to support counterterrorism efforts. The most recent presidential message to Congress, sent in June, uses the authorization to justify ongoing military involvement in 17 different countries.
The AUMF was passed with Lee's lone dissenting vote on Sept. 14, 2001, three days after terrorists from Osama Bin Laden's al Qaeda organization crashed commercial airliners into the World Trade Center, Pentagon and a field in Pennsylvania killing more than 3,000 people.
The authorization has been interpreted by three successive presidential administrations to apply to supposed threats that have little-to-nothing to do with the al Qaeda organization that plotted and carried out the Sept. 11 attacks.
In total, Presidents George W. Bush, Barack Obama and Donald Trump invoked the 2001 AUMF for the deployment of U.S. troops or the use of force in 21 separate countries. Between 2001 and 2015, the Congressional Research Service found 37 separate references to the AUMF in presidential statements covering 14 countries. This list of countries only covers unclassified military actions authorized under the 2001 AUMF.
President George W. Bush: 12 Nations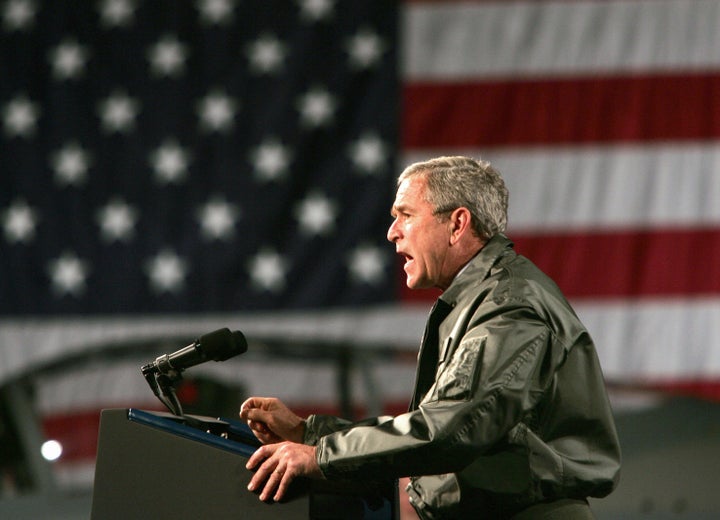 President George W. Bush issued the first declaration of combat operations under the auspices of the 2001 AUMF on Oct. 9, 2001 to announce that U.S. and coalition forces had invaded Afghanistan. A year later, Bush told Congress that the U.S. military was assisting in counterterrorism operations in the Philippines, training foreign militaries in Yemen and Georgia, and guarding prisoners at Guantanamo Bay, Cuba.
U.S. deployed troops to the East African nation of Djibouti in 2003 to fight al Qaeda and other designated terrorist groups in the Horn of Africa, though the president did not specify where U.S. troops may be used in the Horn of Africa. The following year, Bush confirmed the U.S. military was helping in counterterrorism operations or training in Eritrea, Ethiopia and Kenya.
In March 2003, the U.S. invaded Iraq, whose government played no role in the Sept. 11 attacks, under a different congressional authorization to use military force than the original one passed in 2001. It wasn't until 2004 that Bush listed operations in Iraq under the "Global War on Terrorism" heading in a report to Congress. This was the first time U.S. military actions in Iraq were justified under the 2001 AUMF, in addition to the 2002 AUMF that pre-empted the 2003 invasion.
The 11th nation Bush listed as part of the war on terror was Somalia when he announced that U.S. forces "conducted air and sea-launched strikes" against al Qaeda in the East African country.
The 12th country where U.S. forces were involved in combat operations was never listed in official reports to Congress from the Bush White House. That country was Pakistan. As early as 2002 U.S. forces were involved in operations to surveil and detain suspected al Qaeda members throughout Pakistan. Drone strikes targeted al Qaeda operatives, or supposed al Qaeda sites, under both the Bush and Obama administrations ― sometimes with significant civilian casualties. Most famously, Navy SEALs flew into Abbottabad, Pakistan, as part of a mission to kill or capture Bin Laden in 2011. Bin Laden was killed during the operation. The first mention of Pakistan in presidential reports to Congress, however, doesn't occur until 2016 when Obama reported an air strike "against Taliban leader Mullah Mansur in the Afghanistan-Pakistan border region."
President Barack Obama: Six Nations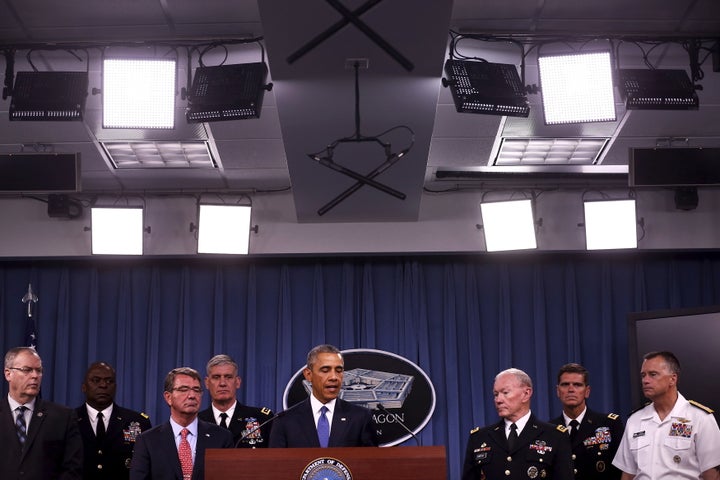 No new country saw action under the authority of the 2001 AUMF during Obama's first term as president. But events in his second term saw the list expand quickly.
NATO forces, including the U.S., provided air cover to prevent Libyan forces from carrying out an offensive against anti-government protesters. NATO then lent air support to the subsequent insurgency that ended President Muammar Gaddafi's government when the NATO-backed insurgents brutally killed him. This operation was not done under the 2001 AUMF, however, with different factions, some of them aligned with terrorist groups, taking over the various regions in Libya after the collapse of Gaddafi's government. Obama told Congress that U.S. forces captured longtime al Qaeda member Abu Anas al Libi in Libya as part of its counterterrorism activities on Oct. 5, 2013. This was the first time the 2001 AUMF was used to justify military action in Libya.
Then, in 2014, the self-described Islamic State group seized huge swaths of land in Syria and Iraq with the help of U.S. military hardware stolen from Iraqi troops. The rise of ISIS led to the expansion of U.S. military action under the post-Sept. 11 authorization. First, Obama would announce military deployments and airstrikes in Syria to counter ISIS in 2014. He announced the deployment of combat aircraft and more than 700 military personnel to Turkey to aid in bombing raids into Syria. The U.S. deployed another 2,300 troops to Jordan for anti-ISIS operations in 2016.
Counterterrorism activities justified with the 2001 AUMF in Africa also expanded under Obama. He announced the deployment of 575 troops to Niger and 285 to Cameroon in 2016.
President Donald Trump: Three Nations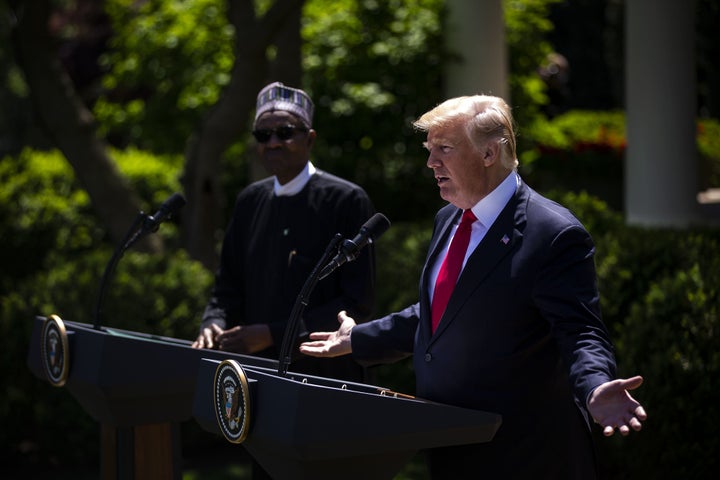 Most Americans would not become familiar with their own country's involvement in Africa until Trump took office and four American service members were killed in an ambush by rebels aligned with ISIS in Niger. Trump would go on to botch a condolence call with the widow of one of the deceased soldiers. He would tell Congress about the deployment of troops to two more African nations ― Chad and Nigeria ― in December 2017.
In that same December 2017 report to Congress, Trump also informed Congress of the deployment of 100 troops to Lebanon to support anti-ISIS efforts in the region.
The use of the 2001 AUMF by both Obama and Trump to justify U.S. military actions against ISIS led to increased interest in Congress about whether the original authorization should be repealed or augmented.
Obama proposed a new AUMF in 2015 to allow a three-year war against ISIS without authorizing the deployment of ground forces while placing additional restrictions on the presidential use of military force. This AUMF would not have repealed the 2001 authorization. The debate in Congress went nowhere anyway.
A 2017 bipartisan amendment to repeal the authorization in the Senate failed by a vote 36-61. Three Republican senators ― Sens. Rand Paul (Ky.), Dean Heller (Nev.) and Mike Lee (Utah) ― voted for repeal.
Paul, the repeal amendment's sponsor in the Senate, said at the time, "I don't think that the resolution in 2001 has anything to do with the seven different wars we're involved with now."
The repeal effort may very well gain steam if Democrats win control of one or more chambers of Congress in November. The Democratic National Committee adopted a resolution affirming the party's support for repealing the 2001 AUMF in March 2018. The DNC resolution states that the party, "strongly encourages Democratic lawmakers to join bipartisan efforts to assert Congress' proper role and oversight responsibilities in determining when and where the United States uses military force by supporting efforts to repeal the 2001 AUMF and debate and vote on a new AUMF."
The Trump administration remains opposed to any effort to repeal the 2001 AUMF or pass any new superseding authorization to use military force.
Popular in the Community