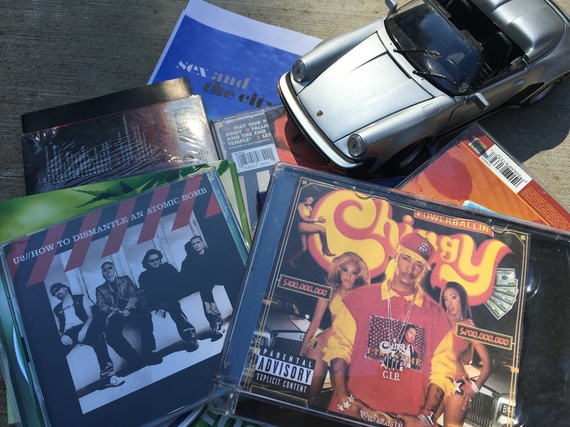 This weekend, you might want to take your new car out, meet some friends or see a movie. You've got "Hey Ya!" on the radio and really have a hankering for a new Taco Bell Zesty Chicken Border Bowl. Now for the tough decision: Are you and your friends in the mood for "The Passion of the Christ" or "Shrek 2"? Since you'll probably have to go home to check movie listings online, you might just get that Border Bowl to go, stay home and view the last episode of a TV show that has everyone asking: "Carrie Bradshaw, why the long face?" Through the magic of the webernets, you've traveled back through time to 2004, roughly the same year the average used car on the road today was bought as a new car.
Big Changes
In the 11 and a half years since '04, some things have changed and some things have stayed the same - many changes are tech related. For one thing, laxatives are no longer as tasty or as effective as the Chicken Border Bowl. We've all forgotten about the aux jack, Chingy and the Saturn Outlook, but the Honda Accord and tickets to a Foo Fighters show are still hot. The FIAT brand is back and making fun, affordable cars, and even moderately priced cars offer the option of Bluetooth, adaptive cruise control and in-car apps powered by your phone.
And while all the technology in the world couldn't make you sit through a Selena Gomez song, it can make a daily commute much more enjoyable and even safer.
Here are a few things that have changed since 2004:
CD Player scarcity. Unfortunately, that sweet compilation CD you burned for your college crush is going to have a hard time finding a home in your next car - sorry, Amy. Cars like the Dodge Dart, Chrysler 200, Chevy Spark and Kia Soul are just a few that don't have a CD player. Hyundai says they may be ditching it soon as well. Thankfully, you can still get the full Morrissey library on iTunes.
FIAT is back in the business of selling cars in the U.S. Sure, the last FIAT you saw was a Spider 2000 in Breakin' 2: Electric Boogaloo (no, really this is true). Today, we're especially fond of the new 124 Spider and the 500X subcompact crossover.
Bluetooth, the technology that allows you to talk on the phone in your car without ever touching or looking at your phone, is now standard in almost every car other than super low-priced models. Even then, you can usually add it as an option.
Certified pre-owned (CPO) cars are becoming more and more attractive with new car-like financing rates, long warranties and plenty of perks, such as free satellite radio for 3 months. I've seen Ford offer 2.9 percent interest for up to 66 months on CPO cars and trucks, while Buick, Chevrolet and GMC certified vehicles include 2 years or 24,000 miles of scheduled maintenance.
Apple CarPlay and Android Auto are making native, in-car navigation systems obsolete. If you have a smartphone with maps, you can just use that feature and see/hear the map on your in-car display. No more racing home to fire up the Compaq Presario just to look up movie times.
In-car Wi-Fi is available on many new cars, including moderately priced Chevrolets. It's standard on every Buick. Audi, Chrysler and Ford offer the feature, too.
Self-driving technology is becoming increasingly available on many cars. Adaptive cruise control, automatic braking and lane-departure correction are just a few of them.
If adaptive cruise control is new to you, know this: It will change your commute and your attitude about road trips forever. It works just like normal cruise control by keeping your car at the speed you set. The adaptive part is that, if a car pulls in front of you or you come up on a car faster than it's going, you car will automatically "see" that other car and automatically slow down to match that other vehicle's speed while keeping a safe distance. All you do is steer.
Thankfully, you can relive the early 2000s by downloading a Christina Milian song or binge-watching "Sex and the City" on Amazon Prime. However, when it comes to in-car tech car, you don't have to be quite so "Lost."
Calling all HuffPost superfans!
Sign up for membership to become a founding member and help shape HuffPost's next chapter