Today I had the privilege of attending the 2010 Ellis Island Family Heritage Awards. Normally, I'm not an awards show kind of person, but I never tire of this one even though I've been perhaps half a dozen times.
Yes, there's the element of celebrity. Who wouldn't want to rub elbows with the likes of rocker Bruce Springsteen, basketball great Dikembe Mutombo, and business leaders Peter G. Peterson and Andrea Jung? Who wouldn't enjoy listening to NBC anchor Brian Williams smoothly steer the event, bantering with the awardees and poking fun at his feigned fear of tackling the Babel of names sported by their ancestors? And who wouldn't get a kick out of watching childhood photos and mini-family histories of these entertainment, sports and business over-achievers?
But what makes this event truly stand apart from the rest is that it's ultimately about the American Dream. No matter how famous or accomplished the recipients may be, they are always humbled by the honor, keenly aware of the sacrifices of those who have come before, and grateful for the opportunities that simply being an American affords them and their families.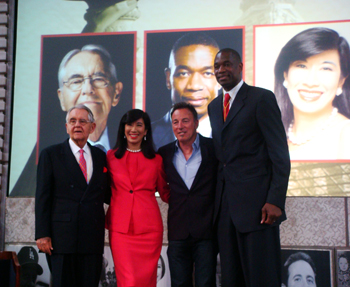 Peter G. Peterson told the audience of his Greek immigrant parents who opened a 24-hour diner in 1923. When they finally decided to cut back its hours a quarter of a century later, no one could find a key to the front door because the restaurant had literally been open non-stop for all those years. They did it, like so many immigrants, to assure their children the best education possible - one that Pete Peterson has certainly employed in his many business, public policy and philanthropic pursuits over the decades.
Dikembe Mutombo, who originally came to America on an academic scholarship to Georgetown to study pre-med, spoke of the unexpected trajectory of his life that led him instead to basketball. A proud U.S. citizen since 2006, he created a foundation which has established a state-of-the-art hospital in his home country of the Democratic Republic of Congo. Initially choked with emotion, it was clear that he still marvels at the good fortune that has come his way.
Andrea Jung's parents met in Toronto, but they could just as easily have not as her father stayed behind when his family first emigrated from Hong Kong to Canada in 1941. Since they couldn't afford to bring everyone at once, he had remained only to find himself separated from his family for eight years after Pearl Harbor derailed his plans. Finally rejoining the others, he married and had a family in Toronto, but later moved to Massachusetts to pursue a graduate degree at MIT. As with the Peterson family, education was everything -- and certainly a key ingredient in Ms. Jung's eventual rise to CEO of Avon which caters to and supports women in more than 150 countries.
And then there was Bruce Springsteen who shared recollections of his Italian grandparents, revealing that his grandmother only spoke Italian in spite of living to 100. "So much for assimilation," he joked. He followed this by inviting his mother and two aunts to the stage to represent the hardworking nature of the first generation. Hawking the tax preparation and hairdressing services of his still actively employed 87- and 90-year-old aunts, he insisted that the charming trio remain on stage and bask in the moment when they started to step down.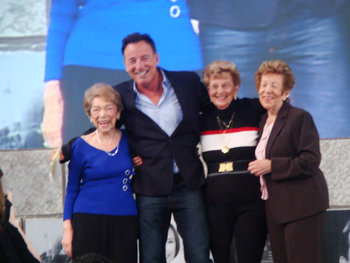 It's no surprise that Springsteen, whose lyrics have seeped into the psyche of our nation, so aptly captured the spirit of the event when he concluded, "I am proud to be here today as another hopeful wanderer, a son of Italy, of Ireland and of Holland - and to wish God's grace, safe passage and good fortune to those who are crossing our borders today - and to give thanks to those who have come before whose journey, courage and sacrifice made me an American."

Related
Popular in the Community