Somewhere between a visit to the shooting range and floating down Ladybird Lake on a Viking Boat Party, I realized that Fantastic Fest is not your average festival experience. I sat down with Austin film fixture Tim League, who launched the festival with wife Karrie, to talk about their special combination of irreverent programming and smart business at Fantastic Fest, the Alamo Drafthouse theater chain, multipurpose venue The Highball, and their many other beloved ventures.
Why don't you tell me a little bit about how the empire got started?
Tim League: It actually starts before the Drafthouse. I was an engineer for Shell Oil in Bakersfield, California, an unhappy engineer, and was looking for an exit strategy. On my way to work was an abandoned art deco theater, and eventually a For Lease sign came up in the window of the theater... and a week later I just leased the theater. It was a really stupid move honestly because I didn't know anything about business. I didn't know anything about... anything, let alone the movie business in particular. I just liked movies a lot.
That's a pretty movie-worthy story actually.
League: I think I was maybe 24 years old. I was probably stupidly bold, I think, at the time, because clearly it was a failure. We worked really hard, we tried to put it together, we learned a lot of important lessons, but it was on the wrong side of the tracks, it was in the wrong town, so we failed.
What was the programming like?
League: We dabbled in a lot of things but at its core, it was an arthouse theater, single screen. Big -- way too big for an arthouse. You know, it had 600 or 700 seats in it. An asinine idea. We would do midnight movies and then we would also do big punk rock concerts when they came through, and that's actually what gave us the money to get elsewhere. We did maybe ten huge concerts; The Ramones, Korn, Fugazi, stuff like that. So we took that little pile of money, and we came to Austin and tried it all over again.
How were the first few years in Austin?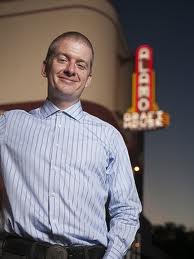 League: Thankfully the Drafthouse took off relatively quickly. We had about $250,000 to renovate the first theater, which was a warehouse. We had to put in all new electrical, air conditioning, plumbing, fix the roof, build a kitchen, build a projection room... and I don't know how we did it for that money. We just basically did it, my wife and I built everything. We had one handyman who was working for like fourteen bucks and hour, and he was part time, and I drew the structural plans, and I drew the plumbing risers because of the mechanical engineering that's now seeped out of my head. So yeah, we had about $30,000 or $20,000 left, which would have burned in two months. So we had to make it work. Thankfully within about three weeks the daily paper wrote some really good coverage and the Chronicle supported us early. And Rick Linklater, who initially was adamantly opposed to what we were trying to do, because he was aware of the bar-theater form and he's a movie purist. Then when Robert Mitchum died we did a retrospective and he was like oh, maybe they have some taste as well!

Could you describe what's so special about coming to the Drafthouse?
League: Well there's a few basics; one's not so exciting but I think once people understand our passion about it they really appreciate it, which is our zero tolerance policy for people who disrupt the movie experience, and how aggressive we can be about it. The other is the lack of pre-movie advertising. That's something that just gets under my skin when I go to another theater. Especially lately the way it's been paraded and tarted up like it is some sort of entertainment experience when it's obviously, clearly just all paid sold advertisements. And I think we have a lot of people on the team, from the culinary team down to the programming team, where we encourage them to have a face, to have a relationship with the customers. We're very, very, very approachable, and we want people to tell us what they think, to engage in a dialogue. You don't get that in a chain theater.
How did you end up launching Fantastic Fest?
League: It stems from 2002; I was on vacation with my wife at the Sitges Film Festival in Spain, and it was the same year that Harry Knowles happened to be a jury member. It kind of speaks to where I'm at that that's my idea of a vacation I guess! But I hadn't seen anything like it and it was really eye opening. They were curating the types of movies that I really love, and they were having fun with it, and they were also really passionate about it being legitimate. And the whole event, from the programming to the parties to the scene was just a lot of fun. Harry and I had a conversation then about bringing something like that to Austin. So, I always go back to Sitges.
One of the things that sets Fantastic Fest apart are the special events, like the quiz show or the boxing debates. Where did the inspiration for these events come from?
League: It comes from us doing events at the theater, and a lot of the spirit of the theater. The first year it was very traditional, just watching movies, some shorts, there were awards at the end and there was a closing-night party. It was very modest. And then I had the realization that people are going to be coming from out of town, this is a great way to show them a slice of Austin, also show them a slice of what the Alamo experience is, and so once we thought about it in those terms, signature events started to materialize.
How do you feel things have gone this year?
I was utterly bewildered.
What is going on with the upcoming franchising of the Drafthouse?
League: It's great in that we've stepped away from expansion for five or six years, and what that afforded us the opportunity to do is really focus in on our product was. And in that time we built The Highball, developed Mondo, started the festival, and we really expanded our programming department. I kind of figured out what we're doing and what the theater's all about because we didn't really have all these other concerns. At the same time the other company was building an infrastructure, getting training people in place, and a strong accounting department -- things like that. And when we dovetailed them together, it was just perfect, because they had this infrastructure and we were kind of weak in that, and we had this infrastructure, and they didn't even understand this. And so pushing them together, it just feels right, and I think we have a strategy to be able to push out what we do, and find local partners. The way it's going to work for us it's gotta be somebody local who's got the voice and has that passion as well, and it's infused with our core product. But if we do something in Brooklyn, then it's going to be people from Brooklyn running it, and it's their passion that's gonna shine through, we'll just be the support. So, that's the plan. Wish me luck because I just like the movie theater business and the film festival business. I don't entirely know what I'm doing, but I know enough, maybe to make me dangerous.

Calling all HuffPost superfans!
Sign up for membership to become a founding member and help shape HuffPost's next chapter