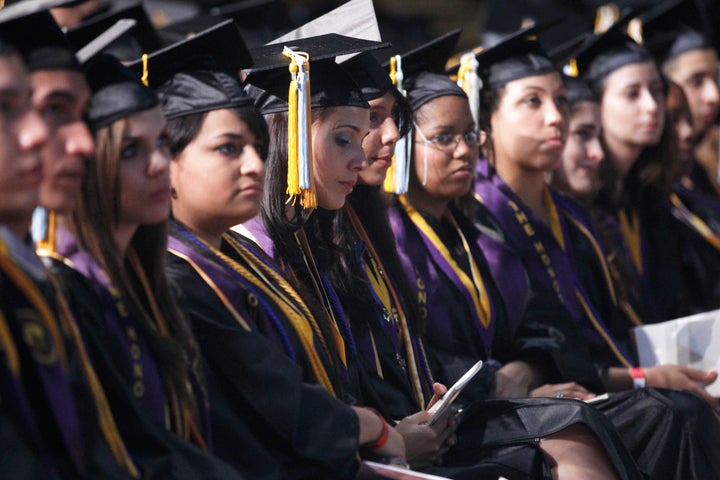 NEW YORK -- For the class of 2010, graduation marked a harsh introduction to a cruel reality: the highest average debt load on record and a 9.1 percent unemployment rate.
"Every year, we've seen a growth and a rise in student debt levels for recent grads," said Lauren Asher, president of the Institute for College Access and Success. The Oakland-based nonprofit oversees the Project on Student Debt, which released Thursday's report. In six years of overseeing the annual report, Asher has found an increase in student debt every single year.
"The cost of college has outpaced family income and available grant aid for quite awhile now," Asher told HuffPost late Wednesday. "And we're seeing this reflected in student debt rates at graduation."
Mark Kantrowitz, who publishes the financial aid websites Fastweb.com and Finaid.org, predicts that such numbers will likely have a chilling effect on low-income students in particular.
"At least half of the reason why we're seeing a decline among bachelor's degree enrollment for low-income students is related to the cost of college," Kantrowitz told HuffPost late Wednesday. He highlighted not only the increasing debt loads of recent graduates, but also stagnant family incomes and starting salaries as other potential areas of concern.
In the longer term, Kantrowitz sees families gravitating more toward lower-cost colleges. He predicts increasingly oversubscribed in-state public colleges, where fewer faculty members will soon teach significantly larger class sizes. In short, the entire public higher education system will educate greater numbers of students with far fewer resources.
Kantrowitz also predicts that colleges will instead chase after students capable of affording the full freight. Looking to optimize revenues, public colleges might cater to out-of-state students, while public colleges may recruit more international students.
Further, the report listed debt loads according to which part of the country students enrolled in college. The highest debt loads were generally found in the Northeast and Midwest, while lower debt loads were generally concentrated in the Western half of the nation. New Hampshire had the highest average debt load at $31,048; Utah had the lowest at $15,509.
Unlike previous year's reports, "Student Debt and the Class of 2010" also tabulated data for the colleges and universities where recent graduates carried the highest levels of private loan debt. Among the top contenders: Occidental College, California Institute of the Arts and Saint Anselm College.
Asher emphasized that the type of loan that students ultimately choose is a vital piece of the later financial puzzle.
"How you borrow, not just how much you borrow, really matters," Asher said. He pointed out that federal loans, versus private loans, are more manageable types of debt since they generally allow for deferment and income-based repayment, not to mention shorter payment durations for low-income borrowers.
Asher concluded: "There are ways to ensure that even if you graduate in a recession, you'll be able to manage your loans until things improve."

Popular in the Community