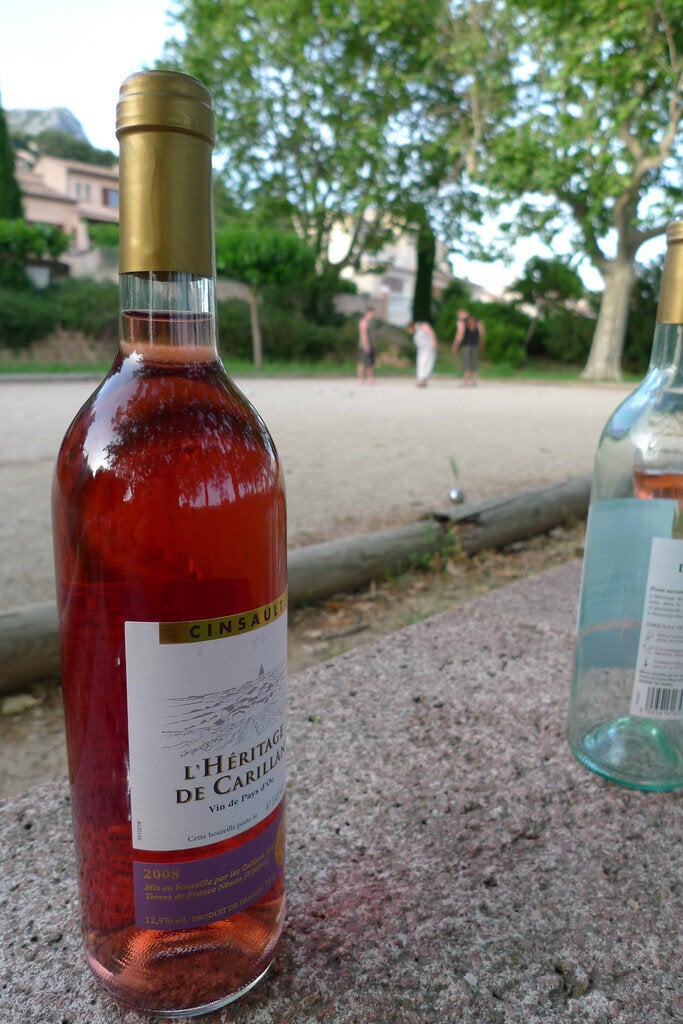 Real men wear pink and, if the skyrocketing popularity of dry rosé wine over the past few years is any indication, real men drink pink too.
I love rosé wine and find it to be one of the best wines for drinking with a meal. It has the refreshing crispness, mineral and palate-cleansing acidity of great white wine with the body, weight and structure of a lighter red. And thanks to the ongoing efforts of wine merchants ever since the first case of Domaine Tempier Bandol Rosé hit the wine list at Chez Panisse, French rosé wine is now widely recognized as the salmon-hued, well-structured dry wine that it is.
What appeals to me about rosé is its regional distinction. Because of the only recent surge in popularity, there hasn't been much of a push for stylistic homogeneity, even between producers in the same AOC. A rosé wine from a good producer that cost more than $10 or so a bottle was invariably going to be pleasant and distinctive.
(Here comes the "however.")
My advance tasting of some 2010 rosés at the Provence in the City Tasting in Los Angeles has left me a bit concerned, however.
First let me say that this was by no means a comprehensive tasting. Only about 20 producers were on hand and many of those in attendance were still pouring their 2009 vintages. Most of the producers were from the Cotes de Provence AOC and Bandol AOC (perhaps Provence's flagship rosé region) was not represented. The 2010s were no doubt bottled very recently, so between bottle shock and the trauma from haphazard air shipping they probably weren't showing their best. A lot can happen to mellow the wine between now and mid-April when the container-shipped rosés begin arriving in the California market.
Those caveats aside, of the dozen or so 2010 rosés I tasted, I found almost all to be fruit forward and flabby, lacking in the acidity and tannic structure I consider to be trademarks of Provençal pink wine.
2010 was a very productive vintage, with yields up 5% over 2009. The grapes were left on the vine a week longer than the previous vintage and Provence shared in the hot, dry summer that most of Southwestern Europe enjoyed. Those are all factors that will contribute to a riper, rounder year.
But it's not ripeness, fruitiness or residual sugar that I find inherently objectionable. I like fruitier New World rosés as well as the off-dry rosado wines of Spain and Portugal. What's missing is the structure and acid to balance out that fruit. My concern is that in the rush to fill demand for the Rosé Boom we're experiencing, growers and wine makers are getting haphazard in their grape selection. Provence rosé is supposed to be a lean, lithe and toned wine, not clumsy and flabby. It's your sexy yoga instructor, not the guy next to you in yoga class who won't stop staring.
(Now I know some of you might be thinking "But wait: aren't you advocating for a homogeneous style of restrained, higher acid rosé?" No and Yes. I am advocating for a restrained, higher acid style of rosé, but not a homogeneous style. When you privilege ripe fruitiness, you overpower all the other components of a wine that make it distinctive from vineyard site to vineyard site. Over-ripe Grenache from site X tastes more or less like over-ripe Grenache from site Y.)
The stand out wines from the tasting proved that you can still make classic rosé from the 2010 vintage. The cuvées featuring a plurality of grapes were the best, while the primarily Grenache and Cinsaut-based wines were unremarkable: pleasantly fruity on the nose and round on the palate but with no definition. Grenache and Cinsaut, particularly when very ripe, have little tannin and almost no acidity. The better wines from the tasting were the ones that included Cabernet Sauvignon or Carignan in the blend, both of which are high tannin, late-ripening grapes. They filled in the structure and acidity that the Grenache and Cinsaut lacked and complimented those grapes' bright, berry fruit flavors.
So this is by no means a categorical rejection of the vintage. Top producers will continue producing excellent wine, but I don't think we'll see as much distinction at the sub-$15 retail mark as we saw in 2009: the ripe fruit from the less expensive vineyards simply won't show the requisite structure and mineral.
In the end it is just Provence rosé: there's a lot to love about any vintage. And the good news is there's still a lot of 2009 to be sipped, quaffed and guzzled between now and April. Do it while you can.